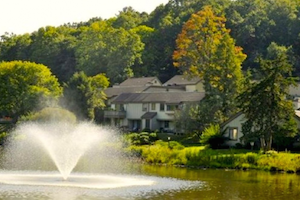 Conveniently located between Manhattan and Boston, Heritage Village enjoys a prime location in Southbury, Connecticut. This charming community features over 2,500 low-maintenance condos with designs that meet the needs of most active adult homebuyers. Heritage Village also offers an exciting line-up of amenities, designed to support a wide range of interests.
Heritage Village was designed by Heritage Development Group and built between 1967 and 2005. Today, the community features 2,580 condos, which are now available on a resale basis.
Residences
Heritage Village offers low-maintenance condos which were designed for residents aged 55 or better. Homes were built in a variety of styles with floor plans ranging in size from 955 to 1,689 square feet. Designs typically include one to three bedrooms, and one to two-and-a-half bathrooms. They also offer covered parking for one car, as well as outdoor parking for a guest or second car.
Amenities
The natural beauty of the grounds provide a scenic setting for the community's varied indoor and outdoor amenities. Amenities at Heritage Village are spread across several inviting facilities. The main Activities Building brings residents together and houses most of the social, cultural, and physical activities.
The facility features a fitness center with an indoor walking track, a gymnasium, a multi-purpose room and a 200-seat auditorium. It offers social clubs and special-interest groups plenty of space for meetings, while also providing table tennis, badminton, and a heated outdoor swimming pool.
Adjacent to the Activities Building, the Fireside Lounge is ideal for small gatherings and playing games with friends. It includes card rooms, an arts and crafts center, a catering kitchen and a multi-purpose room. Residents can also gather at The Meeting House. This 1740 historic building features a lounge area and catering kitchen, as well as an outdoor patio and outdoor swimming pool.
Nearby, The Lodge offers another outdoor patio and outdoor pool, as well as billiards, table tennis and a multi-purpose room. Its grounds also feature sports courts for bocce ball, shuffleboard and horseshoes. Additional community amenities include The Stable Studio's art studios, the Winship Barn's woodworking shop and lapidary studio and the Ethan Allan Library.
On top of all this, Heritage Village provides flower and vegetable gardens at the River Garden Shed. And, for a nominal fee, resident golfers can enjoy play at two public golf courses, including both a 9-hole and an 18-hole course.
In Western Connecticut, active adults who are looking for low-maintenance living and a wide range of on-site amenities won't want to miss a visit to Heritage Village. This charming community may offer the ideal retirement destination. For more information on this community click here: Heritage Village - Southbury, CT