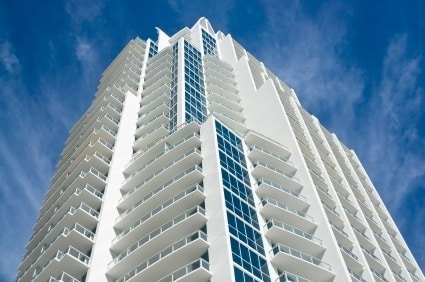 Active adult communities are a great option for those in their 50s and 60s. They provide a variety of social groups and recreational activities. They may even offer Lifelong Learning classes or group travel programs. Yet most active adult communities consist of single family homes and villas set in a suburban environment.
Are there similar urban high-rise communities for active adults? For many urban-oriented empty nesters, the idea of an active adult high-rise community is appealing. A condo is lower maintenance than a single-family home.
Benefits of High-Rise Active Adult Living
Life in an urban high rise, with nearby neighbors and bustling city life, may be preferable to retirees who do not want to move to the suburbs. Yet before looking into the options, two important distinctions must be made: independent living versus assisted living, and age-targeted versus age-restricted.
Any retiree researching age-restricted condominiums is bound to come across high-rise senior retirement living. Many of these communities offer varying levels of assisted living and will likely cater to an older demographic. The idea of moving into a community with graduated levels of assisted care might appeal to some younger retirees, but most would prefer to live in a more active environment and put off any level of assisted living until much later in life.
Many mid- and high-rise age-restricted communities do offer optional services, such as dining or housekeeping, along with independent living. While this may border on assisted living, it can also be viewed as "convenience living" or "resort living". These extra concierge services are designed to free up residents' time and give them the freedom to pursue other activities.
Communities
Versailles
At Versailles, a 55 and older condominium in San Mateo, CA, residents can enjoy urban living in an age-restricted environment. Luxury residences offer open floor plans, superb sound insulation, and gourmet kitchens. A rooftop pavilion offers gardens and a putting green, while outdoor gardens are complete with fountains and seating areas.
Other on-site amenities include a club lounge, a library, a card room, a computer learning center, a great hall with a screening room, a heated indoor pool, a large fitness center, and a business center. Shops, restaurants, and parks are just outside the building and a CalTrain station is only four blocks away.
Age-targeted condominiums are different than true age-restricted communities. An age-targeted building caters to active adults, yet it does not have an official age restriction to condo ownership or residency.
Age-targeted communities do tend to have a majority of empty nesters and active adults 50+, yet they may also have some younger residents including families with young children.
Lansdowne Wood
Not all active adult mid- and high-rise age-targeted communities are located in urban centers. Some, like Leisure World of Virginia in Lansdowne, are found outside of major cities. At Lansdowne Wood, four high-rise buildings and three low-rise buildings are set around a large community clubhouse.
Those in high-rise buildings enjoy beautiful views of the Blue Ridge Mountains and all residents enjoy the clubhouse amenities, which include a fitness center, sauna, indoor swimming pool, tennis courts, auditorium, library, hair salon, bank, gourmet restaurant, and more.
As the Baby Boomer generation reaches retirement, city builders are reassessing 55+ living. While many retirees opt for living in suburban environments, those who prefer city living may begin to see more active adult high-rise communities in the next several years.