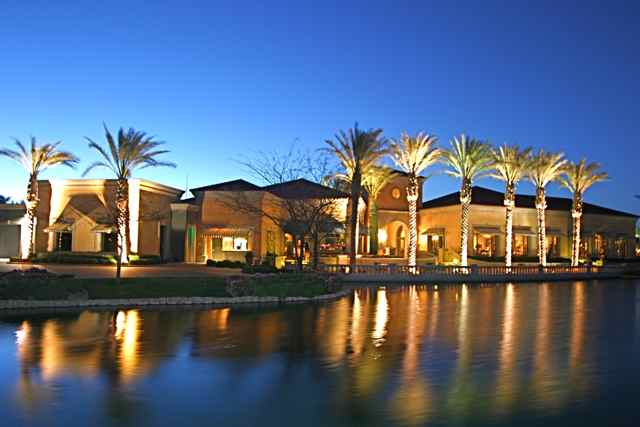 With beautiful weather and favorable taxes for retirees, Nevada is rapidly becoming a popular retirement destination. Siena, one of the area's fabulous age-restricted communities, offers country club living as well as close proximity to the glittering Las Vegas Strip. This golf course community has a lot to offer, including exciting amenities, an 18-hole golf course, and beautifully-designed homes.
Built by Sunrise Colony Company from 2000 to 2006, Siena is a luxurious community located on 667 acres within the Summerlin master-planned community. For added privacy and security, Siena is set behind six-foot masonry walls with two gated entrances.
Amenities & Lifestyle at Siena
The resort-style amenities at Siena are centered around its Village Center and 18-hole championship golf course. The Village Center is home to several different amenities and recreational facilities. It is an ideal place for club meetings, classes and casual socializing. Hobby and game rooms support a variety of special interests, and the spacious ballroom is perfect for many different community events.
Siena's Village Center is also home to a separate state-of-the-art Health and Fitness Center. This 15,900 square-foot facility houses cardiovascular and strength-training equipment and men's and women's locker rooms which each have their own sauna and steam room. Indoor and outdoor swimming pools help residents stay in shape and cool off under the desert sun, while sports courts provide recreations like tennis, bocce, pickleball, and horseshoes. In addition to these outdoor activities, golf enthusiasts will love Siena's 18-hole championship course. This beautiful and challenging course offers spectacular views of cascading waterfalls and mountain vistas. After the game, the Siena Bistro is the perfect place to relax with drinks or a great meal.
Residences at Siena
While Siena is known for its spectacular resort-style amenities and prime location, the community also offers thoughtfully-designed homes in 18 different models. These diverse floor plans are available in a range of sizes and styles, divided into six different collections: Portofino, Milan, Como, Trieste, Florence, and Verona.
As the smallest of the available floor plans, the Portofino Collection offers four attached duplex models ranging in size from 1,040 to 1,378 square feet. These floor plans include one or two bedrooms, dens, and two-car garages. The Milan Collection offers three similarly sized single-family homes which range in size from 1,235 to 1,573. They feature two bedrooms, two bathrooms, and two-car garages. Siena's mid-sized single-family homes can be found in the Como and Trieste Collections. With a total of seven different models, ranging from 1,656 to 2,305 square feet, these homes generally have two to three bedrooms and a den. With 2,572 to 3,192 square-foot floor plans, homes in the Florence and Verona Collections include two to four bedrooms, dens, a minimum of two-and-a-half bathrooms and two- or three-car garages.