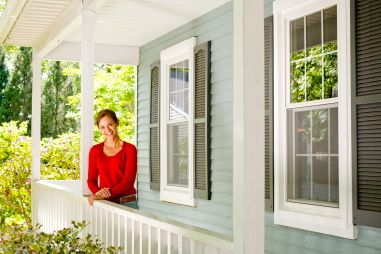 When asked about the key to choosing a great home, real estate experts are famous for answering, "location, location, location." That's because they know that identical homes can have vastly different values depending on where they are located. But what do you do when you discover an amazing community, but don't like its available homes? Or, conversely, when you fall in love with a home, but aren't so keen on its community amenities?
In an ideal world, homebuyers would make lists of the features they want in a home and the amenities they want nearby, then choose a community that meets their needs. Many active adult communities try to make this possible by building developments with diverse amenities and homes in a variety of sizes, styles and prices. However, there are many reasons why buyers may have trouble finding an ideal home in an ideal location, especially when trying to stay within a budget.
For some people, it's natural to put more focus on the location where they want to live. They are looking for a particular lifestyle and want to live in a community that has certain amenities nearby. Maybe they know that they want to live in a golf course community, or that they enjoy having easy access to a state-of-the-art fitness center or a well-equipped arts and crafts studio.
The lifestyle may also be influenced by the attractions available outside of the community gates. Some active adults dream of living at the beach, in the desert or in a place with sweeping mountain vistas. Wine lovers may want to live near the renowned vineyards of California's Napa Valley. Those who travel frequently may insist on having an International airport in close proximity. Most active adults also value living near quality healthcare facilities.
Some homebuyers are more interested in features of the home itself and community amenities just aren't that important. If they love to entertain, an open floor plan with a large kitchen and dining area may be a must. Retiring active adults may have their hearts set on having a hobby room, a home office, a large garden or a backyard swimming pool. Those with frequent visitors will likely want a home with guest bedrooms or even a cozy casita.
Balancing desired home features with a community's location and available amenities can be difficult. Is it better to spend your money on a less-desirable home in an amenity-rich community or on a dream home in a community that may have less amenities or be further from local attractions, like the beach or downtown area?
Start by considering how will you spend your time, both in and out of your home. What home features can you live with, and what features can you not live without? How much will you use the community amenities?
Have you faced this kind of decision in your own house-hunting? Do you think it's better to opt for great amenities or a great home? Let us know in the comments below.