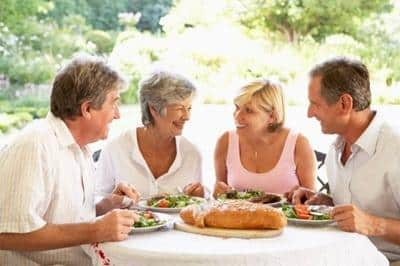 Active adult communities pride themselves on just that: a sense of community. While you may not have known your neighbors before, people are moving into 55+ communities for a sense of camaraderie and exciting things to do. That being said, it's up to residents to keep that sense of neighborly care alive. Here are a few of our favorite ways to "pay it forward," keeping the positive flow of your community on track.
1. Take care of simple tasks for a neighbor
Offer to collect their mail while they're away on a trip, or let the dog out when they can't. While most 55+ communities have an HOA fee that covers lawn and exterior maintenance, there are still plenty of small ways to pitch in. It's these little acts of neighborliness that build up the sense of community in a neighborhood of any size. It's also great karma for when you yourself need a neighborly favor like borrowing a cup of sugar.
2. Organize an event that benefits the community
Everyone wants to partake in fun activities like Thanksgiving potlucks and poker nights, but someone has to be the good neighbor who takes the reins to plan them. If event planning is your forte, reserve your clubhouse for a social event and invite all the neighbors. You can base it specifically on an interest of yours, like a sci-fi movie night, or just plan a dinner dance for everyone to gather. You'll make new friends and everyone will appreciate the time and effort put in.
3. Start your own library
Reading is a great way to spend free time in retirement while also expanding your mind and improving brain health. While books can be a bit pricey to purchase, everyone has some they've already read and can lend off. Start your own lending library within your community, where everyone can offer up books they're not reading and receive a new one. You don't even need a whole room devoted to this special kind of library, just a shelf in the clubhouse common area will do.
4. Go beyond your own neighborhood
Paying it forward doesn't have to be limited to your active adult community, it can extend to your larger community as a whole. You can organize a food or clothing donation drive and give the proceeds to the local shelter, or go offer to walk the dogs at your town's pound. Many schools offer mentoring programs where you can even take time to tutor or read to the children in your area. Now that you have more time on your hands as a retiree, you finally have the time to give back.
No matter how you do it, "paying it forward" is bound to make you and the people around you feel good. These are just a few of the many ways you can make the world a slightly happier place and make your community stronger all at the same time.