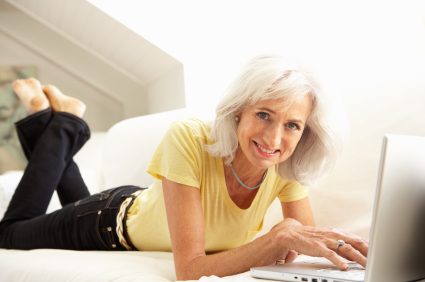 'Tis the season for family gatherings, holiday parties and friendly gift giving. But don't let the spirit of giving put you at risk for theft or danger. Whether you shop in stores or online, there are several simple things you can do to keep yourself safe this holiday season.
Shopping online is generally safe, especially if you choose reputable stores. Unknown stores that offer great bargains may be more of a gamble. However, looking for the perfect gift sometimes leads you to stores where you wouldn't normally shop. Before buying, take a few minutes to look up reviews about the store. You can search the Internet for store reviews, check with the Better Business Bureau or ask friends if they've shopped there.
Whether the store is familiar or new to you, look for signs of a secure transaction before giving your credit card number or any of your personal information. One way to check for a secure site is to look at the address bar (URL). Secure sites have addresses that begin with an https:// while regular sites do not have the added "s" and only say http://. Some browsers may also display a padlock icon when you are on secure sites.
Keep in mind that an online store doesn't have to use added security on every page, but any page that includes your billing or personal information should begin with an https:// address to keep your information safe. You should also protect yourself whenever going online by installing up-to-date anti-virus and security software on your computer.
Shopping in stores brings a different set of risks. Thieves can steal your credit card number just by catching a glimpse of your card or snapping a quick picture while you aren't looking. To be safe, keep your card out of sight until it's time for it to be swiped by the cashier.
Of course, snatching your purse or wallet can be even easier if you aren't careful. Keep your purse close to your body and your wallet in an inside coat pocket or your front pants pocket. Overloading with shopping bags and packages can also make it harder to keep track of your belongings. Bring a friend to help you carry things or make several trips to the car, locking your purchases securely in your trunk. If you buy more than you planned and can't carry it, ask a store employee for help getting to your car.
To stay safe in the parking lot, always leave your car in a well-lit area and keep the doors locked. Have your keys in hand before walking to your car, be aware of your surroundings and look in the backseat before getting inside. If you see anyone who looks suspicious hanging around the parking lot, ask a store security guard to check it out and walk you to your car.
The holiday season is a time of giving, but be sure to be safe while shopping for your gifts. Some simple tips and careful awareness can help you shop safe throughout the holiday season.