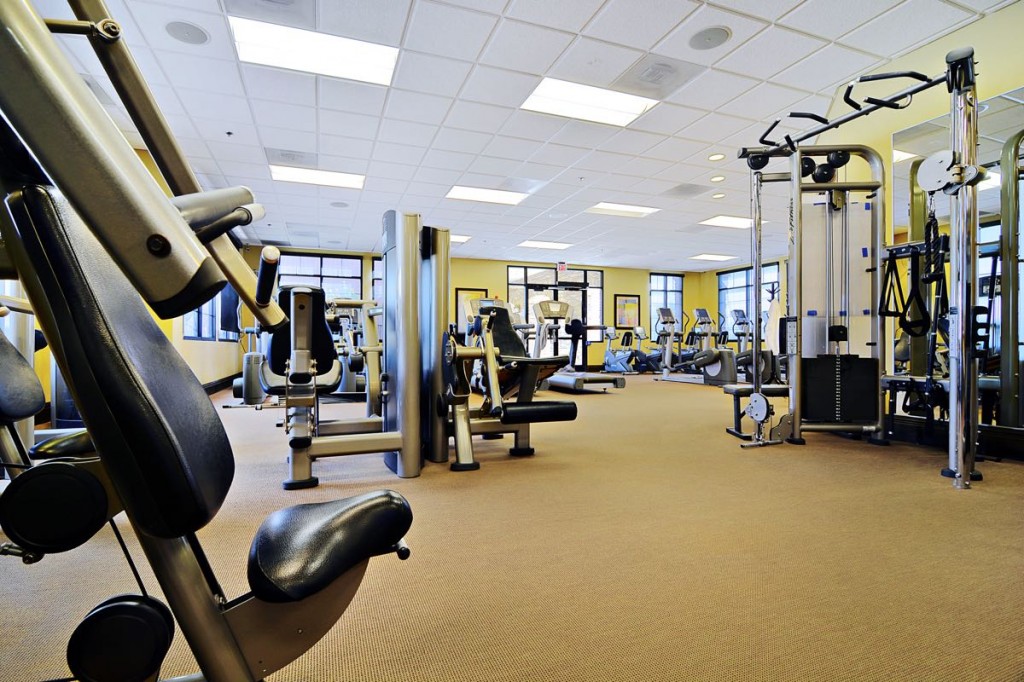 There's a reason why they're called "active" adult communities.
Fitness into your 50s and beyond is so integral to a healthy lifestyle that developers make exercise a key component of their communities. It's no mistake that a vast majority of 55+ communities have fitness centers. The benefits of exercising regularly are too numerous to list and workout spaces are in such high demand that they're nearly mandatory for active adult neighborhoods.
But what if it's been decades since you've seen a dumbbell or eons since you've been on an elliptical? Starting a strength-training regimen after 50 (or any age, really) requires discipline, time management, and knowledge of your body's current state in order to begin successfully. Here we take a look at the best ways to start a fitness routine after 50.
Set reasonable goals.
If you haven't had an exercise routine in several years, it's vital to set reasonable and actionable goals. Overworking your out-of-shape body can lead to strain on your body and lofty goals can send you on a downward spiral of discouragement.
Some experts tout that just 50 minutes of exercise per week can lead to observable health and physical benefits. Not only is 50 minutes of exercise per week a relatively low commitment time-wise, but it's also enough to lead to noticeable and encouraging benefits, a vital motivation to maintaining a fitness regimen.
Also, check in with your body to see how it's doing. Are you prone to joint problems? Has exposure to air pollution decreased your lung capacity? How susceptible are you to suffering from osteoarthritis? You will not only have to consider your long-term health situation, but also how you're feeling this very moment. Repeated and daily meditation can help you get into touch with your body's physical condition and can help you become aware of issues you never noticed before.
Asking your doctor about potential health risks associated with beginning an exercise routine after 50 will give you a professional opinion about how to safely begin working out. So now that you're aware of your goals and your body's situation, it's time to hit the gym.
Determine the right kind of exercise.
Fitness routines are oftentimes split between two approaches: upper and lower body. Both are obviously vital for maintaining a well-rounded exercise regimen, but provide their unique challenges and rewards.
Jogging is a pillar of most lower body workout routines but causes more strain on your joints. If you're worried about this, then getting in your cardio with stationary bikes or simply walking is a great alternative and is much easier on your joints. Although breaking a sweat is difficult if you're walking, the most important part is to just keep moving. Consider wearing weight-resistant bands to make the most out of your walking time to improve your strength training. Doctors recommend walking 30 minutes a day, four days a week if you're just getting started.
Weight training for your upper body requires a more careful approach if you're beginning an exercise regimen after 50. Hand weights are a great way to begin weight training. Start with eight repetitions of a certain weight per day, with the goal of hitting twelve. Add progressively heavier weights and start the process over again until you reach a comfortable yet reasonably challenging amount.
There are other ways to begin a weight-training routine. Push-ups (even against a wall), bicep curls, modified squats and lunges are also terrific for beginners. As you become accustomed to weight training, try working on it twice a week for 30 to 45 minutes, with 24 to 48 hours between sessions to rest your tired muscles.
Remember to stretch.
Stretching, some experts say, is the new cardio. After all, there is a reason why stretching routines like Yoga and Pilates have experienced a surge in popularity over the last few years. Stretching not only gets your body ready for a workout, but also increases joint mobility, reduces the risk of injury, builds core body strength, and increases stability.
The great thing about stretching is that you can incorporate it into your everyday routine. Neck rolls, arm circles, and quadriceps stretching are quick and easy to accomplish and over time can go a long way towards loosening up your muscles and lead to a healthier exercise session.
Many active adult communities offer Yoga, Pilates, and Tai Chi for that very reason: not only is stretching a prerequisite for working out, it's a low-risk, low-impact exercise that improves mobility, balance, and, when combined with breathing techniques, can increase focus and mental sharpness. Not stretching before your strength-training routine can lead to a pulled muscle, soreness, and an increased risk of injury.
Although beginning a strength-training regimen after 50 can be intimidating to some, it's an integral part of a healthy and balanced lifestyle. Exercise can dramatically decrease the likelihood of chronic illnesses, boosts mood and mental health, and can cause some to look and feel 35 well into their 60s, making exercise the best anti-aging remedy on the market.