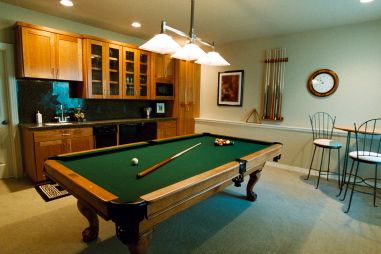 A few weeks ago we did a post on "If A Woman Designed the Perfect Home, It Would Include..." We got an overwhelming response from our female readers, and even had some great comments about other attractions our aspiring female architects would put in their ideal retirement homes. Well, men, it is your turn. What home features do you want most?
We gave the matter some thought and came up with some ideas for a man's approach to the perfect retirement home:
A Man Cave
The idea of a "man cave" has caught on in recent years, but the term means different things to different men. Basically, a man cave is a sanctuary where men can relax without their wives' interference — or decorating input. It can be space set aside in the basement, a loft area or a separate room. It's a great area for men to socialize with their friends, watch TV, play poker or pool, or just carve out some time on their own.
A Hobby Room or Office
While a man cave could also double as an office or hobby room, it's even better to have a dedicated space for special interests. For example, an amateur radio operator might want a "hamshack" to house his radio equipment, a collector could have a room to display his treasures, and a model train enthusiast would enjoy an area for his elaborate train sets.
A Three-Car Garage and Workshop
Three car garages give men plenty of space for parking an extra "fun car," a golf cart or a motorcycle. Even if a couple owns just two cars, a three-car garage offers additional storage space, plus plenty of room for a well-stocked workshop. It's easy to deck out the garage with a sturdy worktable, tool chests and adjustable storage shelves.
A Home Theater
The only thing better than watching the big game is watching it on a big screen TV. And a home theater experience gets even better when that big screen comes with all the bells and whistles, like surround sound, a Blu-Ray player and an HD DVR. Don't forget the extra accessories like room-darkening shades, leather recliners and a multi-function remote to pull it all together.
An Underground Sprinkler System
For men who want the greenest lawn on the block, an underground sprinkler system will give the grass just the right amount of water — without dragging out a hose or frequently repositioning an oscillating sprinkler. Newer sprinkler systems often come with water conservation features, including rain sensors to keep from overwatering on rainy days.
A Custom Patio and Outdoor Kitchen
Men who are master of the grill will love cooking out on a custom-designed patio, especially when it features an outdoor kitchen with a built-in charcoal, natural gas or propane grill. In warm climates, you might even include an outdoor compact refrigerator or kegerator. Outdoor fire pits are another great touch for a custom patio.
Energy Efficient Systems and Appliances
Bill paying can be less stressful when energy efficient systems and appliances help keep the costs down. Retired men on a fixed income appreciate the savings even more, especially when they come from cool new gadgets like the solar roof panels that are showing up in several popular active adult communities.
His and Hers Closets
While a large walk-in closet might not be at the top of every man's list, most men would like a bedroom closet of their own. As many husbands have found, sharing a closet with their wives often means being crowded by her overflow of clothes and shoes. Separate his and hers closets let men (and their wives) avoid arguing over personal storage space. Men, let's hear from you. Do you agree with our way of thinking? Do you have some design ideas of your own? Let us know in the comments below.