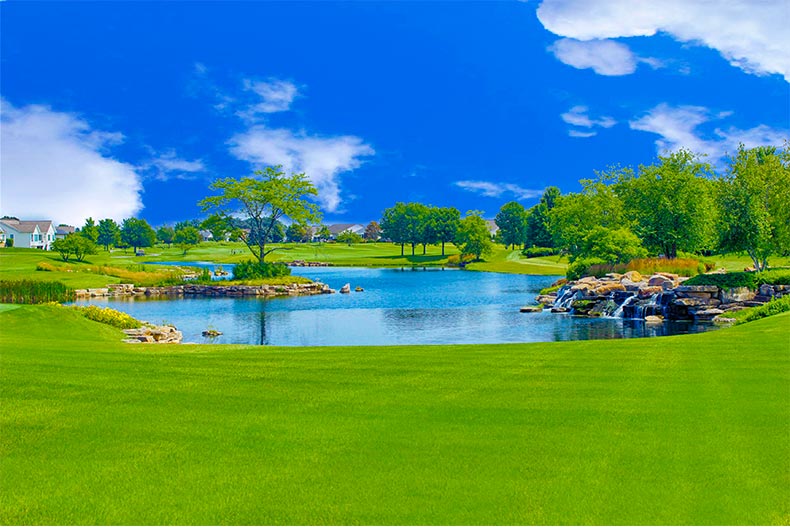 There's a lot for active adults to like when retiring to Illinois. Filled with Midwestern charm, Illinois comes with numerous world-class destinations and attractions. Whether you're exploring the sprawling city of Chicago or getting lost in the many serene state parks scattered throughout, Illinois has everything you need to make your retirement years fun and exciting.
Fortunately, the state offers several affordable active adult communities to choose from. Read on below to hear about some of the best communities in Illinois with homes under $150k.
Saddlebrook Farms - Grayslake
An age-restricted rural community found in the village of Grayslake, Saddlebrook Farms is a popular community for nature lovers. The community resides on a 720-acre plot of land which features over 100 acres of lakes, nature preserves, walking trails, picnic areas, as well as a working farm.
Although the community is comprised of 2,000 new and resale homes, residents still enjoy a close-knit feel. Homes are ranch style and feature front porches, making it always easy to meet new friends and neighbors.
For entertainment, residents often gather at the historic Saddlebrook Farms clubhouse. This 4,000 square-foot cabin overlooks many of the lakes that can be found in the area. Surrounding the clubhouse, residents will find plenty of natural spaces, where neighbors can come together and enjoy activities like bocce and horseshoe. As already mentioned, because there is so much land to explore, residents will have miles of walking trails to explore, whether it be for a casual morning stroll or getting a good jog in.
Unlike most other communities, Saddlebrook Farms is a land-lease community, where residents own their home but lease their land. Because of this system, residents pay a monthly association fee, but are only taxed for their home and not the actual land itself.
Sun City Huntley
A premier 55+ community, Sun City Huntley was developed by Del Webb and is located in Huntley, Illinois. This massive community of 5,400 homes boasts a truly impressive list of home options and amenities.
Residents can pick from nearly 55 different floor plans, with styles including single-family homes, attached ranch townhomes, and condos. Each model is designed to be as low-maintenance as possible, meaning residents will have more time to spend enjoying their retirement in bliss.
At the center of the community is Prairie Lodge, a grand 94,000 square-foot clubhouse. Inside there's everything from a state-of-the-art fitness facility, which comes with weight and cardiovascular equipment, to an indoor spa area. Other areas include a ceramics studio, an arts and crafts studio, a dance studio, and multi-purpose rooms.
Besides Prairie Lodge, there is another clubhouse named Meadow View Lodge. A smaller amenity center, this 20,000 square-foot facility includes its own fitness center, aerobics and dance studio, and an outdoor pool.
Outdoors includes even more for residents to see and do. Over one-third of the land in the community is protected open space and nature preserves. With over a hundred of acres to explore, residents can do everything from enjoying the walking and biking trails, catch some fish on the 19-acre lake, or even gather some friends and start a game of softball, bocce, volleyball, horseshoe, or tennis.
Park Place on the Green - Crest Hill
Park Place on the Green is a more intimate community of just 76 homes. Located in Crest Hill, this community offers truly affordable resale homes. In total, there are 27 buildings with each including two to three units that range from 1,050 to 1,400 square feet in size. These attached residences were all built with nine-foot first-floor ceilings and come as a ranch or two-story home.
The community enjoys a calm atmosphere, displayed through the plentiful mature trees and great landscaping. Although there is not a standard clubhouse, residents will be able to spend their time enjoying the outdoors, whether that means enjoying a walk on the long trails or trying their luck at the stocked fishing pond, which comes with a pier.
The community also enjoys a prime location, being just 50 miles southwest of downtown Chicago and 30 minutes south of downtown Naperville. Both areas make for great day excursions and include a number of unique options when it comes to dining and entertainment.
Bradford Place Clubs - Round Lake
Rounding out the list is Bradford Place Clubs, another smaller community of just 79 homes. The community is located in Round Lake and is open to 55+ active adults. All homes are single-story and range from approximately 1,168 to 1,554 square feet in size. Most homes were designed to be as low-maintenance as possible, and include features such as private patios and yards.
During the summer months, residents can often be found enjoying the three-acre park, which hosts a number of events and gatherings for homeowners. The area includes a paved trail, as well as a gazebo space, perfect for enjoying a book in the warm weather or for hosting a picnic with family and friends.
With so many affordable options to choose from, it's no wonder why so many active adults decide to make Illinois their home for retirement.