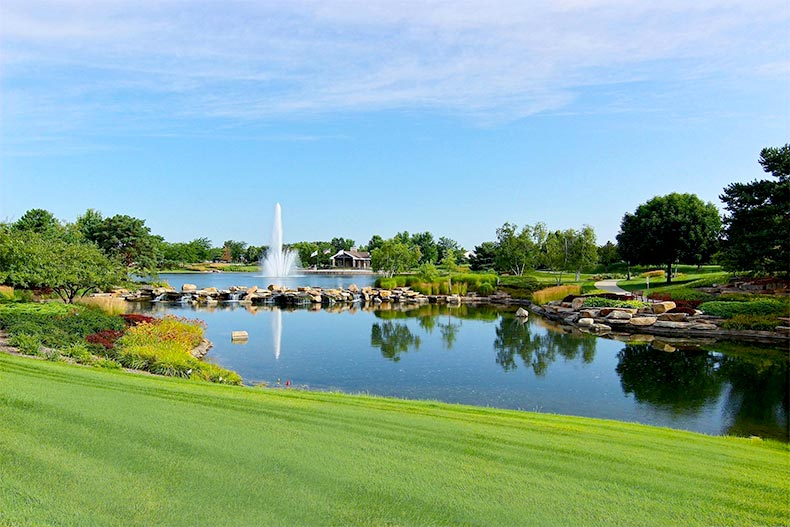 With over 60 active adult communities located throughout Northern Illinois, active adults who want to retire in the area have plenty of diverse options to suit almost every preference. Just a few of the factors that homebuyers can consider for any given community include location, size, home styles, budget, and the available amenities.
Illinois retirees who want to live an amenity-rich lifestyle should consider communities that offer luxury clubhouses with ample amenities and space for activities. Wondering where to start your search? These five Illinois 55+ communities boast some of the most spacious clubhouses across The Prairie State.
Mid $100s - High $400s
One of the most popular and best-selling active adult communities in Illinois is Sun City Huntley. This Del Webb 55+ community even landed a spot on our 55 Best 55+ Communities list.
While the community features many impressive amenities, its clubhouse is the largest in the state. The Prairie Lodge boasts 94,000 square feet of sought-after and desirable amenities with plenty of gathering space for activities, clubs, and classes.
The lodge features a fitness center, aerobics studio, indoor walking track, indoor pool and spa, and ballroom. It also boasts a restaurant; studios for ceramics, sewing, and arts and crafts; and rooms for cards, billiards, and computers.
Click here to request more information about Sun City Huntley.
Mid $100s - High $300s
A central feature of Carillon, a gated 55+ golf community in Plainfield, is the community's spacious clubhouse. Club Carillon consists of 32,000 square feet of desirable amenities designed for active adults to enjoy.
The clubhouse consists of a grand ballroom with a stage and dance floor, a fitness center with an aerobics studio and locker rooms, and an indoor pool and spa. In addition to a library and computer station, there are rooms for hobbies and games, arts and crafts, ceramics, woodworking, cards and poker, table tennis, and billiards.
Several outdoor amenities surround the clubhouse, such as two outdoor pools and courts for tennis, bocce ball, pickleball, and shuffleboard. A 27-hole public golf course also winds throughout the development.
Click here to request more information about Carillon.
Low $200s - Low $300s
Located about an hour southwest of downtown Chicago, Lago Vista plans to include 832 single-family and attached homes upon completion. In addition to a full-time activities director, residents enjoy the 21,000-square-foot Club Lago.
This lakefront clubhouse features amenities such as a fitness center, an aerobics studio, an indoor pool and spa, a grand room, a conference room, and studios for ceramics and arts and crafts. Some of the more unique amenities include a juice bar and a massage room.
At the clubhouse, neighbors and friends gather for clubs and activities. Just a few of the offerings include book club, exercise classes, veterans club, and men's and women's golf. Community events include pizza nights, luncheons, Friday socials, and concerts at the pool.
Click here to request more information about Lago Vista.
Mid $100s - Low $300s
When residents of Carillon Lakes walk into their 18,000-square-foot clubhouse, they're greeted by a comfortable fireplace lounge. The spacious clubhouse also includes amenities such as a ballroom, card room, a library, a well-appointed arts and crafts studio, and areas for billiards and table tennis.
The clubhouse also contains the community's state-of-the-art fitness center, aerobics studio, and locker rooms. In addition to an indoor pool and spa, the grounds offer two more swimming pools.
When residents want to get outdoors, they have plenty of options. Golfers can practice on a 3-hole course and putting green. Those who enjoy sports can play tennis, pickleball, bocce ball, and horseshoes on the community's many courts. There are also trails, gardening plots, scenic parks and lakes, and a fishing pier.
Click here to request more information about Carillon Hill.
Mid $200s - High $300s
Another popular 55+ community in Chicago's southwest suburbs is Shorewood Glen. Built from 2004 to 2015 by Del Webb, this gated 55+ community also provides an amenity-centered lifestyle for its residents.
The 17,000-square-foot Lakeview Lodge includes plenty of multipurpose rooms for activities and group meetings. Some of the social activities include Scrabble, poker, couple's cuisine, book club, and line dancing.
Additional amenities in the clubhouse include a state-of-the-art fitness center, aerobics room, locker rooms, indoor pool and spa, ballroom, catering kitchen, and a computer station. As one resident said, "The clubhouse is fantastic and everyone loves living here! This community is definitely the best value."
Click here to request more information about Shorewood Glen.