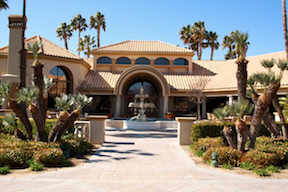 With lush palm trees and spectacular mountains views, Sun Lakes Country Club is a luxurious retreat for active adults aged 55+. This well-established community, located in Banning, California, was built between 1987 and 2003 with an eye toward resort-style living. Today, Sun Lakes Country Club contains 3,300 residences, three clubhouses, a 36-hole golf course and numerous indoor and outdoor recreations.
Residences
In 1987, construction on Sun Lakes Country Club was begun by the Presley Company. The community was acquired ten years later by Pulte Homes, who completed its development in 2003. The 3,000 plus residences include both condos and single-family homes, many of which are now available on a resale basis.
Over the course of the community's development, homes were constructed in 51 different floor plans ranging in size from 850 to over 2,600 square feet. While most of the homes are single-level ranch designs, there are several two-story models that were built with main-level master bedroom suites.
Amenities
Golf
In addition to providing a diverse mix of homes, the long construction period has led to lush, mature landscaping throughout the community. Sun Lakes Country Club's beautiful grounds are highlighted by its two 18-hole golf courses, which boast manicured fairways and magnificent views of the San Bernardino and San Jacinto Mountains. Stretching across 7,017 yards from its longest tees, the Sun Lakes Course is a challenging par-72 championship course.
Beginning players and those who play rarely may prefer to enjoy a more relaxing game on the 3,000-yard, par-60 Executive Course. These exclusive golf courses are only open to Sun Lakes Country Club residents and their guests, and resident memberships include unlimited play for a minimal annual fee.
Clubhouse
Beyond golf, the community offers a wide range of amenities through three large clubhouses. The largest facility, known as the Main Clubhouse, includes a fitness center, library, and grand ballroom. It also contains the Sun Lakes Restaurant where residents can enjoy breakfast, lunch, and dinner five days a week, as well as a Sunday brunch.
The restaurant lounge provides live music and entertainment weekly, and the adjacent Sandwedge Grill is a great place to enjoy a sandwich or burger on an outdoor patio. The North and South Clubhouses feature additional amenities such as indoor and outdoor swimming pools, hobby and game rooms, and fitness facilities. Multipurpose meeting and activity rooms are available for a variety of gatherings, including special-interest club meetings.
Clubs
Just a few of the interests supported with community clubs and classes include card games, crafts, genealogy, Toastmasters, karaoke, line dancing, bowling and performing arts. Residents are welcome to bring guests to the Main and North Clubhouses, but the South Clubhouse is reserved for residents only.
Set in the Inland Empire Area, South Lakes Country Club is an ideal destination for active adults who prefer a well-established community with many resort-style amenities. For more information on this community click here: Sun Lakes Country Club - Banning, CA