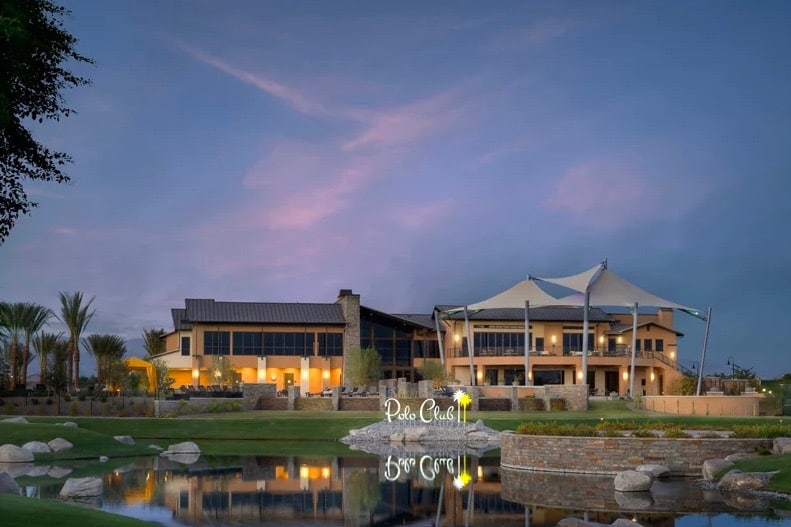 Amenities are usually a major appeal for active adults when searching for their ideal 55+ community and retirement destination. These lavish clubhouses with resort-style amenities provide an exciting and social environment that supports an active lifestyle that most retirees seek.
One of those communities is Trilogy at The Polo Club, a gated active lifestyle community in Indio, California. At the heart of this community is the luxuriously appointed 25,000 square-foot Polo Club. Developed under the Shea Homes' popular Trilogy brand, this community provides all of the world-class amenities and recreational facilities that retirees could want or need. Not only is the clubhouse packed with amenities, it also boasts an innovative design. The architect, Bassenian Lagoni, designed The Polo Club after the Southern Pacific Depot Station & Hotel, one of the main stops between Los Angeles and Southern Arizona on the historic Pacific rail line.
In 2016, the clubhouse was awarded "Best Community Amenity Feature" at the 2016 SoCal Awards. Once you go inside, however, is where the true astonishment begins. Read on to discover some of the best indoor amenities that you can only find at The Polo Club.
June Hill's Table Restaurant
Trilogy's featured restaurant offers an inviting atmosphere where residents and the public dine on local and regional house-crafted specialties. June Hill's Table, which pays tribute to June Hill McCarroll, one of the Coachella Valley's most renowned and founding residents, features freshly made, healthy cuisine made with flavorful ingredients prepared by an on-site, five-star culinary team. The restaurant's focal point is the community table that provides a comfortable dining experience. It also features large reserved dining areas, quiet spaces for intimate dinners for two, and beautiful patio seating that offers breathtaking views of the Santa Rosa mountain range.
McCarroll's Kitchen
McCarroll's Kitchen is Trilogy's demonstration kitchen where residents can get together with friends and family to attend a live cooking demo or class. McCarroll's Kitchen is also the perfect place to host a private event where you can dive in and learn to cook for yourself or watch experienced chefs prepare an innovative dish. With great food, comfortable seating, and a large-screen HD television, hanging out or entertaining at McCarroll's Kitchen is a favorite pastime for residents.
The Market Place
A truly convenient amenity at Trilogy at The Polo Club is The Market Place. This one-stop, grab-and-go shop has everything you need for your evening dinner as well as a quick bite before heading out to start your day. The Market Place offers simple, yet delicious options for breakfast, lunch, or dinner like fresh brewed coffee, sandwiches, salads, and even a curated selection of grocery items. Running out of an ingredient for dinner or requiring an early morning snack to start your day will never be a hassle thanks to Trilogy's on-site market.
The Cuverie
Located on the first floor of The Polo Club is The Cuverie, a private dining suite that offers fine dining for an exclusive experience. The Cuverie overlooks the Grand Living Room of The Polo Club and is the ideal space for special occasions, birthdays, private events, and other celebrations. An on-site culinary team can help you create a menu tailored to your tastes that pairs with your special event. In addition to creating your own menu, residents can also select meals from the regular menu as well as customize menu items with the chef in advance for a unique meal for your private dining experience.
The Paddock
It's more than just a hobby and game room. Residents looking for a space to relax and have some fun will love The Paddock, which is The Polo Club's most popular amenity space. Known as a sports escape or modern day "man cave," The Paddock offers a cozy environment with ample seating and space where neighbors get together to play billiards or darts or watch the big game on a large flat-screen TV. And if that's not enough, residents can practice their golf swing with the indoor full-scale golf simulator. They can work on their game while the simulator analyzes their swing and ball flight and provides data to help when they play their next round.
2Palms Events Center
If you're looking to host a large event, banquet, or wedding celebration, then 2Palms Events Center has got you covered. This multi-purpose event space offers plenty of room for social functions and features a fully appointed commercial catering kitchen as well as a movable wall that opens up to two outdoor patios that offer scenic views of the surrounding mountains. From intimate gatherings to large banquet receptions, residents of Trilogy at The Polo Club can reserve this space for their next event that is sure to provide the perfect setting for their special occasion.
Four Suits
Although it doesn't have the bright lights and allure of Las Vegas or Atlantic City, Four Suits is the perfect spot to enjoy a night with friends to play card games. This card room is specifically designed to provide enough space for a variety of card-playing events for residents of Trilogy at The Polo Club. Four Suits is ideally located adjacent to the 2Palms Events Center, which allows for the two spaces to come together and be used as one large card room for poker tournaments.
The Flow, Strength & Movement Studio
Getting in shape or staying active is less of a challenge when the community's fitness center is just a few steps away. Trilogy's Flow, Strength & Movement Studio is the ideal spot that offers a wide range of state-of-the-art fitness equipment and classes. Throughout this lavish fitness center, residents can utilize the strength and conditioning areas, which are located on the perimeter, to get in shape as well as join an aerobics, yoga, or cardio class in the glass-encased studio that's located in the center. With so many useful areas offered throughout this fitness center, residents are sure to stay motivated on their health journey.