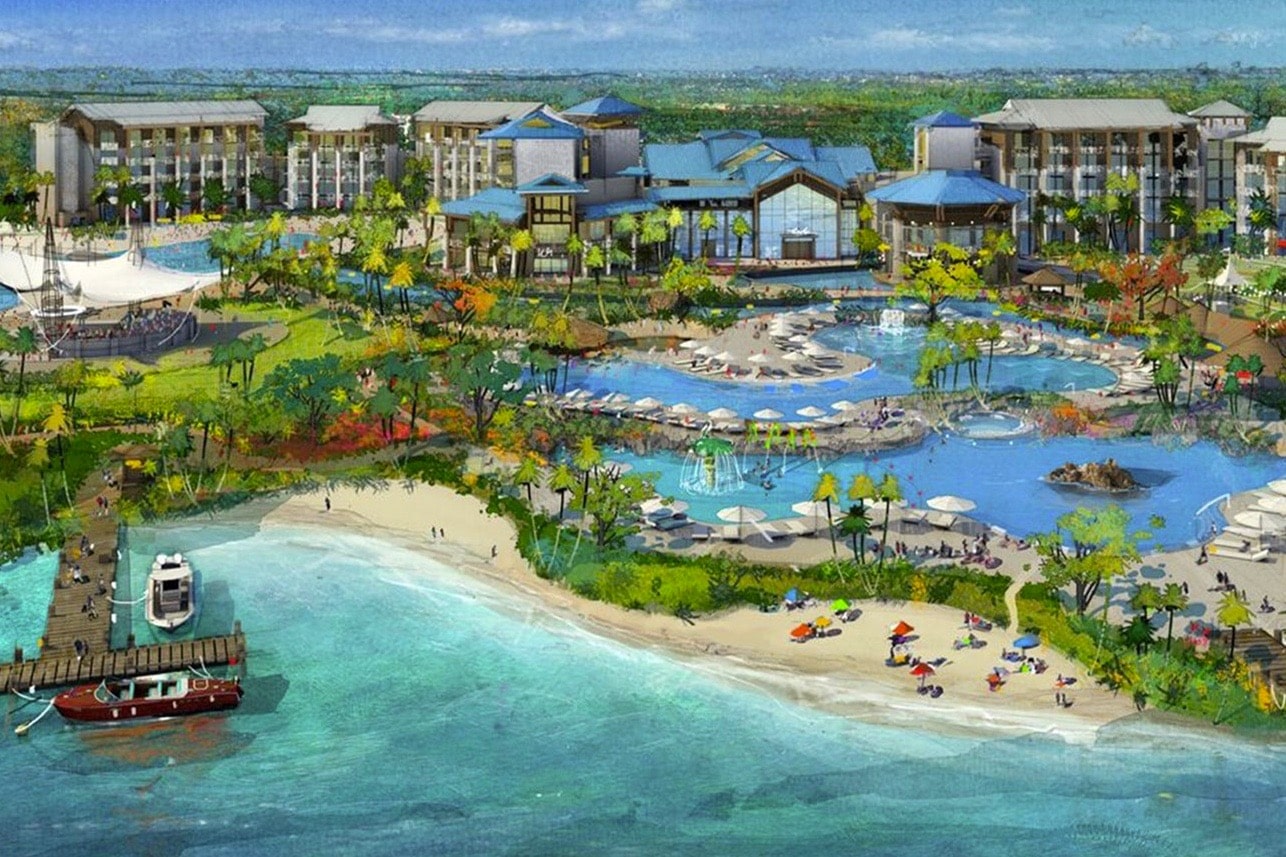 You can say what you want about Latitude Margaritaville, the impending Jimmy Buffett-inspired active adult community in Daytona Beach, but the fact is that it's generating a lot of buzz. Some might snicker, but many others are lining up for a first-look (over 10,000 people have registered so far). There's no denying that the idea has caught the attention of not only the 55+ community world but also those outside of it. After all, it's not often that a 55+ community gets attention from the likes of Rolling Stone, Spin, and the New York Post.
Contrary to what some might think, Latitude Margaritaville won't be some kind of theme park. Instead, it will offer an "immersive brand experience," where all of the expected neighborhood amenities come wrapped in the "no worries" lifestyle that fans of Jimmy Buffett associate with his music.
That's got us at 55places.com thinking. Are we looking at the start of a new trend in active adult communities towards niche interests? Instead of communities geared toward people 55 and over, might we see more communities geared toward people 55 and over who bond over a common interest? If that's the case, what might those branded experiences be? Here are some ideas we could see coming down the line, that is, if the line to live like Jimmy Buffett ends up as long as we think it will be.
Theme: The Beatles
Perhaps the most obvious next step. If there are enough people interested in living a Jimmy Buffett-branded experience, surely there are plenty of people who would be up for living The Fab 4 lifestyle. Hang out in the Sgt. Pepper's Lonely Heart's Clubhouse. Relax in the Yellow Submarine, the community's Olympic-sized swimming pool. Take a stroll through the Strawberry Fields that surround the community. And get ready for a steady collection of cover bands that run the gamut from the early years to latter-day solo efforts.
Theme: Elvis/Sun Records
Another music-themed community that can draw on a massive fanbase. While Elvis Presley is the focus, there's also access to other memorable artists such as Roy Orbison, Jerry Lee Lewis, and Johnny Cash. Obviously, the clubhouse will be called Graceland and it will host various events such as Viva Las Vegas Casino Night and a summer Clambake. Be sure to stick around for the Great Balls of Fire fireworks show as well as the Ring of Fire BBQ cookout.
Theme: The Grateful Dead
Deadheads are well-known for traveling the country to see their favorite band. Now that the tours have wound down, perhaps this could be the perfect way to keep those lifelong relationships and friendships going. Community subdivisions would be denoted as Skull & Roses, Dancing Bears, and Dancing Terrapins. All of the community amenities can be found on Shakedown Street.
Theme: Woodstock
The Summer of Love never has to end with this active adult community that celebrates the iconic concert that defined a generation. First of all, the musical choices in the clubhouse and pool will be top-notch. A steady mix of Jimi Hendrix, The Who, Joan Baez, and more. A green space in the community could be referred to as Yasgur's Farm in honor of festival host Max Yasgur. The standout feature of the neighborhood would be an outdoor stage where musical acts would routinely play to entertain the community.
Theme: Disney Experience
Here's the thing about a Disney-themed active adult community – it wouldn't just be Disneyland Lite. Along with all of the films and characters we normally associate with Disney, they also own the rights to tons of intellectual properties, including Star Wars, Marvel, Pixar, ESPN, and ABC, to name a few. Think of all the branded possibilities available between all of that. Hang out at the community's bar and grill, Mos Eisley Cantina, or take your dog to Pluto's Park.
Theme: Baseball
America's Favorite Pastime is something so many active adults can come together over and, while many 55+ communities are close to spring training facilities, what if you built a community around one? Partner with Major League Baseball or a specific team to create a community that includes a baseball stadium that hosts spring training. When the MLB team leaves for the regular season, let a local minor league team call it home. Community residents get season tickets and perhaps even a say in how the team operates. Talk about a community activity.
Theme: NASCAR
Just like the baseball-themed community, a neighborhood that revolves around gearheads passionate about NASCAR could be a great way to bring people together. Located near a racetrack like the Daytona Speedway, residents have ample opportunities to attend races nearby and travel together to see others farther away. Notable drivers from years past could show up for meet and greets at The Grandstand Amphitheater.
Theme: Food Network
Why spend all day watching Food Network when you can live the experience? The clubhouse is chock full of kitchen stations where on-staff chefs are constantly teaching classes, showcasing new meals, and hosting cooking events. Every week, residents will be able to take part in their very own Iron Chef, Chopped, and Cake Wars showdowns. Special appearances by Food Network celebrities are sure to be included as well. Who knows, maybe one or two of them will even open a restaurant in the community?
Theme: Star Trek
What fan base is more dedicated than Trekkers (Please don't call them Trekkies)? This is a chance to live in an active adult community that adheres to the principles of forward-thinking and inclusion. Think of all the fun that could be had building an Enterprise-themed clubhouse, complete with the pool "holodeck," and a bar full of Romulan Ale? You just know the pickleball court is going to look really cool. We suggest putting it close to Las Vegas where Star Trek conventions are common and sure to create plenty of opportunities for residents to interact with their favorite Trek personalities. Who knows, maybe one or two of them will want to live there?
Theme: Gilligan's Island
Gilligan's Island was only on TV for three seasons, but it left behind a lasting legacy in pop culture. It also left a lot of people wondering what it might be like to live the deserted island lifestyle. This could give active adults the chance to do so without, you know, actually living on a deserted island. The tropical themes for the clubhouse and pool are easy enough. Question is, will the staff have to wear Gilligan's red rugby shirt or Skipper's blue polo? As for entertainment, The Harlem Globetrotters are sure to show up at some point.