Dave Schreiner, a former Del Webb executive, has over 20 years of experience planning, developing, and operating active adult communities. His work has given him unique insight into the challenges and rewards of active adult living. Dave currently is a Principal with Mature Market Strategies consulting firm. Please post any questions to Dave in the comments section at the bottom of this article.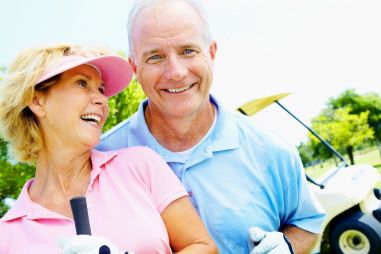 I just finished a three-day volunteer stint at the Callaway Junior World Golf Championships in San Diego, California. It's really humbling to see a six year old just off a 20-hour flight from Thailand fire a score better than your career best, all while running down every hill, chasing the ducks, and putting up with lame instruction from a well meaning daddy-caddy.
It got me thinking about what makes for a fulfilling everyday life. I'm not talking about the biggies like raising children or competing in the Olympics: just routine, happy, and satisfying days. Here's what the six year olds taught me.
Find things to do that truly make you happy.
I know you all imagine that the parents of these talented youngsters push them against their little wills. But what I noticed is that these wee Arnies really liked the whole scene.
They say your character is best revealed when no one is looking. Well, when the parents were off chatting about their kids' latest trophies, the children were engaged with their peers in practice games. Most of these children discovered a passion and a talent early on that will no doubt define their lives. One child related watching Tiger Woods on television at the age of four.
Find your passion.
It's out there looking for you. While players at this level are surely competitive, they are even more participative. They couldn't wait to get started and never seemed to want to stop. The looks on their faces were priceless as they received their participation medal. Their joy was in the doing, not in the winning.
I wish I could say the same for the daddy caddies. As my dad would say: "get a mitt and get in the game." It amazed me that these six-year-old children, from dozens of countries with different languages, took all of five minutes to start horse playing on the practice and putting greens. It was instantly clear that the tournament experience was all about playing with pals who shared a passion.
Then share your passion.
Once you've found your passions and started diving in, you'll find a full pool is a lot more fun. After all, if tennis is your game, you need someone to return your rocket serve. Active adult living is designed to help you efficiently explore possibilities and discover your passions.
Most active adult communities have a robust club program where people with shared interests get together on a regular basis. Whether it's bug collecting, weight lifting, or discussing the latest "Fifty Shades" novel, you are sure to find others with similar interests. If you are competitive, there are competitive programs like the Senior Olympics and juried art competitions. But mostly, it's just people with shared passions getting together and enjoying life.
A last note. Sometimes we just need to remind ourselves that we still have it. When my dad was in his mid-70s, he strolled up to the softball diamond as the Sun City team was practicing. The old southpaw was asked if he'd like to join in. He took a turn at the plate and in his words: "poked a nice little single to right." My dad never played regularly, but still today, at 85, smugly knows he still has it.