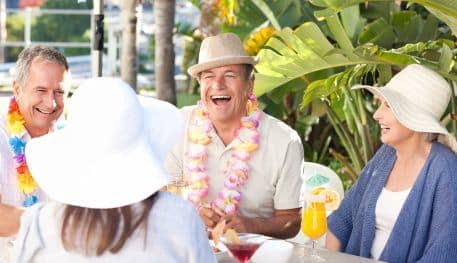 Active adult communities are often billed as offering "country club living" or "resort-style living." However, there's another analogy which may be even more apt. Talk to the residents of many amenity-rich active adult communities and you are likely to hear them say, "It's like college, but without the studying!" And it's easy to see the similarities.
At colleges across the country, young adults matriculate within a community of their peers. In addition to taking classes and earning their degrees, most college students participate in a rich social life. There are activities, sports, clubs, social events, community service organizations, and many other ways to get involved in the college lifestyle.
An active adult lifestyle at a resort-style community can be very similar to these active college years. Except this time, there are no exams and the lifestyle doesn't end after four short years.
Whether choosing an age-restricted or age-targeted community, residents are likely to live mostly among their own peers. While personalities can vary widely, being from the same generation increases the chances of similarities among neighbors. For the most part, active adult residents have moved beyond raising young families and are now in a similar phase of life.
Like colleges, active adult communities often draw residents from all over the country. Many relocating retirees enjoy meeting neighbors who come from diverse backgrounds. They can enjoy sharing their experiences while getting to know each other and forming lasting friendships.
Social activities are abound in active adult communities, making it easy to participate and meet people. Fitness centers often feature many classes, such as aerobics, yoga, tai chi, Zumba, and water aerobics. In addition to lush golf courses, communities include sports courts for recreations like tennis, basketball, bocce ball, and pickleball. Special events, such as dinners, luncheons, dances, barbecues, and parties are also commonly found on community calendars.
Just as colleges provide clubs, fraternities, and sororities, social clubs in active adult communities cover a wide range of special interests. Residents can meet with like-minded neighbors to form book clubs, travel clubs, luncheon clubs, and much more. They can share hobbies and recreations, but they can also work together to make a difference in the community through volunteer leadership positions and by joining charitable groups.
Many active adult communities even offer continuing education opportunities. Some of these programs are provided through local colleges and other communities have their own on-site learning centers. Through adult learning programs, community residents can take a variety of classes and lectures, without the exams or homework.
Whether you think of an active adult community as a country club, a resort or a return to campus-style living, there's no denying the appeal of these amenity-rich environments.