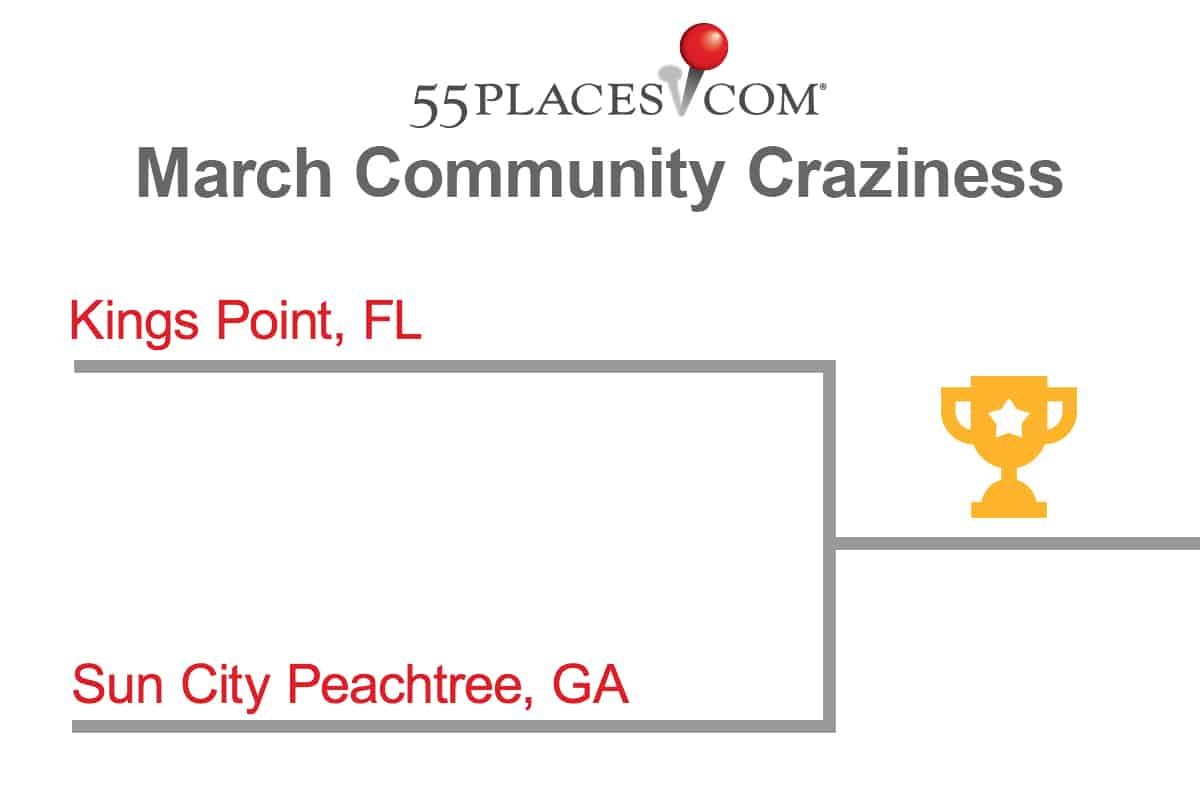 Welcome to the first annual March Community Craziness competition. Think that your community is a cut above the rest? Are your community's amenities simply too good to ignore? Has moving to your community changed your life? Each day we will feature at least one community matchup. When your community (or a community you know well) is featured in a showdown, cast your vote by clicking on the poll below. After you vote, you can tell us what sets your community apart by leaving a review on the community page. In the event of a tie, the winner will be decided by whichever community has the highest number of unique pageviews. The contest will be in the bracket style and will work just like any other major sports contest, with the winner of each round facing off against the winner of the next round. Disclaimer: Reviews are subject to approval and may be edited for clarity and accordance to company policy.
Which Community is Your Favorite: Kings Point, FL or Sun City Peachtree, GA?
Kings Point is a gated active adult neighborhood in Sun City Center, Florida. The community enjoys convenient golf cart access to the retail and dining establishments in Sun City Center. This 55+ community has two private clubhouses, golf courses and many wonderful activities. Since construction began in the early 1970s, retirees from across the country have flocked to the community in search of a warm climate, an active lifestyle, and low-maintenance living. The region enjoys 300 days of sunshine a year and a mild three-season climate that makes outdoor activity possible nearly every day of the year.
Sun City Peachtree is a magnificent Del Webb community near Atlanta, Georgia. This 3,387 home community includes a clubhouse, 18-hole golf course, and a renowned lifestyle. Retirees from across the country have flocked here to be a part of the next big active adult community in the Southeast. This ideal location is quietly tucked away from the traffic and congestion of Atlanta, yet conveniently close to everything the city has to offer. With world-class amenities, a socially active lifestyle, and finely crafted ranch homes, Sun City Peachtree in Griffin, Georgia offers the perfect place to live life to the fullest.