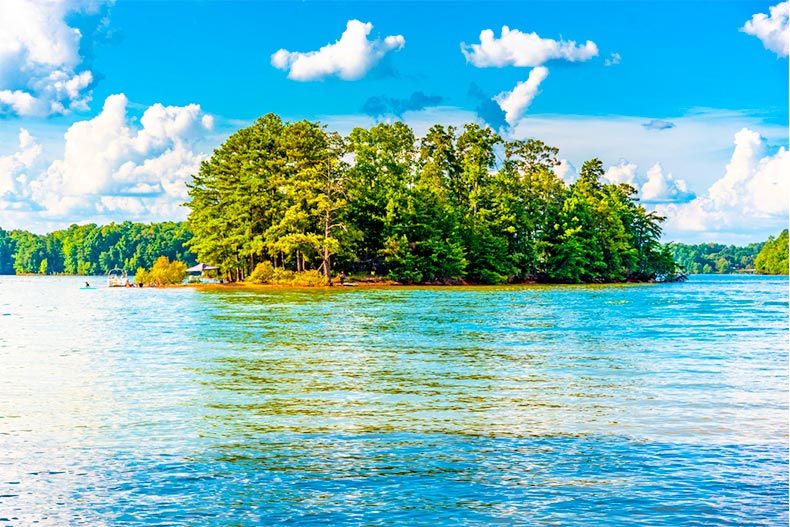 Kolter Homes has recently announced its acquisition of 1,422 acres of land in Hoschton, Georgia. Acquired in conjunction with Kolter Land Partners, the land will be home to a future master-planned called Twin Lakes.
This massive community will be the site of 2,600 residences, with current plans outlining 1,300 single-family homes to be built in the Cresswind community. Residents will have no shortage of amenities to check out, including a full-scale community clubhouse, where neighbors can come together and explore all that Cresswind has to offer
Regarded as a leading developer in the next generation of master-planned active adult communities in the Southeastern United States, Kolter Homes has recently accelerated its plans for its newest community.
The land, which sits Northeast of Atlanta, is bordered by the Mulberry River to the south and is located along Highway 53. Upon completion, the master-planned community will feature multiple sections, including one of Kolter Homes' Cresswind 55+ communities.
In a public statement, Kolter Homes Vice President Tony Adams emphasized the brand's excitement for their next community, stating, "We are excited to bring our third Cresswind community to the Atlanta Area. With the experience we have gained at both Cresswind Peachtree City and Cresswind at Lake Lanier, we have a deep appreciation for what active adult home buyers in the Atlanta market want. With this new Cresswind, we have another great opportunity to deliver it."
Twin Lakes
The overall master-planned development will be called Twin Lakes, a name in honor of the 11-acre and 39-acre waterways that are located roughly 40 miles northeast of Atlanta.
So far, 2,600 homes have been approved, with current plans outlining 1,300 single-family homes to be built in the Cresswind community. Estimates indicate that the community will take approximately 12 years to complete.
Originally, the property can trace its history all the way back to the 1800s and includes ties to local philanthropist, Scott Hudgens, who gained notoriety for developing several major Atlanta-area shopping centers.
Lifestyle
In terms of the the Cresswind community, this age-restricted neighborhood will include a resident-exclusive clubhouse which will be overseen by a full-time lifestyle director. The lifestyle director will be around to help each resident find the best activities and clubs that are suited to their individual interests.
Amenities
The clubhouse will be the heart of the neighborhood, where residents can come together and enjoy everything from an indoor pool, a demonstration kitchen, a ballroom, a fitness center, a yoga studio, and several other rooms that will house the various social clubs offered.
For of outdoor activities, the Cresswind community will offer a large pickleball complex, walking trails, an outdoor pool, an event lawn, as well as tennis and bocce ball courts,
Previous Cresswind communities have provided outdoor entertainment in the form of concerts, social gatherings, and fitness classes. Nature lovers will especially be interested in the property's two lakes, an ideal spot for fishing. Currently, plans are being finalized that would allow for boating usage on the lake as well.
Nearby
With the city of Atlanta being within driving distance, residents will have quick and convenient access to all of the perks of being in a large metropolitan area. The city is home to popular spots such as Mercedes-Benz Stadium, the Georgia Aquarium, Fox Theater, as well as the High Museum of Art.
Other Cresswind Communities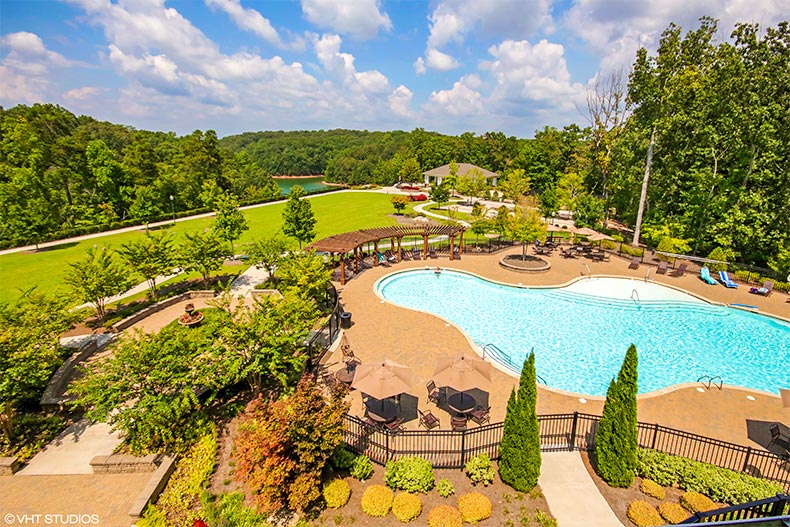 The pool in Cresswind at Lake Lanier is just one resort-style amenity residents can expect.
A leader in residential developments, Cresswind by Kolter Homes currently features seven properties that span four states (Florida, Georgia, North Carolina. and South Carolina).
This includes Cresswind at Lake Lanier in Georgia, Cresswind Charleston in South Carolina, Cresswind at Victoria Gardens in Florida, Cresswind Charlotte in North Carolina, Cresswind at PGA Village Verano in Florida, Cresswind Peachtree City in Georgia, and Cresswind Myrtle Beach in South Carolina.
In addition, Kolter is currently in the process of developing in an additional 30 locations throughout the southeastern United States. The brand has made a name for itself thanks to its emphasis on amenity-rich lifestyles, granting residents the opportunity to explore and enrich their retirement with a fun and new experiences.
For home design, Cresswind residences have been noted for their open spaces, private owner suites, as well as flexible rooms for dens and offices. Past Cresswind communities have provided a variety of floor plans and finishes to choose from, all of which range in price from the $200s to $600s.