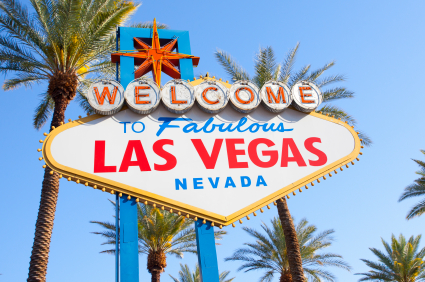 As part of Clark County, the world-famous city of Las Vegas is situated in the Mojave Desert in the southern portion of Nevada. The city is a desert valley oasis which sits at an elevation of around 2,000 feet and is surrounded by towering mountain vistas. Las Vegas is widely known for its casinos and nightlife, but the area is also famous for being the site of the Manhattan Project, the atomic bomb research program during World War II.
Desert Climate
Having a desert climate, the Las Vegas area enjoys plenty of sunny days. The summers are very hot with daytime temperatures that easily climb over 100 degrees and warm nights in the high 70s. The city typically has a short, mild winter season with days in the high 50s.
The Strip
Without a doubt, the area is most famous for its glittering Las Vegas Strip. This world-renowned tourist attraction features fabulous nightlife with casinos, restaurants, bars and shows. Many big name stars perform regularly in Las Vegas, such as Wayne Newton, Celine Dion, Donny and Marie Osmond, and Bette Midler.
Casinos
Other exciting performances include touring Broadway shows and specialty acts like The Blue Man Group and Cirque Du Soleil. Though visiting gamblers often head straight to the Las Vegas Strip, there are plenty of casinos available in Downtown Las Vegas as well. Most people will recognize the name of the Golden Nugget. Other well-known city casinos include Binion's Gambling Hall and Hotel, Fremont Hotel and Casino, and the Main Street Casino.
Dining
Next to gambling and entertainment attractions, Las Vegas may be best known for both its gourmet restaurants and affordable buffets. Locals and visitors alike can enjoy a range of fine cuisine at famous restaurants like Delmonico's Steakhouse, Jimmy Buffet's Margaritaville Las Vegas and Eiffel Tower Restaurant. For cheap eats, many Las Vegas hotels also offer extensive all-you-can-eat buffets.
The Best of the Rest
Yet Las Vegas has more to offer than culinary delights and flashy entertainment. There are several museums, parks and even a zoo. Locals can also enjoy plenty of outdoor recreations at nearby Lake Mead. Approximately 30 miles west, across the Arizona border, Lake Mead was created by the erection of the Hoover Dam in the 1930s. This spectacular lake is the perfect spot for boating, swimming, fishing and other water recreations. Its shoreline is a great place for hiking or picnicking as well.
While many people think of Las Vegas as a tourist hot spot, there are plenty of active adults who call the area home. Age-restricted communities in Las Vegas include beautiful developments like Sun City Summerlin or Solera at Stallion Mountain.
Just outside of the city, active adults will also find spectacular resort-style communities in areas like Henderson and North Las Vegas. Whether coming for a visit or choosing to relocate, the Las Vegas area is an attractive destination for active adults who crave an exciting lifestyle with plenty of social, cultural and recreational attractions.