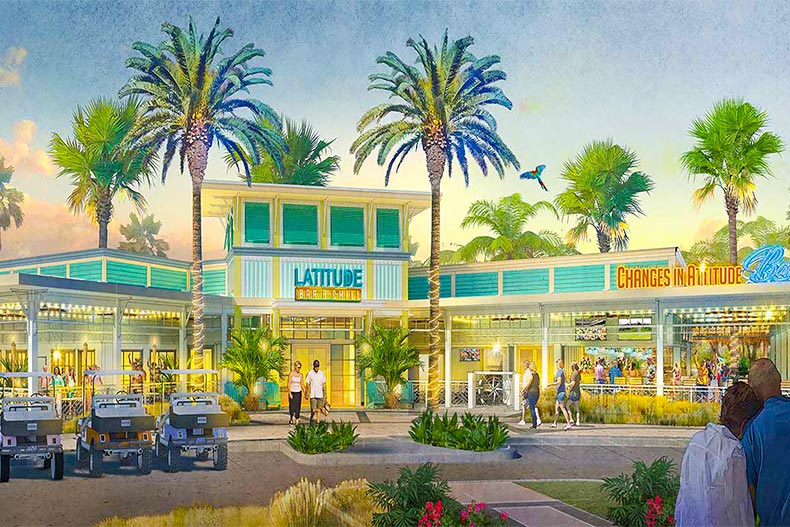 We learned earlier this week that, even with all of the hype, homes in Latitude Margaritaville Daytona Beach are moving much quicker than anticipated. Naturally, that means developer Minto is going to up the construction of new homes. But sooner or later, they are going to run up against their phase one limit of 3,400 residences. All signs point to that not being enough to satisfy the growing demand for this Jimmy Buffett-themed lifestyle neighborhood.
So, they've already gotten approval from the city for phase two, which calls for an additional 3,250 homes (6,650 total). Per the Daytona News-Journal, the Daytona Beach City Commission unanimously approved the second phase of the community on Wednesday evening.
Of course, it's still going to be a while before LMDB reaches that size. Currently, 184 homes have been finished and 130 are under construction. According to Bill Bullock, president of Minto's Latitude Margaritaville division, they are raising their number of home starts per week from nine to 11 in November. As for how long it's going to take to hit the 6,000+ home mark, Bullock predicts around "15 years."
In the meantime, Minto is hard at work completing the community's amenity offerings for the first phase. The plan remains to open the Latitude Town Square, Fins Up! Fitness Center, Latitude Bar & Chill Restaurant, Barkaritaville Pet Spa & Dog Park, and Paradise Pool, by early 2019. There are also plans for a private beach club five miles away in Ormond Beach and a large retail center anchored by Publix at the intersection of the community entrance and LPGA Boulevard.
In order to meet the needs of homeowners in the second phase, Minto would construct a second residents-only town center that would include all of the aforementioned amenities as well. Both phases also include their own walking trails, tennis courts, and pickleball courts. The second phase would also include a separate retail center along State Road 40.
To say that everyone is excited about the potential of Latitude Margaritaville would be an understatement. John Albright, the president and CEO of Consolidated-Tomoka, who currently owns the land for the second phase, told the News-Journal that, "it's probably the most successful development in the United States right now."
Given how well things have gone here, you can be sure we'll be keeping an eye on Latitude Margaritaville Hilton Head and Latitude Margaritaville Watersound to see if the excitement follows suit.