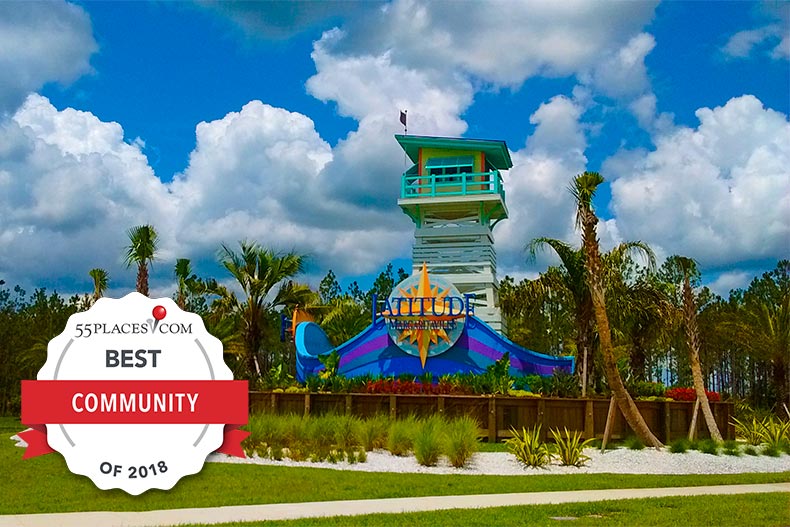 Perhaps it was when you first heard about the unique connection between a world-famous singer and retirement living. Or it might have been one of the many TV reports, newspaper articles, or media thinkpieces that popped up throughout the year. There's even a good chance it was when you tuned in to watch "Wheel of Fortune" only to find out that you could win a free house there.
No matter how you found out about Latitude Margaritaville, it's no surprise that you did. Unlike just about every 55+ community before it, this brand has reached beyond the inner circles of the active adult market and tapped into the larger pop culture.
55+ concerns are often pushed into the corner or considered too inconsequential for others to worry about. Thanks to the charismatic singer, writer, and business mogul at the center of its lifestyle, Latitude Margaritaville transcended those labels and forced its way into the conversation in 2018.
While there are plenty of successful active adult communities across the country, you could make the case that Latitude Margaritaville is the first one that you could mention in cross-generational circles and most people would know about it. That they've capitalized on that awareness by providing a lifestyle experience to match completes its ascension from "fun idea" to "game-changer."
As Jimmy Buffett says, "Yesterdays are over my shoulder, so I can't look back for too long. There's just too much to see waiting in front of me and I know that I just can't go wrong." Latitude Margaritaville works much the same. There's so much still to come from this brand, including at the Daytona Beach location that started it all. And even though it's all about looking forward to 2019, we wanted to take one last look back at 2018 and what was accomplished.
That's why 55places.com is proud to announce that Latitude Margaritaville Daytona Beach is our 55+ Community of the Year.
"I Gotta Go Where It's Warm"
"To come out with our first community for a new brand like Latitude Margaritaville in the first year, to be recognized is a tremendous honor," said William Bullock, president of Minto's Latitude Margaritaville division, in an exclusive interview with 55places.com. "At the same time, I think it is a legitimization of what our consumers and residents have been telling us. That they're really engaged in the 'food, fun, music, and escapism' lifestyle that Latitude Margaritaville represents."
Latitude Margaritaville Daytona Beach has certainly come a long way in the past 12 months. Construction on the first homes was completed at the start of the year, just in time for the home models to open their doors. The first round of residents arrived in March and by the time October rolled around, LMDB had sold its 500th home, way ahead of schedule (The latest sales figures put that number at 550 homes as of December). It was no surprise to learn that the community released a new round of homesites and upped their construction efforts, from nine new home starts per week to 11.
Those numbers are made all the more impressive by the fact the town center and surrounding amenities aren't even completed yet. Even though they still have a ways to go before completing the first phase of development (3,400 residences, which Bullock says will take around "eight to 10 years," depending on the market), the city of Daytona Beach has already approved the community for phase two, which would add an additional 3,250 homes and a second residents-only town center and amenities collection.
With the community's amenities, which include the Latitude Town Square, Fins Up! Fitness Center, Latitude Bar & Chill Restaurant, Barkaritaville Pet Spa & Dog Park, and Paradise Pool, on schedule to open in April 2019, as well as plans for a large retail center anchored by Publix at the community entrance off LPGA Boulevard, the reasons for future active adult buyers to choose Latitude Margaritaville Daytona Beach just keep piling up like so many cheeseburgers in paradise.
"Searching Is Half The Fun"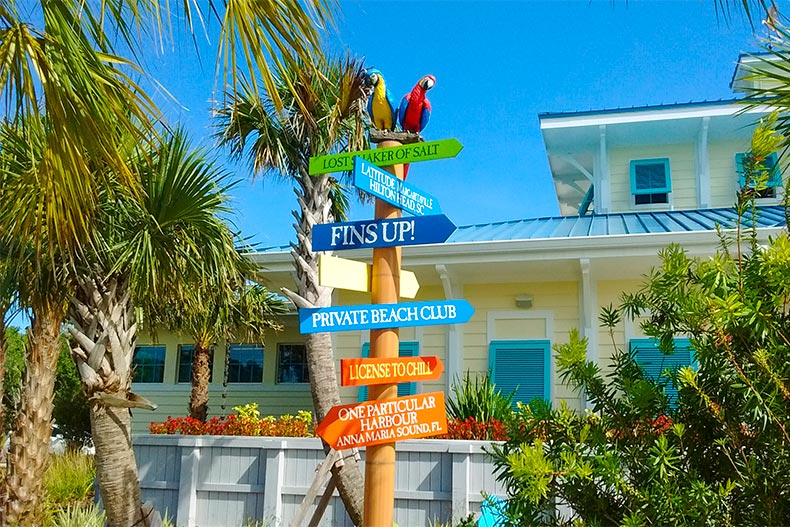 Amenities in Latitude Margaritaville are slated to open this spring.
Minto's own internal interest list in the community is now "well over 200,000 people," according to Bullock. But what is it about the Latitude Margaritaville brand, beyond all the bells and whistles, that has so many people interested and keeps bringing new residents to Daytona?
"It's all focused on those four pillars which we keep speaking to which is "food, fun, music, and escapism'," said Bullock. "We're attempting to offer as much fun and energy that you may want on any given day."
The Latitude Margaritaville lifestyle is all about enjoying life to the fullest," said Latitude Margaritaville Daytona Beach "Director of Fun" Ed Cone. "It's about making new friends and sharing experiences and interests. From day one, Latitude Margaritaville has had a great sense of community...There are so many things to do between what we plan and offer on our event schedule and what the residents plan on their own. You definitely won't get bored."
"Wrinkles Only Go Where The Smiles Have Been"
One of the more fascinating aspects to Latitude Margaritaville's appeal is the way it seems to transcend the "Parrothead" fanbase that many expected to be the only audience for this kind of community. The numbers don't lie, however, and the appeal of this lifestyle is much more universal than expected, according to Bullock.
"Everybody has their favorite Jimmy Buffett song and they remember where they were when they heard it. Or there are those who aren't huge Parrothead fans but they find an attraction to the lifestyle we're offering. You've got worldwide iconic notoriety in the name Margaritaville and the appeal, as we're finding, is just incredibly broad."
It also didn't hurt to sponsor one of America's iconic daily TV game shows for an entire week. In late October, Latitude Margaritaville was not only front and center during "Wheel of Fortune" but they also ran a "Home Sweet Home" giveaway where one winner would get a free house in either the Daytona Beach or Hilton Head communities. Considering the show is still in the top 5 for syndicated programming, per Variety, and much of its audience is 65 and older, that gave Latitude Margaritaville a prime chance to reach out to the rest of the country and make the case for why you should retire there.
"They actually reached out to us just to explore what type of synergy there might be between our crowd and theirs, "said Bullock. "Out of all the promotions that "Wheel of Fortune" has done, this was the most entries they've ever received in a giveaway...that's exciting to us because that means people are generally very interested in what we're doing."
"Life's Good On Our Boat"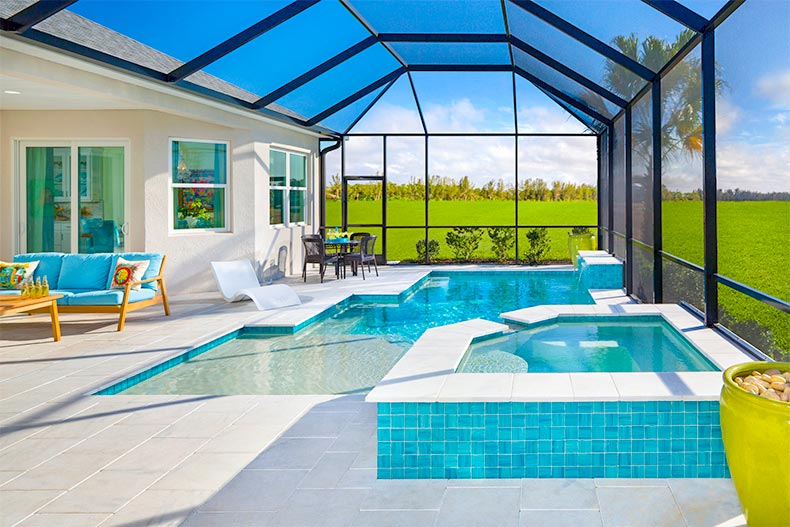 One of the special additions to homes in LMDB is the "spools (spa/pools)."
Ultimately, having the reason to take that step and explore a community like Latitude Margaritaville depends on the person. Some people will be harder to sway, especially given the big promises that the Jimmy Buffett lifestyle offers. So it goes without saying that the best sign possible as to whether or not Latitude Margaritaville measures up is that Jimmy Buffett himself decided to live there.
Buffett went with the Bimini model, which is part of the Island Collection. At 2,310 square feet, the Bimini includes two bedrooms, two-and-a-half baths, and a three-car garage. Not the largest residence overall but still leaving plenty of room, whether he's having the Coral Reefer Band over for drinks or just wants to strum the guitar on the lanai out back.
Considering how much attention he's paid to the communities and homes in it, we also asked Bullock which home model he'd go with if he lived in Latitude Margaritaville Daytona Beach.
"I really like our paired villas (Caribbean Collection). They live like a single-family home but they're a very reasonably priced entry point. I would want to keep all my spare cash to have fun with. We offer something called a spool which is like a spa/pool combo. So, I'd put one of those in the backyard of my paired villa with a pool heater." For Bullock, though, it's about more than just buying a home. It's about the total package.
"The amenity I'm looking most forward to is the concert bandshell. It's actually a giant tiki hut where every afternoon people come into the town center. We've got the Latitude Bar and Chill Restaurant right there on the green. So, you know, you'll have a fun house. You'll have a little spool in the backyard. You're entered in a good point. You took a lot of cash available. You're going into the town center, listening to music, having fun, grabbing a burger and a Landshark, and you're having fun with people too. That would be my ideal scenario."
That idea, that it's an all-encompassing lifestyle choice instead of a home choice, is echoed by Cone, who is already seeing the growing community come together on a daily basis to engage and be entertained, like on Tiki Thursday event.
"Every Thursday, the residents get ready for a great night with their neighbors and meeting new residents," says Cone. "It's like a neighborhood nighttime block party. Residents bring refreshments to share with everyone, put on the music, and there often is dancing."
The lack of an amenity space certainly hasn't stopped residents from living it up. Cone notes that while it waits for the bandshell to be completed, the community put up a large tent for block parties attended by residents and potential future ones. The November event drew around 400 partygoers.
"Changes in Latitude, Changes in Attitude"
Even with everything that happened for Latitude Margaritaville in Daytona Beach in 2018, it looks like the sky is the limit in 2019. Not just for this community but for the other Latitude Margaritaville locations as well.
While the amenities set to open soon in Daytona, the Hilton Head, South Carolina community looks to follow the same path in the year ahead. Residents started moving into their homes in November and can expect to see their amenity center open towards the end of 2019.
Meanwhile, in the Florida Panhandle, the community is preparing to start work on Latitude Margaritaville Watersound. With an initial launch of around 3,000 homes, this community will put residences 15 minutes from the beach, close to the Gulf Intracoastal Waterway, and include them as part of the larger St. Joe's community with all of the retail, restaurants, and entertainment options that it brings. "I don't want to give away all the secrets, but it's going to be next level," said Bullock. "It's going to be amazing."
The brand's growth is far from over. When we spoke with Bullock back in June 2018, he estimated that Minto would have "five to seven" Latitude Margaritaville communities announced within the next few years and "seven to ten" longterm. While he wasn't able to provide specifics, he did tell 55places.com now that the company is "engaged in talks with other folks outside of the Southeast U.S. about expanding Latitude Margaritaville in other key markets."
"Growing Older But Not Up"
Between the pop culture appeal, the mainstream acceptance, the high-profile promotions, the offer of a carefree lifestyle, the collection of well-designed and colorful residences, and the breadth of amenities and good times to be had using them, you start to run out of reasons not to consider taking a look at Latitude Margaritaville Daytona Beach.
But just in case, Bullock provides a closing statement as to why you don't need to wait any longer.
"The community's there. The presentation is there. The representation's there. The amenities are opening this spring. There is no better time to get in than right now because if you came in and bought a house, by the time we build it, you're going to have all the amenities. You're not going to have to take the mental risk that certain people overcame early on."
"Will they deliver?" Yes, we delivered. You can see it. The amenities will be opening shortly and that really is ground zero for the lifestyle component of what we're offering."
If you'd like more information about the 2018 55+ Community of the Year, head over to the Latitude Margaritaville Daytona Beach community page.