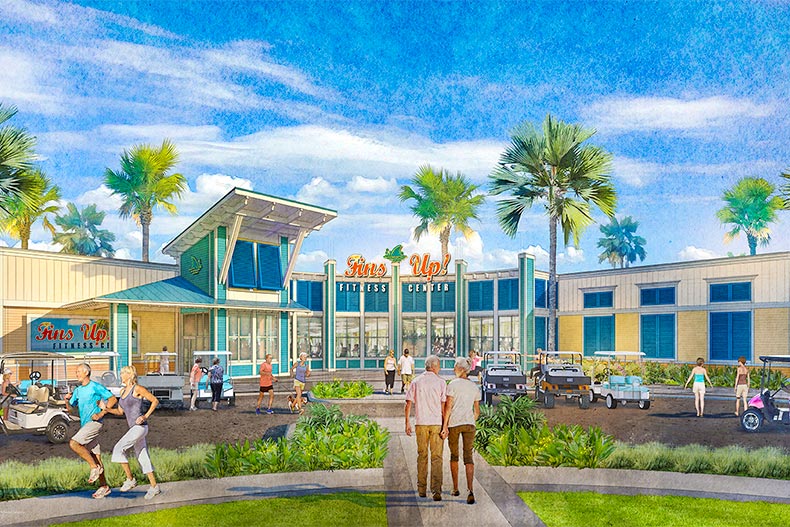 It's been a big month already for the Latitude Margaritaville brand. Last week, Wheel of Fortune gave away a free home in either the Daytona Beach or Hilton Head communities, spiking interest in the Jimmy Buffett-branded lifestyle available at both. Now, word has come down about when the first round of residents will start moving in at Latitude Margaritaville Hilton Head.
According to The Island Packet, the initial arrivals at LMHH will start moving in "sometime in November." There are currently 85 homes under construction in the Hardeeville community, which has plans for as many as 3,000 residences across 2,700 acres upon completion.
Each home in LMHH features modern finishes, state-of-the-art technology, and of course, a Margaritaville-inspired design. Residents have six villa home models and nine distinct single-family home models to choose from. Home prices start in the low $200s and rise into the high $500s, depending on the extras and upgrades.
When residents do move in, they'll already have some of the community's amenities waiting for them. The Lake Latitude Club, a clubhouse that includes a fitness center, resort-style pool, social hall, and sandy beach area, held its grand opening back in June.
Several other amenities will be complete by fall 2019, including the Latitude Bar & Chill restaurant, pickleball and tennis courts, a pool with a poolside bar, Barkaritaville Pet Spa, and a dog park.
With the arrival of residents, LMHH will join the Latitude Margaritaville Daytona Beach location in getting underway. Homeowners started moving in there earlier this year and are also awaiting the arrival of various amenities and nearby shopping destinations. A third location in the Florida Panhandle, Latitude Margaritaville Watersound, is currently scheduled to open in early 2020.