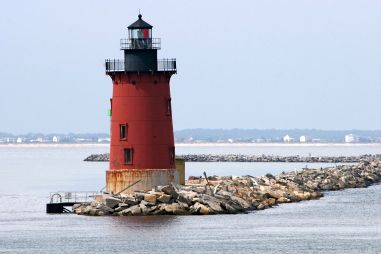 Southern Delaware is rapidly becoming a retirement hot spot and Lewes is a prime coastal destination. This picturesque small town offers historic charm along with beautiful beaches and modern retail centers. It is a popular summer retreat for East Coast visitors, particularly those from nearby Washington, D.C.
As Southern Delaware continues to attract retiring active adults, the Lewes area stands out as a small town with its own regional charm and a prime location near a variety of popular coastal destinations.
An East Coast Location
Lewes is located in Southern Delaware's popular Sussex County, adjacent to Cape Henlopen State Park. While the city technically sits at the bottom edge of the Delaware Bay, it is typically considered an ocean resort town. Lewes has its own beaches, and it is also just a twenty-minute drive to Rehoboth Beach which features a beach boardwalk and sprawling outlet mall.
From Lewes, residents can also plan easy trips across the Delaware Bay to Cape May, New Jersey. The Cape May-Lewes Ferry is a 17-mile, 85-minute cruise that shuttles between the two states several times a day. Passengers can leave their car at the dock or reserve a parking place on the ferry and bring it with them. By taking the ferry, Lewes residents can reach Atlantic City in less than three hours, making it a great weekend getaway.
Outdoor Recreation
Residents don't have to leave Lewes to have a good time. This tranquil retreat offers outdoor recreations, diverse entertainment, charming shops, and fine restaurants. Water lovers can enjoy swimming, fishing, boating, kayaking, or simply strolling along Lewes Beach. At Cape Henlopen State Park, there are miles of additional beaches, scenic nature trails, and protected bird sanctuaries.
Historic Downtown
Though Lewes is growing, it is still a small, walkable town. A tour of Lewes reveals historic homes, local shops and restaurants, a regional museum, and even a village blacksmith. Yet it also has modern conveniences, including the Beebe Medical Center, which HealthGrades named a Distinguished Hospital for Clinical Excellence in 2012.
Active adults who want to minimize their car use will also appreciate Lewes' public transportation options. In addition to the Cape May-Lewes Ferry, public bus service through DART First State, and the Park N Ride Transit System travel from Lewes to nearby resort towns and into Wilmington and Dover. There is also a local Greyhound bus station for nationwide travel.
Tax-Friendly Delaware
The Lewes area is a scenic retirement destination for active adults who love quiet, coastal living. Delaware is also tax-friendly with modest income tax rates, no state sales tax, and some credits and exemptions for retirees.
Active Adult Communities in Lewes
Within Lewes, there are age-restricted communities like Bay Crossing and active lifestyle communities like Nassau Grove. Retirees can also find beautiful homes in communities just outside of Lewes, such as Independence in Millsboro and Heritage Creek in Milton.