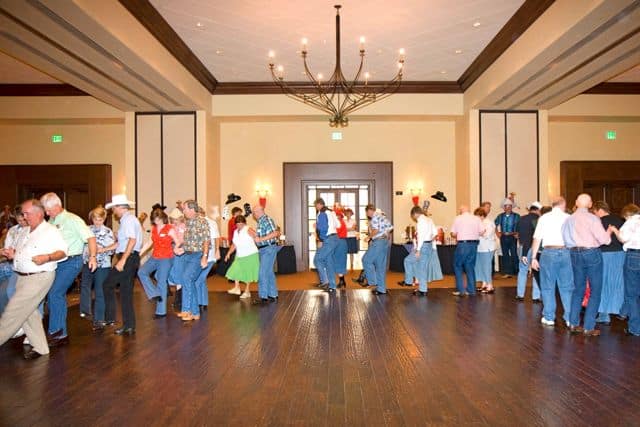 Kids, teens, and adults of all ages have fun kicking up their heels with a little line dancing. At active adult communities, residents can often participate in line dancing classes or join a line dancing social club. But what is it about this activity that draws in both dancers and non-dancers alike?
Benefits of Line Dancing
For starters, line dancing can be a great activity for people who don't think they can dance. By following simple moves set to the music, a beginner can master a new dance in one short lesson. With a more traditional form of dancing, such as a waltz, tango, foxtrot, or cha cha cha, it can take weeks to feel comfortable hitting the dance floor.
While having a sense of rhythm certainly helps, even those who are somewhat musically-challenged can stay on beat during a line dance by watching those around them. The moves often punctuate the accents of the music and the same set of moves repeat throughout the song, making it easy to practice and get better just by diving in. When dancers do get out of sync, it's usually not too hard to jump back in and keep going.
Another benefit of line dancing is that you do not need a partner to participate. Anyone can join the line and have fun dancing along with the group. This makes it ideal for singles mixers or for community events where there will be a mix of both couples and single guests.
Some adults avoid line dancing because they don't like country music. For others, embracing their inner cowboy is all part of the fun. Of course you don't have to be a cowboy (urban or otherwise) to enjoy a good line dance. It's true that most line dancing is set to country music, but it doesn't have to be, as evidenced by the popularity of the Electric Slide at weddings and junior high dances.
Though most active adults take up line dancing as a social hobby, there's no questioning the health benefits that the activity can bring. Line dancing can improve cardiovascular health and physical strength. It can also relieve stress and promote social wellness. Plus, it's just plain fun.
Active Adults Communities with Line Dancing
Many active adult communities across the country offer line dancing clubs, classes and events. Just a small sampling of these communities include Del Webb Charleston at Nexton in South Carolina, Covered Bridge in New Jersey, Lake Ashton in Florida, Robson Ranch in Texas, and Four Seasons at Palm Springs in California.
The next time you're looking for something to do on a quiet evening, why not look around for some line dancing? You just may discover you love a little "Boot Scootin' Boogie."