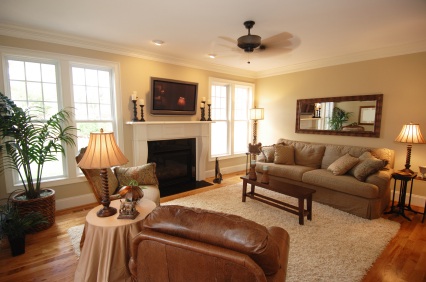 Many active adults choose to downsize once their nests are empty. The homes in active adult communities are often a great fit, as they are designed to optimize low-maintenance living, yet some buyers wonder if they can be comfortable in a house that is much smaller than their current family home. With a few interior design tricks, a smaller home can reflect the owner's personality and design aesthetic while also taking on a more spacious feel.
Choosing the Right Kind of Home
When choosing a new home, buyers will notice that open floor plans are featured in many active adult communities. An open floor plan is one where the main rooms flow together without dividing walls. Often the living room and dining room share one larger space. There may be little to no separation into the kitchen as well, making it easy to entertain while preparing a meal.
A thoughtfully designed open floor plan will make a small space feel larger, as there are few walls to break up space or block the natural light from flowing throughout the rooms. Furniture groupings designate separate areas while letting each "room" enjoy the benefits of the larger shared space. High ceilings and large windows will further enhance an open floor plan and make the home feel more spacious.
Color Coordination
Color is an important element of interior design and plays a significant role in the feel of any room. Choosing lighter, cooler hues will open up a small space. This does not limit your palette to pastels alone. If you are set on a more dynamic color scheme, opt for bright yet light colors in blues, greens or even purples. Just avoid dark jewel tones, which are often too heavy in a small space.
To further open the space, stick to a monochromatic color scheme (different shades of the same color) throughout the main rooms. Contrasting colors tend to break up space and that will work against your open floor plan. Keep this in mind when buying furniture as well.
A pale peach room whose furniture also has light-colored upholstery will feel much larger, especially if it is bathed in natural light. As wall space is limited in an open floor plan, arranging furniture may feel like a challenge. This is especially true when bringing in furniture that was originally purchased for a larger home.
How to Place Furniture
That doesn't mean that you need to replace everything you own when downsizing. A few design tricks will make the most of your beloved furnishings. Having separate furniture groupings in a larger open floor plan may require arrangements where some furniture will not be anchored to a wall. To make the most of the open space, place taller furniture, such as bookshelves and entertainment centers, against the walls and arrange low-backed couches and chairs in the open space.
Be sure to keep walkways and doorways clear so the room has a comfortable flow. Nothing will make a small space feel cramped faster than a pile of clutter. Invest in some organizational furniture and accessories to give your home a sleek, clean feel. Cabinets with drawers and doors present a smooth, uncluttered appearance.
Keep knick-knacks and wall art to a minimum as well. Downsizing from a large family home does not have to mean moving into a small, cramped space. Today's smaller homes are designed with an eye toward open floor plans with a spacious feel, especially in active adult communities where builders cater toward buyers who prefer beautiful, yet low-maintenance homes.