Dave Schreiner, a former Del Webb executive, has over 20 years of experience planning, developing and operating active adult communities. His work has given him unique insight into the challenges and rewards of active adult living. Dave currently is a Principal with Mature Market Strategies consulting firm. Please post any questions to Dave in the comments section at the bottom of this article.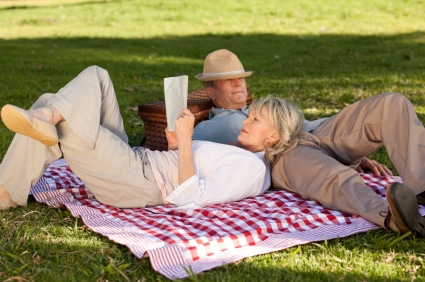 Remember when you always seemed to be late to the office, picking up your kids after ballet lessons and finally getting home for bed? Now, as the children have moved away and work becomes more routine, it seems as if you are becoming more punctual. Fashionably late has morphed into fifteen minutes early. Racing to an appointment has been replaced with having time for a latte on the way. Time has become a manageable commodity and now you have some investment decisions to make.
Managing your time becomes increasingly more important as you move into your active adult years. It seems like time moves more quickly as you age. Think back to when it seemed like an eternity to wait to be excused from the table so you could run out to play. Those ten minutes seemed like forever.
But today, it seems as if you just had your hair colored even though it was six weeks ago. Or maybe it's just getting harder to keep the grey under a nice ash brown. It turns out managing your time is an exercise that increases in difficulty the longer you wait. You see, the old physics adage that a body in motion tends to stay in motion, and a body at rest tends to stay there, applies very well here.
Time has become a valuable commodity that you will need to manage. This valuable commodity disappears at an ever-increasing pace and becomes less and less manageable the longer you delay. Let's grab a mitt and head out to right field. The lifestyle game has started and you want to play.
First off, you need to make a commitment to make the most of your time. It would be a good idea to take inventory. Do you place a high priority on maintaining your health, or traveling to experience new places, or quiet time reading? Then, you move to the other end of the scale and think through all those low priority activities that use up precious time.
Now that you know how you want to spend your time, you need to look for the place that optimizes the time you invest. For many, the best place is not their current home. How do you save time looking for the best place?
Websites such as 55places.com offer a very easy way to sift through hundreds of communities that will allow you to invest your time in activities that you value the most and minimize those that are not so important to you. Many of the communities featured on websites such as 55places are designed as a result of the information developers acquire about how active adults want to spend their time.
Today's active adult communities emphasize health and fitness and minimize maintenance. Your social meeting place is generally within the community, not an hour's drive away. Your bridge and tennis partners are your neighbors, not people you see once in a while. It's time to focus on your time. And for lots of active adults, communities tailored to active adult living help you make the best use of your time.