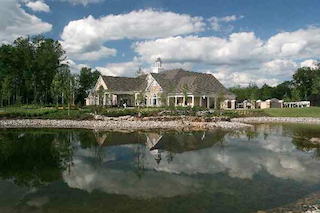 With its prime setting in Western Monmouth County, Manalapan, New Jersey, offers small-town appeal for relocating active adults as well as easy access to nearby hot spots. The beautiful Jersey Shore lies just 15 miles away, while New York City's urban attractions are about 45 miles northeast. Retirees can also find affordable homes in several active adult communities throughout the area.
Climate
Manalapan is located in Central New Jersey, not far from the Jersey Shore. Like most of the state, Manalapan's climate offers hot summers and cold winters. During the summer months, average daytime high temperatures are in the mid-to-high 80s. Winter days are much cooler with average highs ranging from the high 30s to the mid-40s. The area experiences all four seasons, including some snow during the winter months.
Recreation
The Manalapan area traces its roots back to the mid-1800s, with a history which includes important moments of the American Revolutionary War, such as the Battle of Monmouth. These landmark grounds are now home to Monmouth Battlefield State Park, a 2,928-acre preservation. Here visitors can visit a restored Revolutionary War farmhouse, learn more about the battle in the visitors center or enjoy recreations such as hiking and horseback riding.
Those who enjoy active pastimes can also visit the more modern Manalapan Recreation Center. Spanning 162 acres, this facility provides sports courts for handball, tennis, basketball, sand volleyball, and bocce ball. It also offers softball and baseball fields, two football fields, a 9-hole disc golf course, picnic areas, and a concession stand.
Shopping
Restaurants, retail centers, and shopping malls are scattered throughout the area. Locals can also enjoy trips to the nearby Freehold Raceway and Freehold Race Mall. Established in 1853, the Freehold Raceway features live thoroughbred and harness horse racing. The Freehold Race Mall provides a large selection of well-known stores and restaurants, as well as entertainment like movie theaters and an indoor carousel.
Location
Beyond its area attractions, Manalapan's prime location also makes it easy to visit the Jersey Shore or plan fabulous day trips. New York City is about one hour from the township. Other great destinations, like Atlantic City or Philadelphia, are also within a 90-minute drive.
Communities
Active adults who choose to settle in the Manalapan area will have their pick of several charming neighborhoods. Age-restricted communities in a range of sizes offer resort-style amenities along with thoughtfully designed homes. Those looking for more budget-friendly homes may find the perfect option at Covered Bridge, a well-established community built between 1972 and 1982. Active adults can also find more modern homes at fabulous communities such as Four Seasons at Manalapan, Renaissance at Manalapan, or Village Grande at Battleground.
Between its small-town charm and appealing age-restricted communities, Manalapan offers a great retirement destination for New Jersey's active adults.