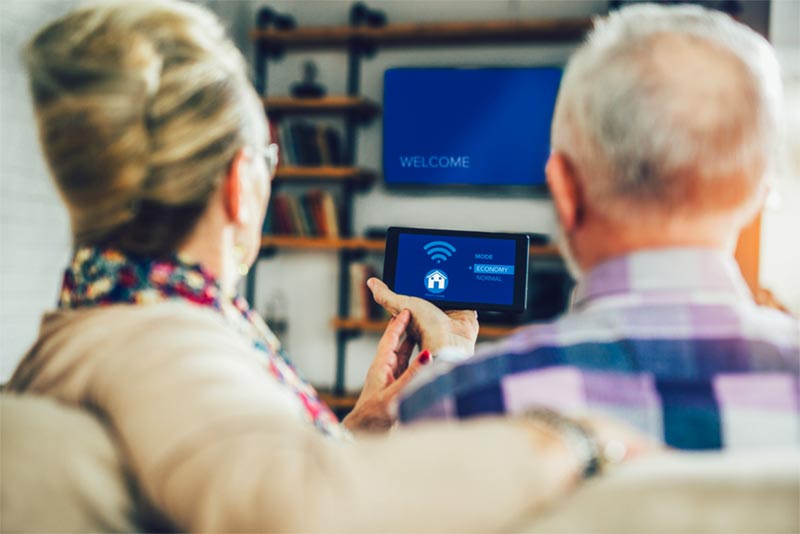 Smart homes are becoming a reality, especially in retirement.
Active adult communities may not be for everyone. Some retirees instead prefer to find the perfect house for their needs and lifestyle. If the ideal retirement home cannot be found in one's community of choice or the possibility of creating a personalized home is too appealing to ignore, many turn their thoughts toward building a new home. The "green" movement has gained significant momentum and innovations in environmentally friendly housing abound. Technology designed around making the best use of natural resources such as sunlight and rainwater has led to wonderful opportunities for homeowners to conserve and preserve. If you are considering building a new home, today's homebuilding industry offers more environmentally-friendly options than ever and the ability to build a sustainable green home has become available to a broader market.
For a hands-on experience with the latest in modern, state-of-the-art green architecture and environmentally sustainable features, Chicago's Museum of Science and Industry proudly presents the "Smart Home" exhibit. Through January, visitors to the exhibit are welcome to walk through the 2,500 square foot modular home and surrounding gardens. Envisioned by Michelle Kaufmann Designs, which "specializes in sustainable, innovative, high-quality modular architecture," the Smart Home is equipped with an impressive array of both environmentally friendly and technologically ingenious features. The use of natural light and energy-efficient heating and cooling systems reduce the home's environmental impact and energy expenses. The photovoltaic film which covers portions of the roof supplies most of the home's electricity. A "digital nerve center" that runs throughout the home provides automatic energy and lighting regulation, a feedback feature that alerts the homeowner of electricity and water consumption, and another feature that sends the homeowner a voicemail when plants need watering.
All American Homes manufactured the Smart Home project in assembly-line fashion over an eight-week period. The way in which All American Homes produces the modules cuts the production time and harmful environmental impact inherent to traditional, on-site construction practices. At the Smart Home exhibit, you will learn about the All American way of home building and the practices that give back to the local community in an effort to leave as minimal an ecological footprint as possible.
At the Smart Home exhibit, you will see how seemingly small and simple projects make a big impact when it comes to preserving the environment. You can explore the creative uses of recycled materials such as bathroom tile that was made out of glass bottles, a couch upholstered with recycled t-shirts, a rug manufactured out of coffee bean bags, a table fashioned from a fallen tree, and more. You will also learn about how building the right garden can supply cooling and insulation for your home while providing water conservation and recycling. Such individual projects can help offset your own environmental footprint, even if you live in an active adult community where a fully-featured "Smart Home" was understandably not an option.
The inspiration behind Kaufmann's current style of homebuilding came from the experience of searching for an environmentally home of her own. Understanding the difficulty potential homeowners may have to locate a green builder, Kaufmann set out in her latest venture based on the "belief that sustainable, well-designed buildings should be accessible to more people." If you are considering building a new home and would like to protect the planet in the process, consider exploring the numerous and exciting innovations available now in the green building movement and help leave an environmentally friendly imprint on your community.