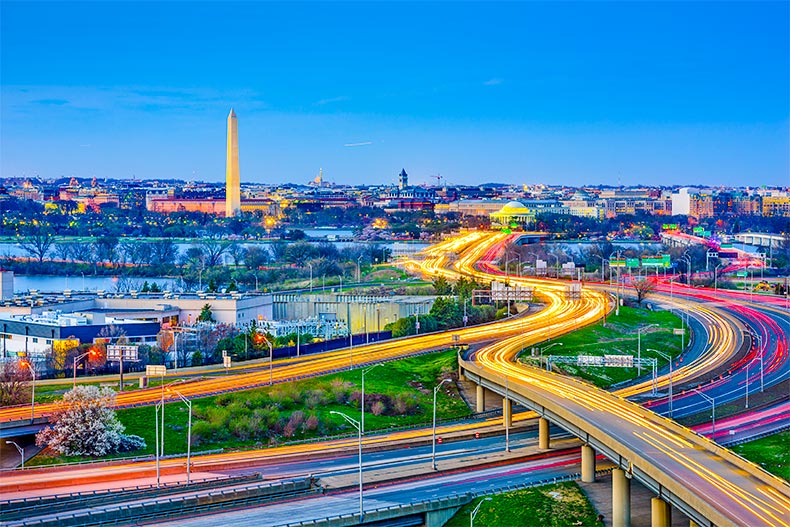 Recently, U.S. News and World Report named Washington, D.C. as one of the best places to retire in 2019. Today, a third of the population of the greater metropolitan area is over 50 and the average retirement age is 63. This means that active adults don't have to retire to the area, but simply find a place that fits their needs for when they are ready to retire.
For those still working in Washington D.C. or those who want to take advantage of the museums, restaurants, and cultural events in the city, age-restricted communities in Maryland's suburbs offer a peaceful and convenient option.
These six 55+ communities make commuting to the city easy.
Below $100k - Mid $500s
Leisure World of Maryland is a large gated community in Montgomery County where prospective residents can find their new home in almost any style. Models range from small, newly-built condos to mid-sized single-family homes, and attached homes in a variety of sizes.
Leisure World truly creates a community with two clubhouses, a golf course, and lots of social activities and classes. Leisure World is located less than 10 minutes from the Metro Glenmont Station, residents can also experience everything the D.C. region has to offer without having to worry about driving.
Request more information about Leisure World of Maryland.
High $100s - High $200s
Like Leisure World, Cameron Grove's convenient location near the Metro makes it a great community with an easy commute into the city. Single-family, attached homes, and condos make up this 740-home community. Cameron Grove is also one of the most affordable communities in the close D.C. suburbs.
Residents don't need to leave the community for entertainment, since the resort-style amenities include a movie theater, multiple pools, a fitness center, outdoor spaces including a softball field and driving range, and studios and meeting spaces for clubs and classes indoors.
Request more information about Cameron Grove here.
Low $200s - Mid $500s
Located in Laurel, Central Parke at Victoria Falls provides resort-style living in between Baltimore and Washington. The mid-sized community of just over 600 homes includes single-family, attached, and condominium homes.
Residents enjoy the large clubhouse, state-of-the-art fitness center, pools, and social spaces. Although not located near public transportation, Central Parke is just minutes from Interstate 95, and a half-hour commute to D.C.
Request more information about Central Parke at Victoria Falls here.
The 55+ Communities in Piney Orchard
Piney Orchard is a planned community in Odenton, Maryland. Nestled in between the Patuxent Research Refuge, Fort Meade, and the Severn River, Odenton is a small community with both a mainstreet and big-box stores. In the center of Odenton is the MARC Train station, which allows for an easy commute to Washington, D.C., Baltimore city, and Baltimore-Washington International Airport.
Piney Orchard is also close to Route 295, the Baltimore-Washington Parkway, about half-way between the two cities. However, Piney Orchard itself is an oasis, bordered by the wildlife refuge and Piney Orchard Nature Preserve. Within the all-ages planned community, active adults can choose from three different age-restricted neighborhoods.
Low $300s - Mid $400s
The Villas of Rock Oak features attached homes offered for resale. The homes range in size from 2,140 to 2,844 square feet with two to three bedrooms. Like all homes in Piney Orchard, the community manages the grounds and provides maintenance-free living. These 38 homes do not have their own clubhouse or amenities, but residents do have access to Piney Orchard's pools, exercise facilities, tennis courts, and clubhouse.
Request more information about The Villas of Rock Oak here.
Low $200s - Low $300s
Cedar Ridge at Piney Orchard and Gatherings at Forest Glen offer age-restricted condominiums in Piney Orchard. All of the condos have two bedrooms and two baths, but floor plans are slightly different depending on the building.
Cedar Ridge, which is the larger of the two communities, offers residents a private clubhouse, outdoor pool, tennis courts, and gathering areas. Gatherings at Forest Glen has a clubhouse, exercise room, and outdoor pool. Both also have access to Piney Orchard's facilities.
Request more information about Cedar Ridge at Piney Orchard or Gatherings at Forest Glen here.