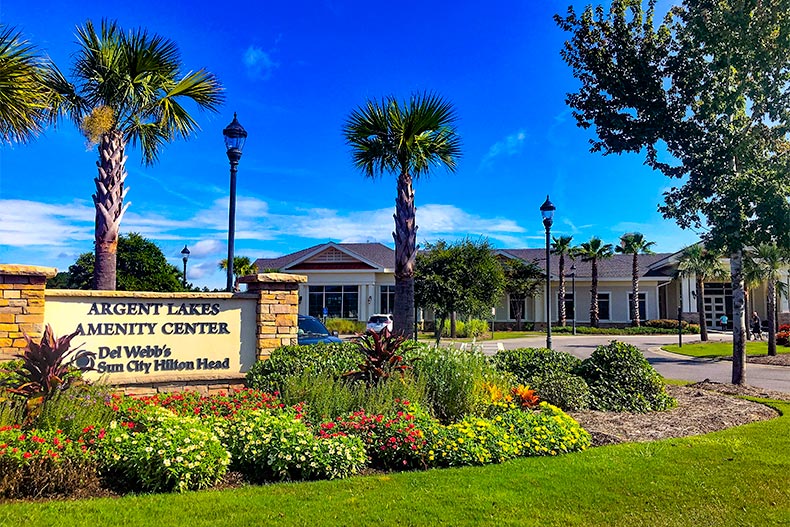 Sun City Hilton Head has taken the crown as the number one 55 Best 55+ Communities in 2018. You've read the community page, looked at the photos, and checked out the amenities. Now it's time to hear straight from the residents of Sun City Hilton Head. What makes the community the best of 2018? Let Marjie and Howie Seras as well as John and Tracey Rossman explain.
Meet the Serases
Marjie and Howie Seras vacationed on and off in Hilton Head for five years and they got to know the area pretty well. They would pass by Sun City Hilton Head on occasion and wonder about it. As they began preparing for retirement Marjie went on 55places.com, which she had been using a lot, and looked up the community they have driven by so often. After they stayed on site in one of the model homes for a weekend, they fell in love with the community.
One year ago, after their kids finished school, the Serases packed up their things and moved from their quaint,1920s home in Westchester County, New York and moved in their resale home in Sun City Hilton Head.
"It's, of course, hard to leave friends and family from New York," says Marjie. "But everyone here is so nice. And it's really affordable for all kinds of different people from different walks of life."
Though Sun City Hilton Head began construction in 1995, Marjie feels like their house and everything in the community is new. Coming from New York, where the couple's property taxes were high, the Serases were able to buy a bigger home in Sun City, rather than downsize, which is typical of retired couples after their kids are out of the house.
Meet the Rossmans
Like the Serases, John and Tracey Rossman have been coming to Hilton Head on and off for years. They've owned a timeshare there since 1999 and would drive past Sun City Hilton Head when leaving the island. Stuck in traffic, they one day decided to stop in the community and tour the model homes they had seen so many times on billboard signs on the highway. "We were just taken by the absolute beauty of this place," says Tracey.
Though they looked at several other 55+ communities, they chose Sun City Hilton Head because they felt it was superior to the other choices. Its access to the beach and proximity to Savannah and Charleston also helped. "It's the perfect location," says Tracey.
Community Amenities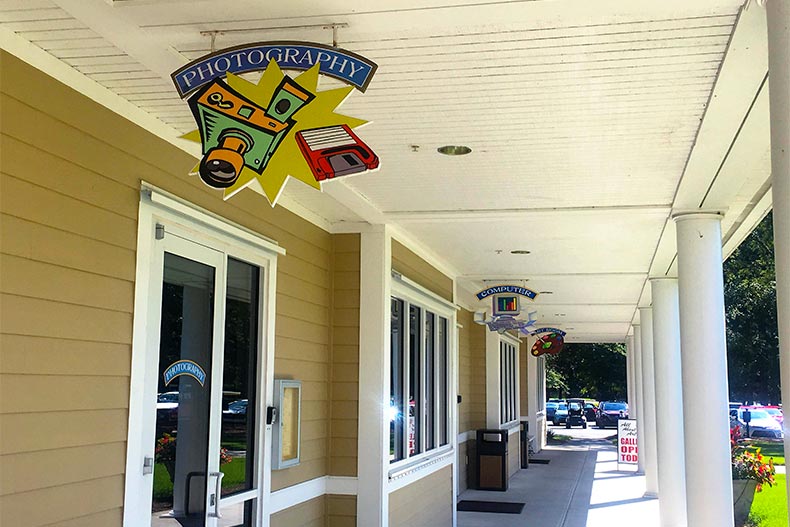 A photography studio is just one unique amenity located in the community.
Golf is big for both couples and Sun City Hilton Head has them covered with three 18-hole championship golf courses. "My husband's an avid golfer, like three times a week, and I'm actually learning, which I'd never thought I'd ever imagined myself doing," says Marjie. "So I took a class in the clinic and I think I'm going to be a work in progress until I'm 110."
John and Tracey not only love to play golf, but they love that they can drive golf carts anywhere around the community, and even outside of the community. "You can drive it to restaurants, the grocery store, the bank, and the doctor," John says. "So yeah, it's very convenient that you can take it outside of Sun City."
"We also like the pool," says Howie. "I mean, we're in the pool, both indoor and outdoor, four times a week, depending on our schedules." Marjie loves the aqua Zumba classes she can take there.
And as a former UPS driver, it's important for Howie to get his workouts in at the Hidden Cypress and Lakehouse fitness centers in the community. "They're absolutely phenomenal, the equipment there," he says. "And we actually made friends with one of the trainers there. So, those services are good to have."
John and Tracey both work out at the gyms as well. The next activity they'd like to try is Pickleball, if they can fit it into their busy schedules.
"I'm a member of the of the Sun City chorus and concert band," says Tracey. "We have an amazing, musically-active social life. So if we can fit something else in, it'll probably be pickleball.
A Volunteer Lifestyle
Sun City also offers volunteer opportunities to give back to the community, inside and out of Sun City. Staying Connected is a group that supports elderly residents within Sun City so they don't have to leave their homes, providing things such as home care, housekeeping, or driving people to the doctor or grocery store. Tracey's chorus and concert band group put on shows twice a year for the Sun City community, as well.
Marjie volunteers with Sun City's own television station and production studio, where she does promotion work. There are also reporters who go out into the Sun City community and interview folks about what's happening around the area, then do live news shows.
Howie and Marjie have a couple of friends who work in the community's woodworking shop, something that Howie may eventually try
Though the Serases and the Rossmans love all of the amenities Sun City Hilton Head has to offer, it's the people they love the most.
Sun City Hilton Head Means People
There are around 15,000 people in more than 8,000 homes in individual neighborhoods throughout the community. Marjie is on the social committee for her neighborhood. Get togethers vary depending on the neighborhood but can span the entire community. "You can just go out and meet anybody where you go here and just chit chat," says Marjie.
John says they discovered very quickly that it's easy to meet other people that enjoy the same activities and even easier to develop relationships with them. During his first week at Sun City Hilton Head John met a group of golfers that he still meets with regularly. "We're good friends with them now," he says. "We're the group where we go out and do entertainment dinners with them, go to house parties. So, people that come here really have the attitude that they're open to these new relationships."
Marjie says that one day their garage door broke and they couldn't get to their car. They had friends they needed to pick up at the airport in Savannah. After calling around, two people showed up within three minutes to lend them their cars. "It's a type of place where you're just going to have people really help each other," says Marjie. "And it's just really nice."
Before moving to Sun City, Tracey had heard that there was just a bunch of old people that lived there. "I will tell you there is nothing further from the truth," she says. "We have old people here. That is true. But people move here to be active physically, mentally, and socially. And so when I hear that a bunch of old people are in this 55 and older community, I would argue just the opposite. We are probably more active now than we've ever been."
For Howie, he calls Sun City Hilton Head the "judge-free zone." He says that he and Marjie have met some of the nicest people living there. "No one judges you with what you did before. I mean, it's just such a laid back, relaxed, nice community."
"People come here and they're like, 'Wow, you hit the jackpot,'" says Marjie. "We just consider this our family now."
"It's got everything you want and it's right there at your fingertips," says John. "All you've got to do is enjoy it."