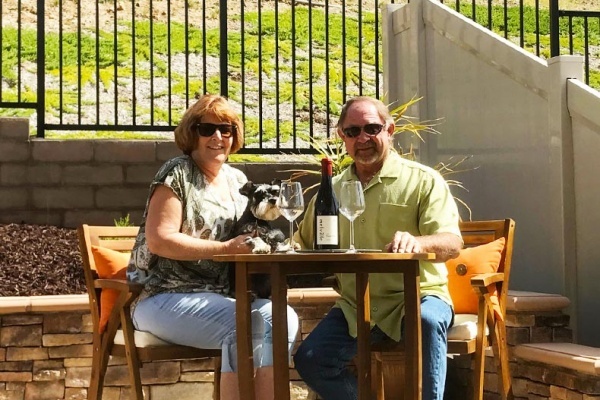 Karen and Keith Keen credit Terramor with keeping them active and helping them meet new friends.
In early 2017, it was announced that Terramor, a 961-acre master-planned community in Riverside County, California, would begin developing homes. The first community, a 55+ neighborhood called Cortina, opened later that year. In all, three age-restricted neighborhoods, including Ardena and Sterling, will host a total of 480 single-family homes upon completion.
Now that the dust has settled and residents have moved in, you might be wondering what some of the early residents think about living in this sprawling community. So, we asked a couple who recently moved there in order to find out.
Meet The Keens
Keith and Karen Keen were looking for a new home in their hometown of Rancho Cucamonga that made sense for their price range. "Our primary focus was to get rid of our big two-story home and get the same square footage in a single-family, single-level home," says Karen. They weren't able to find what they were looking for, but when homes at Terramor became available, they jumped at the chance. After selling their old home at a good price, they were able to buy their new one in the Cortina neighborhood for cash.
Another big factor in the move was Terramor's location in relation to their children. The move positions them halfway between them. Plus, their son is actually getting ready to hold his wedding reception in The Terrace Club, the 55+ exclusive recreational club, after it's completed in August. Not a bad choice for a special event or to unwind afterward considering this 20,000 square-foot amenity space will include a resort-style pool with cabanas, indoor pool, fitness center, and tennis, bocce ball, and pickleball courts.
Getting to Know the Neighbors
As for the immediate community around them, the Keens say the growing social scene, especially as new neighbors move in, has been one of the biggest benefits of the move.
"We are definitely connected with the neighbors and meeting new people every day," said Karen. Part of the appeal is the varied backgrounds and places that their neighbors hail from. "We've met people from New York, Chicago and of course, there are a lot of people moving from other nearby communities. We've met people who are exactly like us and some people who are nothing like us and that's okay too."
Community Amenities
The nature aspects of Terramor were also a big selling point for the Keens. Interlaced with more than five miles of trails and paseos that connect to a broader trail system, the community gives the couple plenty of opportunities to walk and hike. Numerous other parks and outdoor amenities, including a community garden, and large and small dog parks—which the Keens use often with their dog—provide them with year-round active opportunities.
"One of my favorite activities so far has been the Friday morning walking group," says Keith. "We've attacked some of the local hills around here on five-mile hikes. It's been great fun and great exercise."
The Keens say they've also been enjoying the community amenities like The Veranda all-age clubhouse and pool area. They've already reserved the space for two parties there, including a surprise party for Keith's birthday and a St. Patrick's Day party.
The Right Call
As for whether or not they feel like they made the right choice moving to Terramor, it seems like the Keens are clear on the answer.
"There's a good camaraderie going on," says Karen, " It's just fun to have an avenue where you can meet new people. It's a change that we're glad we made."