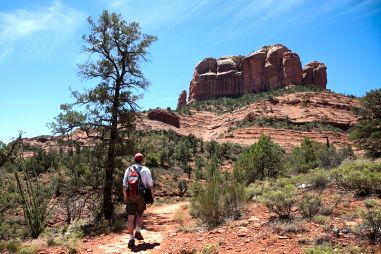 Active adults looking for a tranquil, rustic retirement location may love Nevada's Mesquite area. This desert destination features sunny weather, spectacular mountain views and a variety of local attractions. While Mesquite may not include the urban appeal of a large metropolitan area, its close proximity to cities like Las Vegas and St. George, Utah, lets residents enjoy the best of both worlds.
The city of Mesquite is situated in Southern Nevada, on the border of Arizona and not far from the Utah state line. This unique location puts the city within easy access of other vacation hot spots. The glittering Las Vegas Strip is about an hour southwest of Mesquite, and the many attractions of St. George, Utah, are only 36 miles away.
Attractions
Within the city of Mesquite, residents will find an interesting mix of local attractions. The Virgin Valley Heritage Museum offers permanent and changing exhibits to highlight the area's early history. Another popular attraction, the Mesquite Fine Arts Center, showcases both local and guest artists and also offers art and pottery classes. Other popular recreations include challenging golf courses, exciting casinos, local shopping centers, and friendly restaurants.
The Mesquite area is known for its tranquil desert beauty and majestic mountain vistas. Outdoor enthusiasts can enjoy many natural wonders not far from the city of Mesquite. Nearby attractions include the Valley of Fire State Park and Lake Mead National Recreation Area. Within three hours of Mesquite, popular scenic getaways include trips to the Grand Canyon, Bryce Canyon, and Zion National Park.
Climate
Weather in Mesquite is typically hot and dry with low humidity and an average of 310 sunny days each year. Daytime temperatures from May through October can be quite hot, with highs ranging from the mid-90s to over 100 degrees. Winter months are generally more temperate with daytime averages in the 60s and nighttime temperatures dropping to the mid-30s.
Communities
As of 2011, the city of Mesquite's estimated population is just under 17,000. Yet, this rural area has shown significant growth over the last decade and continues to attract the attention of active adult retirees. One of the biggest draws to the area for retirees is Del Webb's development of Sun City Mesquite. This quiet retreat, which will one day include 3,725 single-family homes, is designed to offer resort-style living along with the secluded tranquility of the Nevada desert.
The Mesquite area may not be the ideal choice for all retirees, but it will certainly appeal to those who value rural living. The area's small-town charm and striking natural beauty make Mesquite a decidedly different alternative to the typical retirement destination.