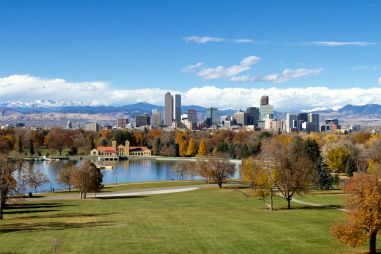 Retirees who love the American Southwest have traditionally relocated to Phoenix or Las Vegas, but many active adults have discovered their dream retirement homes in the Denver area. With scenic beauty, mountain vistas, urban attractions, and plenty of sunshine, it's easy to see why Colorado's capital city is becoming a retirement hot spot.
Location
Nestled in the base of the Rocky Mountains, Denver is both the capital city and the most populous city in Colorado. The Denver metro area is located at the southern edge of the Front Range region not far from the breathtaking Rocky Mountain National Park. It is also about an hour north of Colorado Springs, which is a lovely spot for a day or weekend trip.
When people first visit Denver, they are often surprised by the area's fabulous weather and mild temperatures. The arid climate brings little rain, low humidity, and an average of 300 days of sunshine each year. During the summer, daytime temperatures reach highs in the upper 80s. In the winter, common daytime temperatures are anywhere from 45 to 60 degrees. There are winter flurries, but snow rarely stays on the ground for long.
Perched at an elevation of one mile above sea level, Denver has been nicknamed the "Mile High City." This lofty altitude can be an adjustment for visitors or newly relocated residents. Fortunately, there are ways to make it easier to acclimate. Some important tips include staying well-hydrated, eating foods that are high in potassium, using sun protection, and avoiding overexertion during physical activities.
Local Activities
Denver has a wide range of attractions which are sure to appeal to relocating retirees. There are historical Old West sites, regional museums, and beautiful parks and gardens. Shoppers will love distinctive areas such as the Cherry Creek Shopping District or the Denver Pavilions. Being home to Coors Brewery and several microbreweries has also caused some to call Denver the "Napa Valley of Beer."
Sports and outdoor recreations are a routine part of life in the Denver area. The city is home to the country's largest city park system with over 850 miles of urban trails. Hiking, biking, skiing, snowboarding, and other outdoor adventures are found throughout the area. Sports fans can also cheer on seven different professional sports teams including the Denver Broncos (NFL), the Colorado Rockies (MLB), the Denver Nuggets (NBA), and the Colorado Avalanche (NHL).
Active Adult Communities
Relocating retirees have many options when it comes to finding active adult communities in the Denver area. Windsor Gardens, which is located right within Denver, offers convenient access to all that the city has to offer. Just outside of Denver, in the cities of Aurora and Broomfield, retirees will find appealing communities like Heather Gardens, Heritage at Eagle Bend Golf Club, and Anthem Ranch.
With a beautiful climate, a variety of urban attractions, diverse outdoor recreations, and spectacular scenery, the Denver area is a lovely location for a dream retirement home. Plan a visit today, and get a preview of the life that could await in the Mile High City.