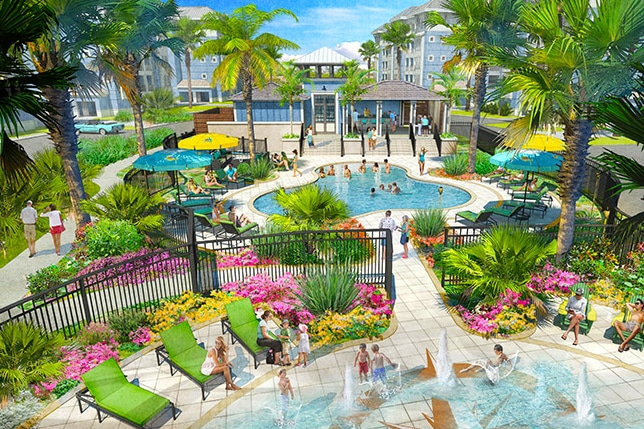 In March of this year, Minto, a Florida-based developer of residential communities, announced a new active adult community coming to Daytona Beach. Unlike other announcements about new communities, this one took the industry by surprise. It wasn't because of the size of the community (The Villages still has the crown in that category), nor was it because of a flashy clubhouse (the entire Trilogy brand, anyone?). It was because of who they tapped as a partner in their new venture.
Jimmy Buffett — the perennial symbol of no-holds-barred leisure — was now in the business of developing 55+ communities, which were to be named Latitude Margaritaville. The news was such a big deal that it led Rolling Stone, a publication that constantly reinvents itself to adapt to contemporary youth, to publish an article about a retirement community. It all started when Minto began developing an unrelated community in Daytona Beach and, through a mutual business contact, had learned that Margaritaville Holdings was interested in developing active adult communities. "They didn't use the word 'active adult', but they just really knew that they wanted to do a community like [what we were building]," said Bill Bullock, Vice President of Sales for Minto. A week after having the initial conversation with Margaritaville Holdings, Bullock met with their executives in the Orlando airport.
"We spent a couple of hours together and it was very apparent that these two private companies, both with 40 years of experience with this demographic, were able to make everything fall into place perfectly."
Minto and Margaritaville Holdings — both lifestyle, Baby Boomer-centric companies with a decidedly tropical theme — were natural partners and, after a few months, announced that they were going to be developing three communities together: Latitude Margaritaville in Daytona Beach and Hilton Head in South Carolina, as well as a section of Harbour Isle, which will be named after another famous Buffett song, "One Particular Harbour." It all culminated this Monday, October 30, when the Daytona Beach location officially opened their doors to the public, giving prospective homeowners their first glimpse of the highly anticipated community. Even though Minto has spent decades developing and refining active adult communities throughout Florida, this partnership gives the company a new angle: authenticity.
"There's only one Jimmy Buffett," Bullock said. "There's a definite expectation that once you walk in the community, that it's real. That this is the Margaritaville lifestyle."
And Minto is sparing no expense when it comes to meeting those expectations. While Latitude Margaritaville Daytona Beach is slated to feature the mandatory outdoor pool and fitness center, it is also going to boast a 70-acre retail center, private beachfront club, and Margaritaville restaurant and bar. In keeping with the spirit of Jimmy Buffett, Margaritaville will feature a bandshell with live music every day. "Every afternoon, people can roll in on their golf cart and listen to live music," Bullock said. The community will provide a balance of the leisurely lifestyle the Buffett-brand evokes with the focus on wellness and health that has made 55+ developments a hit with Baby Boomers. Residents will have on-site healthcare professionals who can give advice on diet, exercise programs, and provide wellness information.
"We're focused on escapism but also on wellness," Bullock added.
The announced locations for the Margaritaville communities also reflect the desires of active adult homebuyers. After surveying homeowners in surrounding communities, Minto found that active adults were seeking coastal locations and convenient access to stores, medical facilities, and interstates and international airports, keeping with the mission of balancing a healthy lifestyle that never skimps on adventure. Minto's innovative approach to active adult communities has not only introduced these communities to the mainstream but has also fundamentally changed what's possible in a 55+ neighborhood.
"I've been in this industry for 20+ years and I've never seen anything like this," Bullock said.