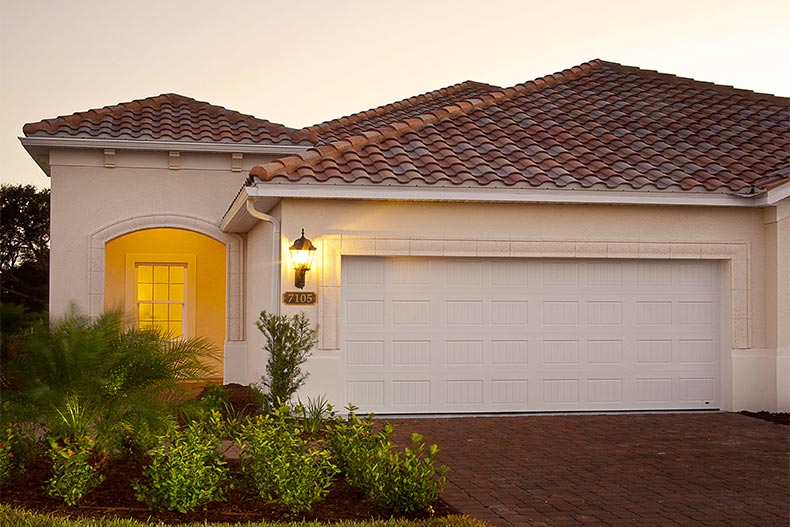 Mirabella, a 55+ community in Bradenton, Florida is committed to environmental sustainability, and it's a concept that homebuyers find appealing. The community just sold its 100th Leadership in Energy & Environmental Design (LEED) Platinum-certified home, and construction continues on additional energy efficient properties.
Marshall Gobuty, the developer of Mirabella, envisions a community in which all 158 attached homes are LEED certified and eco-friendly. The result is 40 percent less energy consumption, which translates to big savings in electric bills.
Achieving LEED Status from the U.S. Green Building Council
Construction began on Mirabella's new and resale homes in 2015, and it's one of the first housing projects in the U.S. to meet the Green Building Council's standards. To meet and achieve the LEED requirements, construction must adhere to specific standards, and random checks are regularly conducted while houses are going up. These standards include:
Spray foam to insulate gaps and holes around plumbing and electric components
Sealed ductwork and moisture barriers
Water-resistant floors
Windows with triple caulking
Erosion and termite control
Use of special paints and glues to prevent respiratory problems and support cleaner air
Additionally, these eco-friendly homes are built to withstand strong hurricanes, which is critical in Bradenton, a city near Sarasota in Southwest Florida. Homeowners insurance premiums for these custom-built homes are cut in half and Mirabella is not in a flood zone. Homebuyers in this community move into stronger, more sustainable properties.
Shifting Towards Green Living in Florida
Few states are as susceptible to the effects of climate change as Florida. Developers like Marshall Gobuty understand this, and are leading the charge in what has been called the green residential movement, or the building of energy efficient homes with sustainable materials. It doesn't require a larger investment of time or resources to build this way. The construction and design processes are streamlined, keeping the development leaner in order to achieve environmental and economic benefits.
The Mirabella community in Bradenton is an excellent example of what homeowners can expect to see with new developments in the future.
Active Adult Living at Mirabella: Additional Benefits
Doing your part for the environment isn't the only reason to live at Mirabella. Buyers can choose from four different models, ranging from 1,524 square feet to 1,764 square feet. Mirabella homes have two or three bedrooms plus a den, and two bathrooms, as well as two car garages. Prices start in the mid $200s and go into the high $400s.
The 55+ community offers a variety of amenities and a desirable location that's less than an hour from Sarasota, St. Petersburg, and Tampa. Indoor amenities include a clubhouse, where residents can host special events, as well as meeting rooms and a large exercise space. A movie theater is the perfect place for residents to gather for feature films and lively discussions of what was watched.
There's a pool and a spa, as well as a patio area for relaxing and socializing. Residents can play some pickleball at one of the two courts, or take their favorite four-legged friend to the dog park. It's easy to enjoy strolling the nature trails and biking along the scenic, shady paths. Mirabella is a relaxing, convenient, and environmentally-forward place to call home.