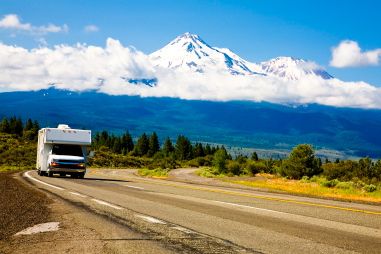 Many active adults who dream of traveling during retirement purchase or rent a recreational vehicle (RV) to enjoy the snowbird lifestyle for part of the year. Some take it a step further by selling their homes and taking up permanent residence in an RV. Living in an RV may not be for everyone, but retirees who choose this lifestyle often find that it is an exciting way to truly experience the diverse beauty of the United States.
Active Adult RV Lifestyles
The Recreation Vehicle Industry Association (RVIA) estimates that one million to 1.5 million Americans live in their RVs at least part-time. Those who become permanent RV residents are known as full-timers, and they come from many different walks of life. According to the RVIA, white, married couples were once the norm among RV full-timers. Yet today, full-time RVing is also popular among single men or women, people of color, and LGBT+ couples.
The modern-day diversity of RV full-timers is often attributed to a changing retirement environment. Active adults continue to redefine their retirement goals while lengthening lifespans are opening up more opportunities for older adults.
Benefits of RVs in Retirement
Retired adults who live in their RVs can enjoy the freedom of the open road and the best of America's climates. RV full-timers can easily become snowbirds and move with the seasons to enjoy beautiful weather year-round. They can move to warmer weather when the snow begins to fall, or take refuge in cool mountains or valleys when the temperature rises.
High fuel prices can be a concern for those who live in RVs. However, more than 80 percent of RVers say that their trips cost less than more traditional vacations, even when they account for higher prices at the pump. RV parks located throughout the country let full-timers try new locations or come back to their favorite destinations over and over again. Some active adults who crave the open road opt to take extended RV vacations while still owning a home or spending portions of the year in a rental home.
Active Adult Communities with RV Parking
Many active adult communities include RV parking, making them an ideal resting place for traveling retirees. Just a few of the communities with RV parking include The Falls at Eagle Crest in Oregon, Trilogy at Glen Ivy in California, SaddleBrooke in Arizona, Heather Gardens in Colorado, Renaissance at Manchester in New Jersey, and Sun City Center in Florida.
Although traveling in an RV lets retirees meet many different people and have rich, memorable experiences, it is not a lifestyle that appeals to everyone. There are challenges to RVing that range from the practical to the emotional.
On the practical side, maintenance, park hook-ups and simply driving are all skills that need to be learned. Emotionally, constantly traveling can stir up mixed reactions.
RV full-timers understand the importance of gaining support and advice from other RV enthusiasts. Fortunately, there are many social clubs and websites devoted to RVing. Some club websites worth checking out include Escapees RV Club, Loners on Wheels, RVing Women, and Fulltime Rving.
When it comes to retirement dreams, active adults choose many different paths. Some choose to live in the city while others prefer a rural environment. Some enjoy four different seasons, and others opt for sunshine year-round. For those who love adventure, RVing may be the road to happiness.