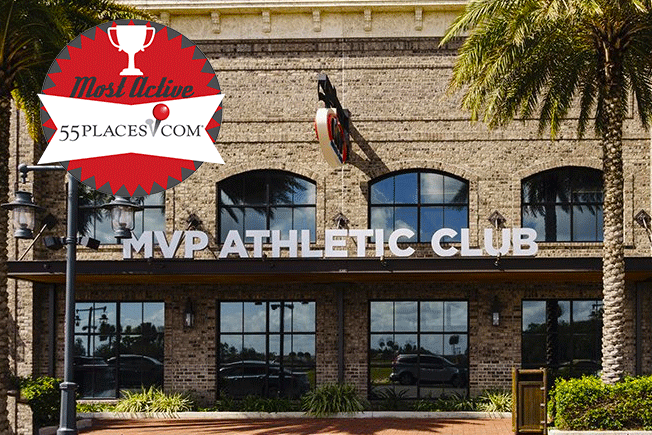 One of the great joys of retirement is finally having the time to devote to beloved hobbies, pastimes, and outdoor activities along with being able to explore new pursuits and interests. Active adult communities throughout the country provide an ideal setting for homeowners to enjoy their passions with many clubs, organizations, interest groups, and amenities that are as diverse and vibrant as the residents themselves.
Our experienced team of experts at 55places.com has spent this year researching, writing, and personally visiting active adult communities of all shapes and sizes throughout the country. While every community has something special that its residents love, the following list represents some true stars that really stand out among their peers as offering the kind of innovative amenities and diverse activities and clubs that today's active adult homebuyers seek. After much debate and careful consideration, we believe this list, presented in no particular order, showcases the best of what today's 55+ communities have to offer.
With a population of more than 50,000 full-time residents, it should come as no surprise that The Villages offers a list of clubs and activities that cater to virtually any interest imaginable. The Villages sits on 20,000 acres of land in Central Florida, giving residents plenty of space to enjoy long-practiced hobbies or pursue new interests. From a string orchestra to harmonica club, a philosophy discussion group to a vintage car club, there are organizations suited to almost any interest that meet every day of the week and are always welcoming new members.
Most residents of The Villages prefer to get around by golf cart and there are more than 90 miles of paths, ensuring it will be easy to make it to your next club meeting or outing. If it at first seems overwhelming, there's an app for your phone or tablet that can help you find your way through this vast community.
Located in the Tampa Bay Area, Sun City Center is more akin to a small, self-contained town as it has its own shopping center, grocery store, and houses of worship. The community contains more than 11,000 residents who stay quite busy participating in the more than 200 clubs and community organizations, ranging from Audubon Society to yoga classes. Miles of walking trails, cart paths, and roads also connect an extensive network of clubhouses and their outdoor amenities, from golf courses to horseshoe pits and everything in between.
Solivita is a thoughtfully designed 55-plus community that incorporates the area's natural beauty into the various neighborhoods and amenity centers. There is over 150,000 square feet of amenities and venues in this golf cart-friendly community, which should suggest to potential homebuyers just how serious they are about their recreational activities. Clubs and activity groups are numerous and represent a broad spectrum of interests, ensuring that whether you're looking for vigorous, outdoor activity or a quiet, thoughtful discussion, you'll be able to enjoy your favorite activities in the company of likeminded neighbors.
Sun City Texas is an oasis of fun and activity set among the rolling hill country of Central Texas, just north of Austin in Georgetown. This Del Webb community opened in 1995 and construction continues today with 9,000+ homes and counting. An 86,000 square-foot amenity center is the social hub of this vibrant community, offering an impressive lineup of indoor and outdoor activities along with clubs for a diverse range of interests.
Sun City Texas attracts homebuyers from around the country and there are a number of state- and city-specific clubs, allowing residents to enjoy a big game together or the opportunity to reminisce about their home state.
Denton, Texas, some 35 miles northwest of Dallas, is home to Robson Ranch Texas, a lauded active adult community built around a beautiful 18-hole golf course. Boasting 7,200 single family and attached homes, the community maintains a healthy population of active adult residents with a broad range of interests and passions. In addition to golf, tennis, fitness classes, and events at the ballroom, there are plenty of organizations and interest groups, ranging from Kiln Krafters Ceramic club to the community's own motorcycle club, The Robson Riders.
Construction began on Bonterra Cross Creek Ranch just last year in 2016, and though it is still quite new, this community is already making a splash in the Houston Area with its impressive lineup of amenities and exciting potential to be among the most active communities in the area.
As a part of the larger, Cross Creek Ranch master-planned community, residents will have access to every amenity center, including one for the exclusive use of homeowners 55 and better. As a new community, clubs and social groups are just starting to take shape, giving homebuyers the opportunity to get in "on the ground floor" of what is certain to be a vibrant and active social scene.
As the largest active adult community in South Carolina, Sun City Hilton Head offers its homeowners an amazing array of activities, clubs, and hobby and social groups that distinguish it as one of the state's premier retirement destinations. There are 54 holes of golf spread over three courses, a 20-acre lake, and numerous venues for outdoor activities and socializing that take advantage of the pleasant year-round weather. Whether you're a devoted model yacht enthusiast or enjoy tennis, residents will find plenty of ways to make the most of their time in Sun City Hilton Head.
Sun City Summerlin proves that the excitement of Las Vegas isn't confined solely to the glitz and glamour of the Strip. This standout Del Webb active adult community overlooks the city from the Spring Mountain Range and is the largest in the Las Vegas Area with nearly 8,000 homes.
Well over 100 clubs cater to residents' interests, ranging from its A Class Act dance company to softball teams to a woodworking club. The community even boasts its own theater, three golf courses, numerous pools and fitness facilities, and onsite restaurants and bars.
Tucson is emerging as one of Arizona's premier destinations for active adult homebuyers, especially those who prefer a more varied climate to that of Phoenix. At the base of the Santa Catalina Mountains, this community and its 28,500 square-foot amenity center and DesertView Sports Club & Performing Arts Theater offers homebuyers just about anything they could dream up, all with a uniquely Southwestern flair.
Among the hundreds of clubs and groups, there's the Off-Road Bunch, a club devoted to exploring the terrain in four-wheel drive vehicles, The Friends of Oracle State Park and the Coyote Country Cloggers, which is just one of three clogging groups.
Rossmoor – Walnut Creek, CA
This established West Coast active adult community showcases the natural beauty of the Bay Area and provides an idyllic setting for its engaged residents to pursue their interests in the company of their friends and neighbors. Established in 1963 in Walnut Creek, California, this 55+ community has continually evolved and updated its amenities to suit the needs of today's active adults.
The list of amenities reads like that of an exclusive resort: five clubhouses, 27 holes of golf, swimming pools, a summertime farmers market, and a full-service library, and this only scratches the surface. The roster of more than 200 clubs and interest groups is truly remarkable and ranges from breakfast, lunch, and dinner clubs to language clubs, alumni clubs, fitness clubs, and so much more. It really must been seen to be believed.