When we surveyed 55places.com readers last year to find out what they're looking for in retirement, we saw a nuanced picture of how active adults want to approach their next home purchase.
It comes as no surprise that many people are looking for affordability. When asked how much they expected their next home to cost compared to the value of their current one, 26 percent said "about the same," 27 percent said "slightly less" and 24 percent said "much less." All of that adds up to 77 percent of all respondents.
When we specifically asked how much they expected their next home to cost, 30 percent said they expected $200k or less while 62 percent said they expected to pay $300k or less.
It isn't just about affordability, of course. Everyone has their own wants and needs when it comes to retirement. Some are looking for the low-maintenance lifestyle and camaraderie that comes with living in an active adult community.
Others would prefer to split their time as snowbirds in different parts of the country. We often think of retirees packing up and leave the Northeast or Midwest for sunny destinations in Florida or Arizona, but 65 percent of those we surveyed said that living within 100 miles of their family was important to them.
Earlier this year, 55places released our list of the most affordable places to retire based on a series of financial and lifestyle factors from reputable sources. Our rankings included some of the top destinations in the country, from the surprising (Sioux Falls) to the very sunny (Daytona Beach).
One thing we noticed was that the ranking didn't include was any small towns. Knowing what we know about the varied interests of retirees, we wanted to take another look at affordability around the country from the perspective of those looking not just for affordability but also a quaint lifestyle and pleasant community.
Definitions vary when it comes to what qualifies as a "small town." For the purposes of our rankings, we capped it at any place with a population of 55,000 or less. From there, we looked at a series of factors and scores to create our rankings, all of which were weighted differently depending on their value. They include the overall cost of living, local home prices, state tax laws, local unemployment rates, availability of affordable 55+ communities, local health care options, public transit, and more (You can find our full methodology at the bottom of the post).
Without further ado, here are the most affordable small towns to retire in the United States in 2019.
1. Logan, Utah
Utah probably isn't the first state that comes to mind when you think about retirement destinations but that's something that's been changing in recent years.
While St. George was rated one of the best places to retire, the small city of Logan has emerged as a destination for those seeking a lifestyle surrounded by nature with all of the trappings of small-town America.
This not-so-hidden gem provides all of the amenities one might want out of an active retirement. It offers close proximity to stunning mountains, forests, and lakes where hiking, boating, fishing, and snowsports are just some of the activities to enjoy.
There's an extensive park system, solid golf scene, and plenty of historical artifacts and monuments to explore. There's also a renowned performing art and museum scene as well as kinds of restaurant and food offerings to enjoy.
Ultimately, Logan tops our rankings because it offers a very reasonable cost of living, high quality of life, affordable home prices, quality public transit, and access to many things that retirees are looking for, including quality health care and volunteerism opportunities.
Can't-Miss Activities & Attractions
If you're going to visit the Logan area, you're probably going to want to take advantage of the amazing outdoor opportunities. Beaver Mountain Ski Resort and Hyrum State Park are great places to start, whether it's winter or summer. But there's a lot more to do than skiing, snowboarding, and hiking.
There's a thriving culture and arts scene in Logan as well. The Nora Eccles Harrison Museum of Art collects and preserves modern and contemporary art, the American West Heritage Center celebrates the history of the Old West, and the Cache DUP Museum includes artifacts, and of early settlers.
Some of the other can't-miss spots include the Logan Tabernacle, home of the city's annual Summerfest Arts Faire, and Zootah, a zoo that includes a sizable collection of birds.
There are plenty of great local food spots to sample as well, including Tandoori Oven, Jack's Wood-Fired Oven, MayMoes, Sabores, and Le Nonne. Also, make sure you swing by The Aggie Chocolate Factory to sample the chocolate bars, cookies, and hot chocolate Utah State students are concocting.
2. Wausau, Wisconsin
Plenty of retirees leave Wisconsin for the sunny skies of Arizona, but for those who want to stay put close to family and are looking to live an affordable but enjoyable lifestyle will want to keep an eye on Wausau.
Surrounded by woods and lakes, this small Marathon County city offers all of the amenities you'd find in bigger cities but serves up a heaping helping of small-town charm, which is why it's so high up on our list.
Of course, it's also here because it offers a very affordable lifestyle thanks to an extremely low cost of living, very affordable homes, a strong local economy, and thriving social scene for active adults. You're either on board with the weather here or you're not, but if you don't mind snow, you'll have plenty to do here with all the money you're saving.
Can't-Miss Activities & Attractions
Outdoor enthusiasts will find no shortage of fun things to do in Rib Mountain State Park while cross-country skiers will have plenty of space in Nine Mile Forest.
In town, Marathon Park is full of campsites and walking trails and also hosts the Wisconsin Valley Fair each year. Meanwhile, Alexander Park offers an aviation-themed playground for the grandkids and education and fitness opportunities for everyone. If you really want to get in a good workout, head to Wausau Whitewater Park, where you can take kayaking classes or paddle recreationally.
There is a lot to offer here culturally as well. 400 Block in downtown Wausau is a great place to be for outdoor concerts, festivals, and other events. Across the street, the Grand Theater has exhibits, art classes, and art you can buy. Next door to that, stop by the Center for Visual Arts for more exhibits and classes.
You can also visit the Leigh Yawkey Woodson Art Museum for free to check out their rotating exhibits, classes, and sculpture garden. For those looking to appreciate nature, Willow Springs Garden and Monk Botanical Gardens both offer a peaceful respite.
Beer lovers will appreciate the offerings in Wausau as you can taste some samples from Red Eye Brewing Company, Bull Falls Brewery, and Great Dane Pub & Brewing Company. There's also a great collection of cozy spots for great food, including The Mint Cafe, Back When Cafe, and 2510 Restaurant.
3. Cedar Falls, Iowa
Thanks to a low cost of living, solid income-to-home price ratio, and an extremely low unemployment rate, Cedar Falls in Iowa rated very high in our rankings. What put them up even higher was the quality of health care and a strong volunteerism ethos, both of which are extremely important to the retiree crowd.
It also doesn't hurt that Cedar Falls offers an idyllic small-town setting that's close to nature but doesn't lack urban activities and things to do. Having the University of Northern Iowa located here brings a sense of vitality to the downtown scene but there's plenty going on here for active adult residents as well.
Can't-Miss Activities & Attractions
Nature lovers have plenty of options to choose from, including the Hartman Reserve Nature Center, George Wyth State Park for boating, fishing, and hiking, and Black Hawk Park, a 1,490-acre greenspace with campgrounds, river access, and a gun and archery range.
The region has a strong history of farming and textiles and you can explore various museums and preserved sites anytime, like the Victorian Home & Carriage House Museum and Little Red Schoolhouse.
Keep an eye out for the Barn Quilts of Black Hawk County and explore all of the spots you find them. Also make sure you stop at The Cedar Falls Ice House, a historic building that acts as the Ice House Museum.
In town, you can't go wrong in the Cedar Falls Downtown District, which is full of unique shops, antiques, and all kinds of fun places to eat. Those seeking out arts and culture will find it at The Hearts Center for the Arts, Oster Regent Theatre, or the Gallagher Bluedorn Performing Arts Center.
There are quite a few local breweries to choose from, including Second State Brewing and SingleSpeed Brewing. And you'll find plenty of great places to eat in town, including Montage, Whiskey Road, and J's Homestyle Cooking.
4. Winchester, Virginia
Retirees with a real appreciation of American history and an adoration of small-town life will want to take a serious look in Winchester's direction. Founded in 1744, this city is located in the northernmost tip of Virginia's Shenandoah Valley region, which puts you right along the Appalachian Trail.
It's also home to dozens of historical sites and monuments from the Revolutionary War and Civil War. Oh, and it's also the birthplace of Patsy Cline just to add one more thing.
From a financial standpoint, Winchester made the list thanks to a great quality of life, good job opportunities, low unemployment, and strong walkability. While real estate here is a little pricier than the top three picks, that's offset by the availability of affordable active adult communities.
While there are nine communities to choose from in the Winchester area, two of them, Willow Lawn Cottages and Woodbrook Village, offer homes starting in the low $200s.
Can't-Miss Activities & Attractions
During the Civil War, ownership of Winchester between the North and South changed 72 times, more than any other place. So you can imagine there are a lot of historically significant sites to visit here. Cedar Creek & Belle Grove National Historical Park, Cedar Creek Battlefield, and Kernstown Battlefield are just some of the spots to visit. Check the schedule for reenactments, too.
There are also plenty of sites related to other wars and battles fought here. Stop by George Washington's office here while he supervised Fort Loudoun construction. Then visit the Shenandoah Valley Discovery Museum and the Museum of the Shenandoah Valley, which will give you plenty of appreciation for this fertile region.
There are plenty of modern reasons to live in Winchester, too. The famous Shenandoah Apple Blossom Festival takes place here every May. Stop by Escutcheon Brewing or Alsatian Brewing for a drink or Village Square Restaurant, Union Jack Pub and Restaurant, or Sweet Nola's for a bite to eat.
5. Dunedin, Florida
If you're committed to a Florida retirement but still want to be able to appreciate a small-town lifestyle without living inside an active adult community, consider Dunedin. Pronounced "DONE-EE-DIN," this town just west of Tampa, which is one of the oldest on Florida's Gulf Coast, is best known for three things: Great beaches, the pine forest, and the ospreys you'll find in Honeymoon Island State Park. But there's a lot more going on here for retirees, especially those who want to be smart with their finances.
It's Florida so the taxes work well in your favor. As far as Florida retirement spots go, the prices are pretty good. Plus, the health care options are solid, the weather is great, the quality of life is strong, and there is an extremely plentiful collection of affordable active adult communities where you can get even more for your money.
There are six active adult communities located in Dunedin and all of them offer affordable entry points for those who want a low-maintenance lifestyle to go with their Florida one. Heather Ridge, Pinehurst Village, Patrician Oaks, and Heather Hills Villas all offer residences below $100k and in the low $100s.
Royal Stewart Arms and Edgewater Arms, two condo communities that overlook the Gulf of Mexico, both have residences available in the mid-to-high $100s to start.
Can't-Miss Activities & Attractions
Dunedin offers a little bit of everything when it comes to settings and sights. Discussions about what to do usually begin with Honeymoon Island, a four-mile-long barrier island that includes a three-mile trail through a pine forest. It's a birdwatcher's paradise as well. If that happens to be too crowded, you can always visit neighboring Caladesi Island as well, though that's only accessible by boat.
Downtown Dunedin is where the party is at, whether it's for the Downtown Market, Arts & Crafts Festival, Christmas and Holiday Parade, or one of the other many events going on, you'll have plenty to do.
You've got eight craft breweries to choose from in Dunedin, including Dunedin Brewery, the oldest microbrewery in Florida. You'll want to sample the food at local favorites like Home Plate, The Living Room on Main, Clear Sky Draught Haus, and The Black Pearl.
Baseball fans will want to set some time aside in February and March when the Toronto Blue Jays play their spring training games at Dunedin Stadium. Shoppers will appreciate everything available at Bealls Outlet while golfers should head for Dunedin Golf Club, which is open to the public.
The Dunedin Marina is your starting point for all kinds of fun on the water while the Dunedin Historical Museum is a fun way to spend the day learning about the history of the region. Make sure you check out what's going on at the Hale Senior Activity Center, which offers programs and classes specifically designed for those 50 and older.
6. West Lafayette, Indiana
Often coupled with it's much larger sister city Lafayette, West Lafayette stands on its own thanks to its mixture of small-city living and big-city excitement.
Best known as the home of Purdue University, this Indiana city isn't just a place for young people. The diverse economy, excellent health care, exciting social scene, and beautiful riverfront area also make it an ideal destination for retirees who want to have some fun without spending a ton.
It's location 63 miles from Indianapolis and 105 miles from Chicago also puts residents within an easy drive of urban fun.
Can't-Miss Activities & Attractions
Purdue is the big draw here and that means you'll want to put on your best black and gold for all the Boilermaker athletics events, including football and basketball games.
But there's plenty to do besides sports games. West Lafayette Golf and Country Club is one of eight courses in the region. Head to the Lilly Nature Center, Celery Bog Nature Area, or Fort Ouiatenon. Or keep an eye out for festivals like Art on the Wabash or Wabash Riverfest.
The town is full of iconic restaurants like Harry's Chocolate Shop, Triple XXX Restaurant, Nine Irish Brothers, and Bruno's. Or pick up produce yourself at the West Lafayette farmers market to make your own meal.
7. Concord, New Hampshire
Retirees looking for affordability in the Northeast shouldn't overlook New Hampshire, where costs can often be 10 percent less than New York and 20 percent less than Massachusetts. Not to mention, there's no sales tax and income tax doesn't include salary and IRA distributions.
So while Concord might not be the cheapest place from a cost of living perspective, retirement here can make up for that with all of the other financial and well-being benefits. The great health care offerings and quality of life just sweeten the deal even more.
Can't-Miss Activities & Attractions
History buffs will want to spend plenty of time at the New Hampshire Historical Society as well as the Canterbury Shaker Village to get a sense of the Granite State's unique past.
Keep the learning going at The McAuliffe-Shepard Discovery Center and McLane Audubon Center. Then head to the Capitol Center for the Arts for plenty of entertainment. Downtown Concord is filled with great boutiques and restaurants to check out (all tax-free, too).
Those who appreciate a good meal will enjoy living here. There's a wide variety of options, including Granite Restaurant & Bar, The Barley House, and The Common Man. Beer lovers will appreciate stops at Lithermans Limited Brewery and Concord Craft Brewing. Fans of fun cocktails and wine should head to Revival Bar & Kitchen.
8. Coeur d'Alene, Idaho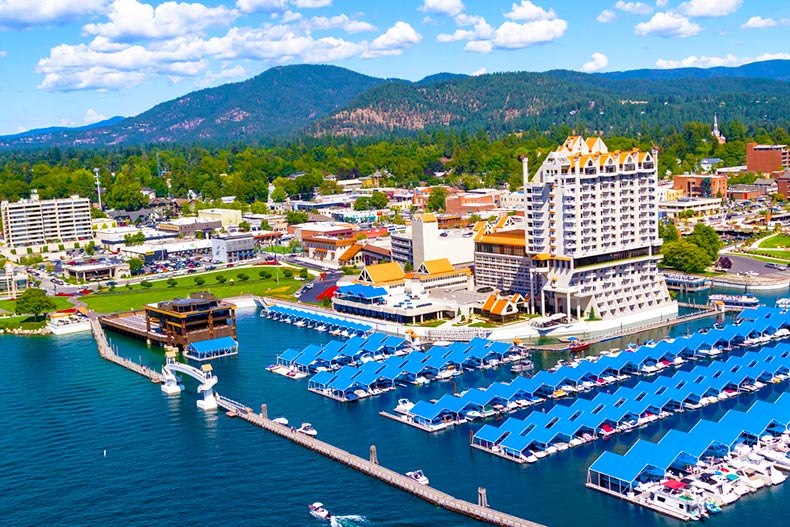 Coeur d'Alene may be the fastest-growing place in Idaho but it still just small enough to qualify for our list. Known traditionally as an outdoor paradise, it has recently become quite the trendy spot for those who want a Pacific Northwest lifestyle without paying Seattle and Portland prices.
That goes for retirees as well, who, along with the beauty of the region, will appreciate a cost of living below the national average, a strong local economy, and a high quality of life.
While real estate prices in Coeur d'Alene are rising, there are quite a few active adult communities in and around the city that offer affordable possibilities. Meadow Ranch, which is located in the city, has homes starting in the low $200s.
Meanwhile, Golden Spike Estates in Rathdrum offers homes starting in the $100s and The Village at Syringa Gardens in Post Falls starts in the low $200s.
Can't-Miss Activities & Attractions
You can live a very active retirement in this Northern Idaho city. You can take a scenic walk along the two-mile Tubbs Hill Trail, relax on the beaches of Coeur d'Alene City Park, visit Coeur d'Alene Resort Boardwalk Marina and get out on the water via Lake Coeur d'Alene Cruises, or head to the Mineral Ridge Scenic Area at Wolf Lodge Bay, Thompson Lake, and Trail of the Coeur d'Alenes for birding and enjoying nature.
This is a place made for outdoor festivals and there are plenty to choose from each year, including the Downtown Street Fair, Taste of Coeur d' Alene, and Art of the Green.
Coeur d'Alene offers a wide variety of cuisines and meals to appreciate, whether you're in the mood for the comforts of Fire Artisan Pizza, Japanese flavors at Syringa, Latin American dishes as Cafe Carambola, or a good, old-fashioned hamburger at Hudson's.
Of course, there's a great beer scene, thanks to places like Crafted Tap House, Trickster's Brewing and Filling Station on 5th. And you can always stop by the Kootenai County Farmers Market for fresh produce yourself.
9. Mankato, Minnesota
Some may scoff at the idea of retiring in Minnesota but so long as you don't mind a little snow (okay, a lot of snow), there is so much to do here without setting yourself up to overspend.
Mankato in Southern Minnesota makes our list thanks to a great cost of living, reasonable taxes, affordable real estate, and a strong quality of life. The health care options, including the Mayo Clinic 90 minutes away, are also a big bonus for seniors.
Can't-Miss Activities & Attractions
Nature is such a big part of the Mankato experience and you can get to appreciate it regardless of the season in Minneopa State Park, Seven-Mile Creek Park, and on Mount Kato.
For a fun day out or for when the grandkids visit, head to Sibley Park where you can visit the farm as well as a petting zoo. Golfers will want to hit the links at Minneopa Golf Club while those looking to catch a ballgame can go watch the Mankato Moondogs at Franklin Rogers Park.
Mankato has a lot to offers shoppers with River Hills Malls and a necessary stop at Betsy & Tacy's House Tours & Gift Shop.
Consider grabbing a meal at Pagliai's Pizza, Pub 500, Olives, or El Mazatlan. Beer fans can stop at Mankato Brewery while wine lovers can head to Javens Family Vineyard and Winery.
For entertainment, Carnegie Art Center and Mankato Symphony Orchestra are just some of the many options available.
10. Neenah, Wisconsin
Tucked away in Winnebago County where Lake Winnebago meets Little Lake Butte des Morts, you'll find Neenah, a charming small town where a Midwestern retirement can thrive without costing an arm and a leg.
The real estate is very affordable, the cost of living is well below the national average, and if you don't mind the weather you can get on great in this small town with lots going on.
Those looking for an active adult lifestyle will be pleased to know that The Villas at Apple Creek, which is located in nearby Appleton, offers homes starting the high $100s.
Can't-Miss Activities & Attractions
Nature is a big draw here thanks to the 7,478 feet of shoreline across two large bodies of water. Doty Park, Recreation Park, and Shattuck Park are just some of the greenspaces where you can launch a boat, go fishing, or just enjoy the day.
There are a lot of options for culture and education as Neenah's Bergstrom-Mahler Museum boasts over 3,000 glass art pieces while the R. Harder Gallery of Gems and Minerals has world-class mineral specimens. The city is also dotted with historical landmarks such as The Hiram Smith House, The Neenah Light, and the Neenah Historical Society Octagon House.
Neenah's big on events and festivals and residents always keep their eye out for the local farmers market, A Very Neenah Christmas Event, the Fox Cities Marathon, and more. For food and drink, Greene's Pour House, Town Council Kitchen, and Zacatecas Mexican Restaurant are among the top choices.
11. Goshen, Indiana
Located up at the very top of Indiana, an hour's drive from Lake Michigan, you'll find Goshen. This small town embodies a Middle America vibe that many retirees may find very appealing.
It's home to one of the largest county fairs in the country and it's centrally located to many major cities like Chicago and Indianapolis. Plus, the cost of living is extremely low, home prices are very affordable, the local economy is very strong, and taxes are very reasonable for retirees.
Can't-Miss Activities & Attractions
The Maple City Greenway is a network of bike and pedestrian trails throughout Goshen, a great way to get to know the region. Golfers can hit the links at Black Squirrel Golf Club and Maplecrest Country Club while racing fans will want to head to New Paris Speedway.
The Goshen Historical Society Museum, Defries Gardens, and Fidler Pond are just some of the other great places to visit.
If you're hungry, head to the Goshen Farmers Market or Kercher's Orchard to pick something good. Or you can stop at one of Goshen's exciting restaurants, such as Goshen Brewing Company, Venturi, Kelly Jae's Cafe, and Constant Spring.
12. Blacksburg, Virginia
Williamsburg and Fredericksburg come up often when people consider retirement in Virginia, but don't forget about Blacksburg. This not-so-sleepy college town has a lot more to offer than just Virginia Tech football games (although those are pretty fun).
It's also got a great quality of life, reasonable home prices, a good tax situation for retirees, and a very strong public transit system for getting around. All of which makes it the kind of small town for seniors to consider calling home.
Can't-Miss Activities & Attractions
Blacksburg is home to Virginia Tech and that means there's a lot of great cultural opportunities to be found here. You can take a stroll on campus and make a stop at The Moss Arts Center for art from around the world.
Art and history lovers will also want to stop by The Taubman Museum of Art and The Salem Museum. There's more entertainment to be hand at The Lyric Theatre and Frank Theatres/CineBowl & Grille, too.
If you're looking for the outdoors and adventure, seek it out in Dixie Caverns, Mill Mountain Zoo, The Virginia Museum of Transportation, or nearby Natural Bridge.
Blacksburg is a festival kind of town so you won't want to miss major events such as Steppin' Out, Blacksburg Fork & Cork, and Brew Do.
13. Bangor, Maine
Once the lumber capital of the world, Bangor is now one of the cultural centers of Maine and while it's the third-largest city in the state, it's still small enough to make our list.
It also ranks so highly because of an extremely low cost of living, very affordable real estate, a solid economy, and a strong sense of volunteerism.
It also provides the best of all worlds with access to nature, a thriving downtown sector, and plenty of things to see and do, all of which make it a retirement destination worth considering.
Can't-Miss Activities & Attractions
Bangor puts you within 45 minutes of just about every outdoor activity you could want to do but nearby you'll want to visit Acadia National Park if just for the views.
Bangor is also a town of stories as that's made clear by the giant Paul Bunyan statue as well as the fact that you can walk past Stephen King's house and wonder what book he's writing next.
Entertainment and the arts are always on the schedule here. The American Folk Festival is a can't-miss event each year. Meanwhile, the Penobscot Theatre Company produces shows all year long.
Museum lovers will want to make sure they spend plenty of time in the University of Maine Museum of Art, Cole Land Transportation Museum, and the Maine Forest & Logging Museum.
When it comes to food, Bangor has options. Dysart's truck stop and diner is an institution here. But if you're looking for different cuisines and types of meals, try Fork & Spoon, Oriental Jade, Mason's Brewing Company, or The Fiddlehead.
14. Marion, Iowa
Cedar Rapids gets a lot of attention in Lima County but neighboring Marion makes up for its smaller size by packing itself full of so many great reasons for retirees to shift their gaze just enough.
Marion scored high on our list thanks to affordable home prices, a strong income-to-home-price ratio, a low cost of living, a good economy, and quality health care options nearby.
Can't-Miss Activities & Attractions
Marion has a lot to explore and you can begin with the 21 parks found here, including Legion Park, which includes an ice rink and 18-hole disc golf course, Taube Park, which hosts the Marion Farmers Market, and Willowood Park, home of the Marion Municipal Swimming Pool.
Golfers will love having Gardner Golf Course, Indian Creek Country Club, and Hunters Ridge Golf Course nearby. If you love events, keep an eye on City Square Park, which hosts several throughout the year, including the Marion Arts Festival, the Swamp Fox Festival, and Uptown Marion Markets.
Uptown Marion is where to go to find the retail, restaurant, and cultural heartbeat of the city. And when you are hungry, you've got plenty of options, including Zoey's Pizzeria, Bistro 3 Nineteen, Emil's Hideaway, and Ramsey's Wine Bistro.
15. Gettysburg, Pennsylvania
History and small-town charm rarely come together in America quite like they do in Gettysburg. Known as the site of a momentous Civil War battle and where Abraham Lincoln delivered the Gettysburg Address, this Central Pennsylvania town is now a burgeoning locale for a farm-to-table lifestyle, antique discoveries, and charming restaurants.
It also shows up on our list of affordable places to retire thanks to reasonable real estate prices, a low cost of living, a solid local economy, and walkability that's great for casual living.
Those looking for the active adult community lifestyle will be able to find it affordable at The Preserves at Cumberland Village, which has starting prices in the high $100s. They'll also want to keep an eye on Amblebrook, an upcoming community in nearby Straban Township where living locally is a big part of the appeal.
Can't-Miss Activities & Attractions
Any time spent in Gettysburg should probably start at the Gettysburg National Military Park Museum and Visitor Center before stepping out into Gettysburg National Military Park where there are many options to explore and learn.
It's just the beginning of the historical tour you can take in the region. Of course, all of that history also means there are lots of ghost tours after dark.
Aside from the history lessons, you also get to experience fun boutiques, cafes, and restaurants throughout Downtown Gettysburg. For meals, you can dine in historically accurate settings such as Dobbin House Tavern and The Farnsworth House, or you can get a bit more modern at places like 1863 Restaurant, One Lincoln, and Food 101.
The adult beverage scene in Gettysburg is booming as well, with plenty of places for wine (like Boyer Cellars), beer (like Battlefield Brew Works), and spirits (like Mason Dixon Distillery).
16. Columbus, Indiana
How in the world did the tiny town of Columbus, Indiana become one of the great modernist architecture epicenters of the U.S.? You'll have plenty of time to learn about that if you decide to retire here, not to mention tour all of the amazing designs from some of the world's greatest architects.
There's more to Columbus than just buildings, however. It's on our list thanks to very affordable home prices, a low cost of living, a strong local economy, and a high quality of life. It's hard not to live well here when you're surrounded by creativity and inspiration at every turn.
Can't-Miss Activities & Attractions
Architecture, design, and public art buffs really should consider retirement here as there's no shortage of work to admire. There are self-guided tours, bus tours, and plenty more ways to see everything. There are over 90 buildings and pieces of public art and seven national landmarks here, many of which were created by internationally-noted architects and artists. Take your time to explore them all.
There's a lot more to do in Columbus besides admire the architecture. Downtown Columbus is full of charming shops, eateries, and cafes. You have to get a treat from Donuts n' Coffee, peruse the shelves at Viewpoint Books, grab a bite at 4th Street Bar and Grill, or enjoy a scoop of ice cream at Zaharako.
You can also sip some wine at Simmons Winery or sample the craft beers at 450 North Brewing, Power House Brewing, or Upland Brewing.
As an extra bonus for retirees, the Mill Race Center is a community center for active adults, offering activities, exercise areas, and more.
17. Dodge City, Kansas
Dodge City might be famous for its reputation as a wild frontier town of the Old West, but a lot has changed since then. These days, the Kansas city has remade itself based on where it comes from as well as where it's going.
For retirees, it's the kind of small town that can offer a great cost of living and affordable real estate while also providing a fun atmosphere full of activities and events that will keep you busy.
Can't-Miss Activities & Attractions
As you'd imagine, there are plenty of historical sites, museums, and landmarks recalling the city's Old West heritage. The Boot Hill Museum is home to thousands of artifacts and a variety of exhibits.
The downtown district is known as Old Dodge City, full of Western-themed attractions, shops, and restaurants. There are also a few non-Western attractions, including the Wright Park Zoo and the Kansas Teachers' Hall of Fame.
The arts and theater scene is strong here as well. The Carnegie Center for the Arts and 2nd Avenue Art Guild offer plenty of exhibits and showcases. Meanwhile, the Depot Theater Company performs out of the former Santa Fe Railroad Depot as well as Occident Theater.
For dinner, steaks and barbecue reign supreme here thanks to places like Central Station Bar & Grill, Osaki Steak & Sushi House, and Prime on the Nine, which is located at Mariah Hills Golf Course.
Dodge City Days is the city's annual community festival and include a rodeo, a parade, concerts, and more. Other annual events to consider include Christmas in Old Dodge City and The Ford County Fair.
18. Lewiston, Maine
Maine's second-largest city is still small enough to qualify for our list, though living here often means that you live in L.A. (Lewiston/Auburn).
A low cost of living, affordable real estate, good economy, and strong volunteerism is how it ranked so high. But the thriving arts and culture scene here is also a huge reason as to why we think it's a great landing spot for retirees.
Can't-Miss Activities & Attractions
Lewiston loves its festivals and you'll have plenty to choose from, including the Liberty Festival, Great Falls Balloon Festival, and the Dempsey Challenge.
There is a lot to learn about the culture and heritage of the region and you can do that at The Basilica of Saints Peter and Paul, Gendron Franco Center, and Museum L/A.
For arts and entertainment, head to Public Theatre and Midcoast Symphony Orchestra and mark your calendar for the Emerge Film Festival. And make sure you take some time to visit Thorncrag Bird Sanctuary as well as Sabbathday Lake Shaker Village, home to the last community of Shakers.
For food and drink, you're going to want to make stops at Fish Bones Grill, Forage Market, Mother India, and DaVinci's Eatery.
19. Ithaca, New York
Please don't confuse Upstate New York with New York City, they couldn't be more different. The proof can be found in Ithaca, nestled amongst the gorges of the Finger Lakes region.
The college town has grown beyond its academic past and become an ideal respite for all kinds of residents, including retirees. While the cost of living here is a little higher, it offsets that for having a strong local economy, extremely high quality of life, and high marks for public transit and walkability.
Can't-Miss Activities & Attractions
With such an academic background, Ithaca is a prime location for culture and history. You could spend so much time perusing all of the options, including The Museum of the Earth, Sciencenter, The Cayuga Nature Center, The Herbert F. Johnson Museum of Art.
Music lovers will be overjoyed to have access to the Cayuga Chamber Orchestra and Cornell Concert Series. For theater aficionados, there's the Hangar Theatre and Kitchen Theatre Company.
It's also a great town for festivals, including The Ithaca Festival, The Apple Harvest Festival, the Finger Lakes International Dragon Boat Festival, and Porchfest.
Ithaca is also a great town for food and drinks. Moosewood Restaurant, known for its vegetarian fare, is one of the must-visits. But you'll also want to make plenty of time for Mercato Bar & Kitchen, Carriage House Cafe, and Saigon Kitchen. Beer lovers will appreciate the wide variety of local stops, including Ithaca Beer Co., Hopshire Farm & Brewery, and Liquid State Brewing Co.
20. Gainesville, Georgia
The "Poultry Capital of the World" certainly has a reputation to contend with but this small Northeast Georgia city has a lot more going for it than just a lot of chickens.
Located at the Blue Ridge Mountains foothills, Gainesville actually surrounded on three sides by Lake Lanier. While it certainly has the size to fit into this ranking, it also offers plenty of recreational and cultural opportunities to make it stand out.
The cost of living is low, home prices are affordable, the local economy is booming, it offers good health care options, and the weather is tough to beat.
For those who want an active adult lifestyle, Gainesville is also home to Cresswind at Lake Lanier, which has home prices starting the $200s. The impressive 36,000-square-foot, three-story clubhouse here is worth the price of admission.
Can't-Miss Activities & Attractions
Lake Lanier is the big outdoors draw here and you can enjoy it yourself via the Lanier Canoe & Kayak Club, Lake Lanier Rowing Club or however you choose. There are also a bunch of parks and greenways peppered throughout the city.
The arts and culture scene in Gainesville is thriving thanks to the Quinlan Visual Arts Center, Brenau University Galleries, Gainesville Theatre Alliance, and Gallery on the Square.
The Spring Chicken Festival brings the whole town together each year while The Northeast Georgia History Center is where to go to learn more about the area's past.
Notable food and drinks hot spots here include Recess Southern Gastropub, Luna's, 2 Dog Restaurant, and Left Nut Brewing.
Methodology
To create 55places.com's Most Affordable Small Towns to Retire in 2019 rankings, we identified every metropolitan area across the 50 U.S. states with a population of 55,000 or less per the most recent U.S. Census. We eliminated certain cities based on crime, median household income data, and extreme climate considerations, leaving us with 215 places.
We then collected 12 different data points to narrow the list down. We considered data on each town's median income, average home sale price, cost of living, tax friendliness to retirees, job creation performance, active adult communities, quality of life ranking, health care options, local climate, public transit score, Walk Score, and volunteering rates.
Data points were separated into three categories based on importance. Economic data points were given the greatest weight in order to put the focus on places with lower costs of living or home affordability. A medium weight was given to data points that involved economics but also involved quality of life considerations. Low weight was assigned to data points that were non-economic factors, though they remained necessary to ensure rankings were balanced towards overall needs of retirees.