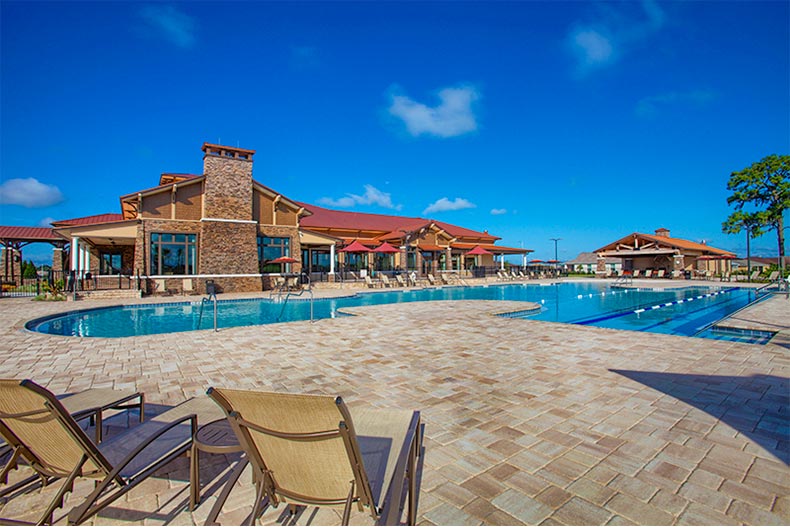 Each month, 55places.com likes to take a look at which active adult communities around the country are getting the most buzz. While every retiree and active adult is looking for something different, there's a good reason so many of them decide to live in these large and established communities.
Whether it's because of affordability, resort-style amenities, location, or lifestyle depends on the buyer. Mostly because all of these communities offer high-quality options in all departments, so they cover all of the bases.
Let's take a look at which 55+ communities were the most popular in March 2019 by comparing which pages got the most views on 55places.com.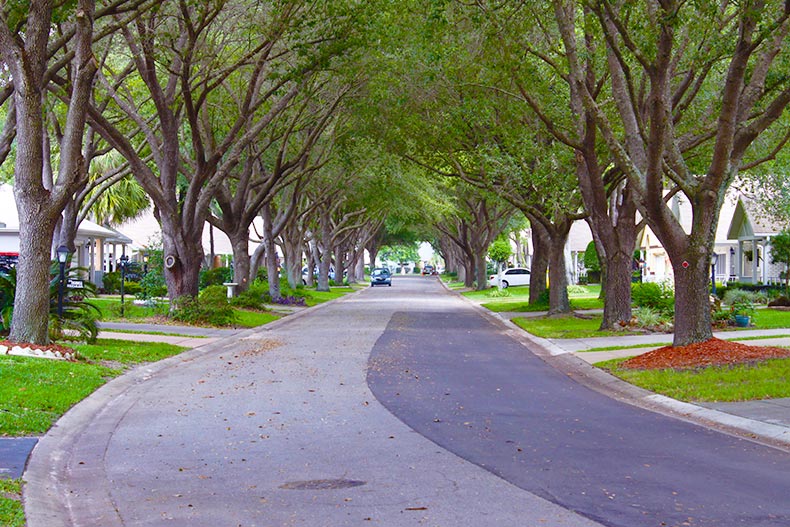 1. On Top of the World - Ocala, FL
Who else could it be? In November, On Top of the World (OTOW) dipped to No. 3 on the list, but that's generally the lowest it can be found. Now, OTOW has claimed the top spot for the third time in four months.
One huge aspect of this large community's popularity is its affordability. At any given moment, there are several homes for sale for under $100k and even more under $150k. Many home seekers might not think they can afford a huge variety of amenities and a full social calendar, but OTOW disproves that.
2. Latitude Margaritaville - Daytona Beach - FL
The one-two punch of OTOW and Latitude Margaritaville Daytona Beach continues. Coming in at No. 2 is the original Jimmy Buffett-inspired 55+ community. Excitement is continuing to build as the community's Town Square will officially open in the next few months.
This will bring amenities like the Last Mango Theater, the Fins Up! Fitness Center, Barkaritaville Pet Spa, and a retail center. The relaxed and fun lifestyle will kick into gear, more than it has already, with concerts at the bandshell, parties, happy hours, and more. And that's not to mention the planned private beach for residents.
3. Sun City Center - FL
Florida's popularity as a retirement state comes from a warm climate, miles of coastline, tax friendliness, and an abundance of 55+ communities. Throughout the state, several of the most popular communities throughout the country can be found. Sun City Center near Tampa is one of them.
Boasting 9,500 homes, the community recently hit build-out after starting construction in 1961. Its popularity stems from a wide range of amenities, affordable homes, golf cart friendliness, and a location near one of the most popular retirement cities, Tampa.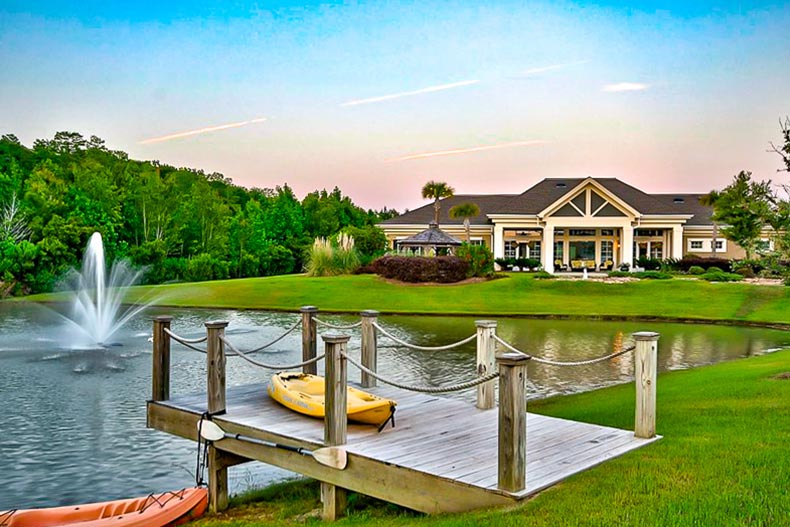 Residents at Sun City Hilton Head can often be found at one of the many lakes enjoying the South Carolina weather.
4. Sun City Hilton Head - Bluffton, SC
Another consistently high performer, Sun City Hilton Head gives homeowners the ideal Coastal South Carolina home. Located near the popular Hilton Head Island, the community was named No. 1 on our 55 Best 55+ Communities list in 2018 as well as No. 8 in our list of the Best Value Active Adult Communities last year.
One reason active adults love it is because the community is established, yet new. Construction began in 1995 so the resort-style amenities are ready, but homes are still being built so residents can still enjoy modern amenities. The 45-acre town center and amenity complex are enough to keep homeowners busy for years.
5. The Villages - FL
It's a testament to how many quality 55+ communities there are that the world's largest, The Villages, has just shown up here. Spanning three zip codes, 20,000 acres, and hosting almost 60,000 homes, it might be surprising to hear that The Villages could double in size soon.
Whoever you are, it's likely you'll find what you need in The Villages. It has shopping, dining, golf, pickleball, and even polo and equestrian centers. It also has several hospitals and health care centers. Residents truly don't have to leave the community for any daily necessities.
6. Solivita - Kissimmee, FL
One of the newer communities on this list is Solivita, in the Orlando area. Besides being popular among home seekers, it's hugely popular among current residents. It's got well-planned amenities, well-built homes, and over 100 social clubs. It's also located near the country's most popular theme parks, great for a day out or a visit from family.
When looking for something to do, homeowners can choose between nine different indoor and outdoor amenity spaces. The Palms Amenity Complex is the biggest with several social spaces and eight sport courts. There's also the Stonegate Golf Club and Freedom Park, offering even more ways to stay in shape.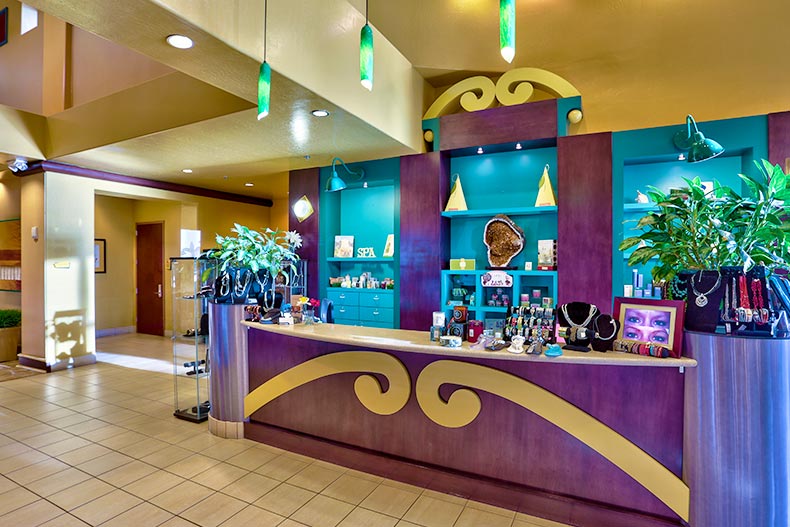 7. Sun City Grand - Surprise, AZ
Our first trip west takes us to Sun City Grand, a more modern equivalent to nearby Sun City and Sun City West. It also attracts a bit of a younger crowd due to its 45+ age restriction.
Much like the other communities on this list, Sun City Grand residents have access to several different amenity centers, including a plaza, education center, fitness center, and four golf courses, among others. Plus, homebuyers enjoy low price points and over 50 models.
8. Oak Run - Ocala, FL
Back in Ocala is another affordable community, Oak Run. Though not as large as OTOW, it does have over 3,500 single-family and attached homes in a gate setting.
If you want to spend your time outdoors then Oak Run is a community you should consider. There are five outdoor pools throughout the community, as well as four tennis courts, two pickleball courts, six bocce ball courts, and miles of walking trails. There's also an 18-hole championship golf course.
9. Century Village at Deerfield Beach, FL
Century Village communities have made a name for themselves because of their affordable homes within an active adult paradise. Great for downsizing, Century Village at Deerfield Beach has over 8,000 condos, many of them priced below $100k. It also puts residents minutes away from some of Florida's best beaches.
The 145,000 square-foot clubhouse has almost every amenity an active adult can imagine, including an 800-person ballroom, 1,800-seat performance theater, and 30 sport courts, among many others. There's also a secondary clubhouse and 15 pools found throughout the community.
10. Sun City, AZ
It's been over 50 years and the original active adult community is still going strong. Sun City, located west of Phoenix, has been drawing active adults for decades and continues to do so for many good reasons.
Whether you want a single-family home, attached, or condo, you'll find it here. You'll also find amenities like fishing lakes, a bowling alley, several fitness centers, and over 30 places of worship. And, as we noted recently, it's also a community that puts health care first with plenty of clinics and one hospital.