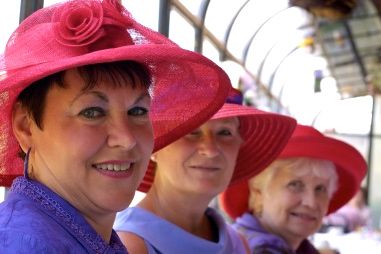 Active adult communities often offer country club activities or resort-style living and are known for having golf courses, tennis courts, swimming pools, and planned social events. There are several other prominent activities and clubs that have also become popular at active adult communities throughout the country.
Fitness
When it comes to outdoor recreations, golf and tennis are still popular pastimes. However, they have been joined by two relatively new recreations: bocce ball and pickleball. Bocce ball is a sort of lawn-bowling game that is ideal for players of all ages and abilities. Pickleball can be played on a modified tennis court, and many people find it to be more accessible to beginning players.
Fitness is important to many active adults, and fitness centers are often a community's prime amenity. The most popular fitness classes, however, show a respect for exercising mindfully. Both yoga and tai chi offer physical benefits as well as meditative elements. Similarly, water aerobics is a popular class which lets participants exercise without putting too much strain on their bodies.
Activities
Many of the activities and clubs at active adult communities embrace residents' creativity as well. Arts and crafts studios are often popular amenities. Many studios feature specialty equipment such as a kiln for ceramics or tools for woodworking. The arts and crafts at active adult communities include a wide range of media. Just a few popular artistic hobbies include painting, sculpting, jewelry making, sewing, quilting, woodworking, and scrapbooking.
Active adult communities are often known for hosting regular games of bridge, but that is certainly not the only game in town. A variety of card games are popular among many community residents. Some of the most popular card games played in active adult communities are various forms of bridge, poker, canasta, pinochle, and euchre. Mahjong, dominos and bunco are a few other popular tabletop games.
Social Groups
Volunteerism is another community pastime that should not be overlooked. Whether it's within the community, in the local area, or as part of a larger cause, many community residents are devoted to helping others. Volunteer groups help residents organize their time and find out about more ways that they can give back.
Of course, some popular social clubs are simply focused on socializing. One of the main draws for moving to an active adult community is living among peers. Social clubs make it easy for homeowners to get to know their neighbors and find fun things to do. Many active adult communities have social clubs specifically for singles, men, or women. Local Red Hat Society chapters are designed for women to take part in fun local activities, while Retired Old Men Eating Out, or R.O.M.E.O., clubs are casual luncheon groups.
Whether looking for recreational activities, fitness classes, social groups or volunteering opportunities, active adult communities often provide clubs that will meet your needs. With so many popular clubs and activities, it's clear to see that active adult communities can cater to a whole slew of interests beyond traditional pastimes like tennis and golf.