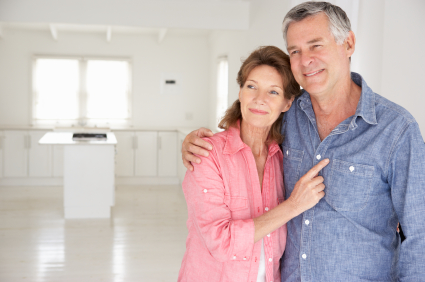 The big day is here: you're moving into an active adult community. The day you've been waiting for with both excitement and anxiety, when you lock your door for the last time and enter your new home.
Although the anticipation is unbearable, so is the to-do list, a seemingly endless collection of burdensome chores that never seems to get smaller. We're here to help with a comprehensive list of what you need to remember for moving day so you can look forward to this momentous day instead of sweating the small stuff.
Set aside items you don't want loaded.
Whether you've hired movers or are packing up the van yourself, set aside the boxes that you do not want loaded. These items are usually just the essential items you'll need for the long trip or ones you'll want access to upon immediately moving into your home.
Think beforehand about what items you'll want access to, like basic toiletries, a few days worth of clothes (depending on the length of the move), important documents, and a few ways to entertain yourself during the trip to your new home. There are few worse feelings than realizing your toothbrush is in the back of a moving van. Before you start packing in earnest, put aside an overnight bag, just like you would if you were traveling for a few days, and put it in a place where it won't get mixed in with the boxes intended for the moving van.
Protect your current home from the inevitable.
Although you're vacating your home, you'll still want to keep it in great shape for the next inhabitants and that means avoiding nicks and bruises to door frames, floors, and the carpet. Moving all your possessions out of your home is a process where a little damage here and there is inevitable, but you can minimize the risk by installing some protectors.
For your carpet and floors, you can grab some film shields or runners to prevent tears or stains. Door frames, bound to receive its fair share of punishment, can be protected with inexpensive durable boards. Not only does installing barriers protect your belongings, but it ensures that you can possibly avoid problematic legal issues if significant damage is done before closing.
Double check the moving company's information.
Pull up the confirmation from the moving company to ensure that you have the correct arrival time, as a miscommunication in the scheduling can lead to a serious headache and get your moving day off on the wrong foot. Although this sounds obvious, make absolutely sure that the moving company that shows up is the same one you hired.
You can confirm this by matching the USDOT number on the side of the truck with the number on the confirmation you received. Although uncommon, scams not only happen, but can turn your move into an unimaginable nightmare. Before the movers take off, ensure that they sign a bill of landing or inventory list that details the objects being moved and the applicable charges. Also confirm that they have the new address and your move-in date.
One last check.
Take one last look around to make sure nothing got left behind. That means checking closet doors, the attic, basement, window sills, etc. Also don't forget to check the yard, as you don't want to leave behind yard tools like rakes, garden hoses, or shovels, commonly forgotten about in the chaos of moving all of your indoor possessions.
Most realtors will hold your keys for the new inhabitants but, in case they didn't, make sure you've arranged a way of getting them to the new owners. Leave any spare keys and garage openers somewhere easy to find, but not visible from the outside (kitchen drawers tend to work well).
Also don't be like some movers and forget your pets. Then grab your bags, hop on your plane (or hit the road), and get ready for move-in day. Moving into your new home is, while no less hectic, less of a strain than the stress, and unease associated with moving out. With that said, there are still some must-do's when you're moving into a new home.
Confirm everything with the moving company.
Remember how scams happen? This is when you find out if that low-ball estimate was too good to be true. Be extremely wary if the movers request more money than was originally agreed upon.
Federal law requires that, in a non-binding estimate, that the company cannot require payment of more than ten percent above the original estimate – due within 30 days of the drop-off. For a binding contract, no price can be guaranteed unless it's explicitly stated in the fine print, as a bad weight estimate can lead to a sudden jump in the price.
Some of the most disreputable moving companies will demand thousands more than agreed upon and will refuse delivery until that amount is paid, essentially holding your items hostage. If this happens, file a formal complaint with the moving company then call the police. And if they're not scammers and are working hard to move your possessions into your new home, then make sure to tip them and maybe order some pizzas.
Make sure the home is how you expected it.
Although you made sure to pad your walls and floors to protect your home while moving out, the previous residents may not have been so kind. Check for significant cosmetic damages or problems with the plumbing or electrical that weren't an issue when the home was inspected. State laws vary by your choices for action.
In some states, if you can prove that the seller knew and failed to disclose the defect, you can be due financial damages at the cost of the defect. If the inspector is found to be at fault, they can be liable for the cost of the inspection, but not the cost of fixing the issue.
If there is any major problem that comes as a surprise, contact an attorney about an appropriate course of action. Most important of all, sit back and relax knowing that a major event in your life has just taken place and your new life is being unpacked, one box at a time.