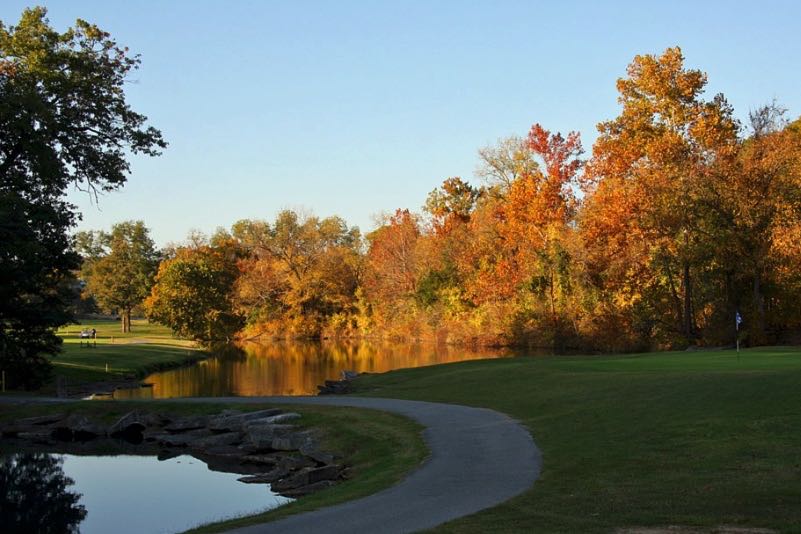 If you're looking for a large community with plenty to do in Arkansas, Bella Vista Village is the perfect place for you. This 36,000-home community is so popular that in 2006 it grew so large that it's now its own municipality, complete with its own governing bodies. Thanks to the size of the community, they have plenty to offer residents as far as amenities and activities. You could spend almost all of your time on the Bella Vista Village grounds and still never get bored.
Amenities
This scenic community is located on wooded land, making strolls on the walking and biking trails absolutely picturesque. With five recreation centers, nearly any amenity you could ever dream of is at Bella Vista Village. Grab a meal with friends in one of the multiple on-site restaurants, or play a game of golf on one of the seven beautiful courses.
There's even a miniature golf course, the perfect place to bring visiting grandkids. Every athletic court a sports buff could want can be found here, from tennis to racquetball to basketball and more. Even staying in shape is an easy task with multiple fitness centers.
Some of the most unique amenities at Bella Vista Village include the marina, where boating enthusiasts can park their own boats or head out on the water. There are also fishing lakes, a place to park R.V.'s, and a gun range. For every interest, there seems to be a corresponding amenity to satisfy it in this sprawling community.
Lifestyle
It's not just the amenities drawing homebuyers in, the activities at Bella Vista Village are unrivaled by traditional active lifestyle communities. When residents here say they're active, they mean it, with every activity from coupon club to bowling leagues to nomad shrine club represented on the eclectic social calendar.
There are also a variety of continuing education classes like tap class and driver safety class. If events are more your forte, they're running practically non-stop in this bustling neighborhood. Friday Fish Fry, line dancing, and Mardi Gras Mambo are just a few examples of the fun that occurs here on a regular basis.
Residences
With so much to offer in terms of fun, the home models in Bella Vista Village might seem like an afterthought. But with the highest quality construction and coveted features, no corners are cut on these attached and single-family residences.
Offering the height in low-maintenance living, these homes feature maintenance-free exteriors and single-level living, perfect for downsizing retirees who still place a premium on quality. In Bella Vista Village, you can even find yourself in a home with a lakefront view. One thing's for sure, retirement in Bella Vista Village is the picture-perfect image of relaxing Arkansas retirement.
If retiring in Arkansas sounds like your kind of an outdoor adventure, check out the available homes at Bella Vista Village, and get started living your retirement dreams today. The wonderful amenities, perfectly crafted homes, and friendly neighbors will be awaiting your arrival!