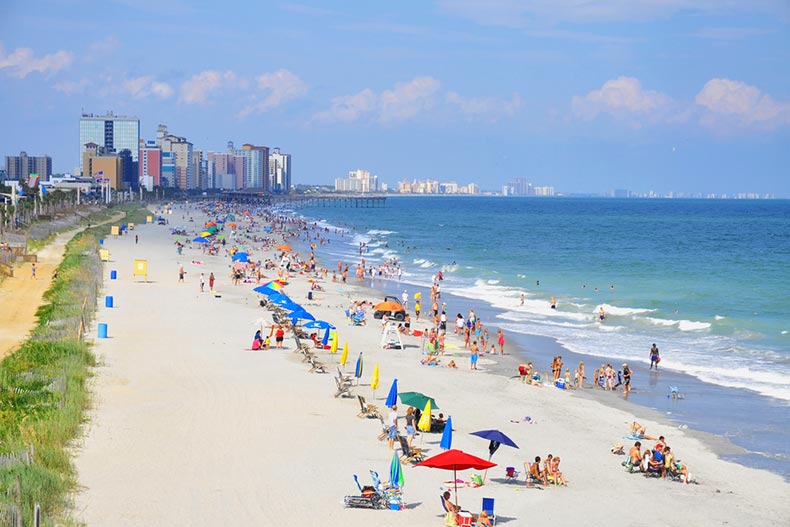 The early stages of planning are underway for a new active adult community in Myrtle Beach, South Carolina. Del Webb is currently working with municipal officials to cement plans for a 55+ community consisting of just under 500 single-family homes along Tom E Chestnut Road near the Azalea Sands Golf Club. While many details have yet to be finalized, we do have some early news to share on the development.
Designed With 55+ Homebuyers in Mind
The current proposal calls for 493 single-family homes, ranging from 1,200 to 3,700 square feet. While specific floor plans haven't been released, we expect these to be in line with Del Webb's other recently opened communities where homes are designed with the 55+ homebuyer in mind. Across the country, Del Webb is building homes with the latest smart home integrations, offering both convenience and peace of mind. These will no doubt be available within this new community along with an added emphasis on outdoor living spaces to take advantage of the gorgeous Myrtle Beach weather.
Detailed information about amenities is not yet available, but given that Del Webb is behind the project, we expect this community to be a head-turner. The term "amenity-rich" is often used to describe Del Webb's communities, and we expect this community will be no different. Look for a sprawling clubhouse, expansive outdoor amenities like pools and outdoor entertainment venues, and an active social scene centered around clubs and neighborhood organizations.
A North Myrtle Beach Location
The Myrtle Beach area needs little introduction for most people. The area has been a premier destination for vacationers and 55+ homebuyers for decades, no doubt owing to its white sandy beaches, stellar golf courses, and easy-going oceanfront vibe.
For those looking towards the more immediate future, there are plenty of great active adult communities with homes available today.
High $200s - Mid $300s
Water's Edge is a new 55+ community located in North Myrtle Beach. With just 75 single-family homes, this gated community offers homebuyers a sense of exclusivity. Spacious homes with up to four bedrooms are perfect for welcoming friends and family for beach vacations.
The clubhouse—with its gathering spaces and outdoor pool—is the social center of the community. Tucked away in North Myrtle Beach, homeowners enjoy a respite from the more boisterous beaches while still having easy access to all of the action.
Request more information about Waters Edge here.
Low $400s
Those looking to be a bit closer to the city center should explore Robber's Roost at North Myrtle Beach, just off 11th Avenue N and Highway 17. This active lifestyle community of 153 single-family homes offers its residents a prime location where a world of golf, beaches, and all manner of recreation is at their fingertips.
Homes within this community range from 1,588 to 3,126 square feet with three or four bedrooms, two to three-and-a-half bathrooms, and attached one- to two-and-a-half car garages. An outdoor pool, spa, cabana, and other outdoor amenities are perfect for soaking up the sun without leaving the neighborhood.
Request more information about Robber's Roost at North Myrtle Beach here.
There's no secret to Myrtle Beach's success as a resort community that caters to 55+ homebuyers. A world-class combination of natural beauty, outdoor activities, and a delightful sense of Southern hospitality has long made it a favorite for many. Therefore, it comes as no surprise that Del Webb is laying plans for what's sure to be another outstanding development in this well-loved beach community.
We'll be following developments closely, so be sure to check here for updates on this new 55+ community.