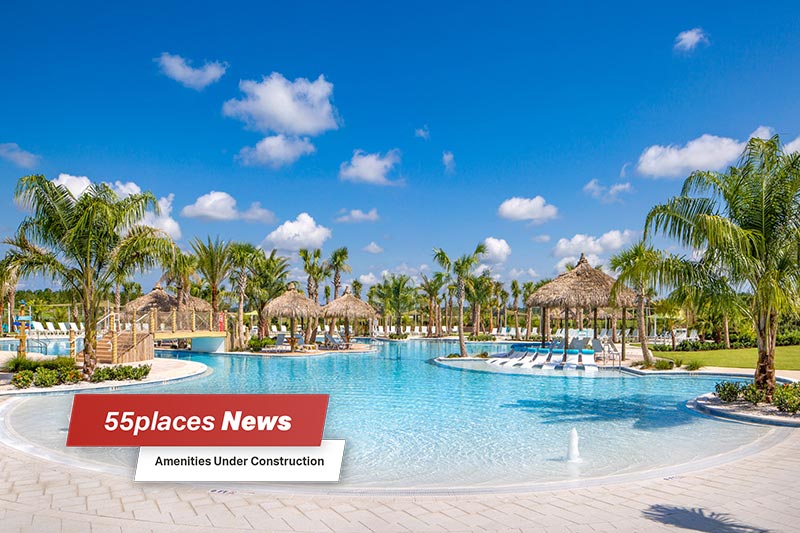 In case life isn't swell enough at Latitude Margaritaville Daytona Beach, there's more good news for residents in the 55+ community along Florida's Atlantic Coast. Groundbreaking is about to begin on Phase Two amenities. Minto Communities has announced they're on track to begin development by the end of October.
In a statement, Minto's Latitude Margaritaville President William Bullock said sales had remained strong, even during these recent challenging times. "Because sales continue to exceed our initial projections, we are happy to announce that we are on schedule in starting construction on Phase Two amenities in our popular Latitude Town Center."
Phase Two Amenities at Latitude Margaritaville Daytona Beach
Phase Two amenities include several treats, including a Workin' N' Playin' Center with a Coconut Telegraph Business Center and the Last Mango Theater where residents can enjoy live shows, dances, banquets, and holiday events.
An indoor pool is going in at the Fins Up! Fitness Center and the new Hangar Workshop will allow homeowners to bring their golf carts in for tune ups, maintenance, and general service. Pets will also have an opportunity to be pampered in the Barkaritaville Pet Spa.
For residents who can't get enough of Daytona Beach's year-round sunshine, plenty of outdoor amenities are planned for Phase Two as well. These include five bocce ball courts, three more pickleball courts, and two more tennis courts.
Phase One Amenities Already In Place
Initial amenities in Phase One have been enjoyed by residents since they became available in June of 2019. These include a Latitude Town Center, featuring a thatched-roof bandshell over a full-size concert stage, a large screen to show live concerts and movies, and a Town Square for dancing.
Residents also have access to a state-of-the-art Fins Up! Fitness Center and lagoon-like Paradise Pool with a beach-style entry and a private Tiki Island. Dining options include the Latitude Bar & Chill Restaurant and Changes in Attitude Bar, where homeowners can order poolside drinks and have dinner.
Completed outdoor amenities include tennis and pickleball courts, a nature trail, and Barkaritaville Dog Park. A private beach club on the shores of Daytona Beach is nearing completion.
There's also Latitude Landings, a 200,000-square-foot Margaritaville-themed retail center, where shopping can be done at Publix and other local retailers. It's easy to reach by car, on foot, or in a golf cart and is just across the street from Latitude Margaritaville Daytona Beach.
Living the Margaritaville Lifestyle
Latitude Margaritaville Daytona Beach was inspired by the music and laid-back lifestyle of singer, songwriter, and best-selling author Jimmy Buffett.
More than 3,000 new construction and resale homes will be completed at Latitude Margaritaville Daytona Beach—the flagship location for Latitude Margaritaville communities. Conch Cottages, attached villas, and single-family homes in dozens of models start in the low $200's. The success of this active adult community has inspired additional locations in Hilton Head, South Carolina and in Florida's panhandle, where Latitude Margaritaville Watersound is under construction. It's expected to open early in 2021.