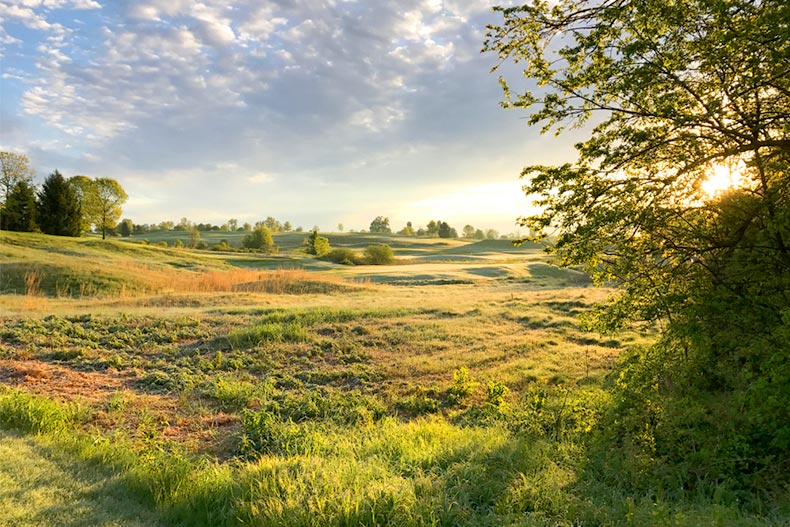 Traditions of America is a respected builder of retirement communities, with a reputation for constructing quality home designs in desirable locations. They have developed dozens of active adult neighborhoods, and they're not stopping yet. Their latest age-restricted community, Traditions of America at West Brandywine, breaks ground in Chester County, Pennsylvania this fall.
Home Models and Pricing
Plans call for 226 new single-family homes in five floor plans with names that pay homage to the birth of our nation: The Betsy Ross, The Washington, The Lincoln, The Franklin, and The Hancock. The prices for these low-maintenance homes range from the low to high $300s. The models are sized from 1,536 to 2,981 square feet, and each basic floor plan offers a slightly larger version as well; homebuyers can choose from one- to two-story models and customize these homes with an array of desirable upgrades.
The optional second floors may have an additional bedroom, a loft, or storage. All of the models are designed for main-floor living, with elegant master suites on the first floors. There will be options available for finished basements, breakfast nooks, covered patios, and vaulted ceilings.
Amenities
Like all Traditions of America neighborhoods, Brandywine will provide its residents with the finest amenities that cater to active lifestyles. The state-of-the-art, 7,500-square-foot clubhouse is being designed by KTGY Architecture, an esteemed firm with a history of innovative work. There will be a modern fitness center inside, along with an exercise studio for homeowners to take Pilates and yoga classes, plus locker rooms and a massage room.
The clubhouse will be open 24/7, and it will also have multipurpose rooms, a library, a catering kitchen, and a refined sports bar and club room—a terrific place for friends to kick back and relax or play billiards. Outside the clubhouse, there will be a covered patio and a deck, complete with a fire pit, plus pickleball, bocce, and tennis courts. Best of all, there will be a full-time lifestyle director on hand, who will manage the social calendar and organize events like fitness classes, group trips, parties, wine tastings, and clubs.
About Downingtown, Pennsylvania
If you're not familiar with Downingtown, it's about 33 miles west of Philadelphia, 25 miles south of Reading, and it's considered part of Pennsylvania's Brandywine Valley. This region is known for its rolling hills and far-reaching farmlands, and it's a favorite among horse lovers, nature aficionados, and golfers. Regarding the courses, there are too many to count, but some of the best ones can be found at Downingtown Country Club and Honeybrook.
Chester County is also home to Longwood Gardens, a stunning landmark with acres of indoor and outdoor gardens as well as displays, special events, and performances. Other area attractions include Susquehanna State Park, the wonderful Brandywine River Museum of Art, and Fairfield Place Shopping Center. There are also two parks in town as well as restaurants, churches, grocery stores, pharmacies, farmers markets, and specialty stores. Some of the top area hospitals include Penn Medicine Exton and Brandywine Hospital Tower Health.