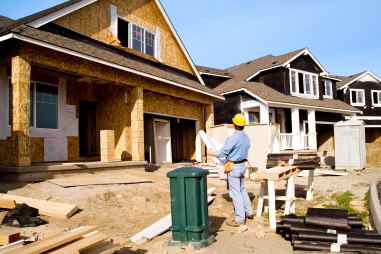 When it comes to buying a home, some buyers have definite opinions about whether it's better to buy a new construction or a resale home. Others are more open to what is available at the time they want to buy. Some buyers haven't given the matter much thought at all.
Deciding between a new construction or a resale home is largely a matter of preference, as each option has its own benefits. For those who are undecided, and even those with definite opinions, it's a good idea to understand some of the benefits of each option before buying.
Benefits of a New Construction Home
With a new construction, homebuyers are generally able to choose their lot within a development, especially when the community is in its earliest stages. They can find a location they prefer, perhaps with a lake or golf course view, and then choose whichever model they want to be built.
Another perceived benefit of a new construction is that homebuyers will be able to put all of the options they want in up front, before they ever move in, instead of going through the hassle of remodeling while living in the house. This could include upgrades like granite countertops and hardwood floors, but it could also mean changes to the layout that are much more easily done during the initial construction, such as adding a sunroom or a solar-power roofing system. While having these options put in up front is convenient, it does add considerably to the base price of the home. Buyers will also generally be limited by the options available through the builder. Because of this, some homebuyers prefer to handle some upgrades after the home is built.
Benefits of a Resale Home
Homebuyers who can find a resale home that already has the options and upgrades they want will save themselves the hassle of remodeling and likely save money on the deal as well. Upgrades that are already in the home will help raise its value, but they will not raise the sale price by as much as it costs to add them to a new construction.
When it comes to basic floor plans, the layout of any home is greatly influenced by the design trends at the time it was built. New constructions and recently built homes are more likely to have open floor plans, lots of windows, and large closets and bathrooms. Some older homes may have more spacious individual rooms or an interesting floor plan that some homebuyers prefer.
Some homebuyers believe in the adage, "they just don't build 'em like they used to." There may be some truth to that, but homebuyers should never assume that an older home is of better quality just because of its age. Instead, they should research the builder's reputation and have a professional home inspector assess its construction. While older homes can sometimes be more substantial, new constructions often feature the latest advances in energy efficiency. Of course, that doesn't mean a 20-year-old home necessarily has 20-year-old appliances or HVAC systems. Homes that are between 8 and 12 years old are often said to be in the danger zone. This is the time when homes are likely to need expensive replacements, like new heating and cooling systems, water heaters, or roofs. However, an older home that has already had these systems replaced with high-quality, energy-efficient upgrades can be an excellent investment.
Which Is Right for You?
For homebuyers, choosing between a new construction or a resale home will often depend on the situation. Some who are set on building a home fall in love with a resale in their ideal active adult community. Others who have trouble finding a resale they like may find that building is the best way to go. Either option has its benefits, and homebuyers who explore both options before buying are more likely to make a decision that works for them.