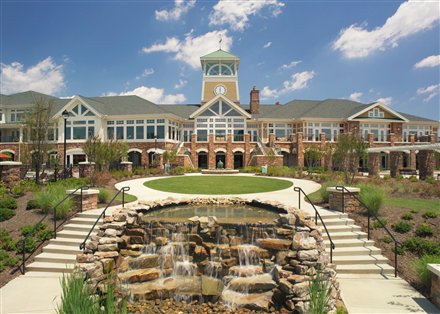 Set within two hours of both towering mountains and beautiful beaches, North Carolina's Raleigh-Durham region appeals to many different active adults. A wide range of urban attractions are found within the Research Triangle area, and relocating retirees have their pick of several popular active adult communities throughout the area.
Climate
While retirees once passed through North Carolina on their way to Florida, many have now discovered the benefits of living in the Raleigh-Durham area. When it comes to weather, the region has a humid subtropical climate with hot, sunny summers and relatively mild winters. Yet, Raleigh-Durham does have four distinct seasons, and residents are likely to experience a small amount of snow during the winter months. Though temperatures change with the seasons, the weather is relatively sunny year-round, except for a rainy period in July.
Location
Raleigh and Durham, along with the nearby city of Cary, make up an area known as the Research Triangle, due to its high number of colleges and research facilities. Along with the lively atmosphere of a college town, the Research Triangle also has a thriving art and music scene.
Residents and visitors alike have no trouble finding live music to meet their personal tastes. The area also has numerous museums and performing arts centers such as Meymandi Concert Hall, the BTI Center for the Performing Arts, the Contemporary Art Museum and the North Carolina Museum of Natural Sciences.
With its mix of local colleges, sports fans can root for several of their favorite teams, including the Chapel Hill Tar-Heels, the Durham Blue Devils and the University of North Carolina Wolfpack. Hockey fans can also enjoy cheering on the NHL Carolina Hurricanes.
The local colleges also provide great medical facilities, such as the six hospitals which are part of the Duke University Health System.
Recreation
As part of the beautiful Piedmont Region, the Raleigh-Durham area is an ideal place for many outdoor recreations. Resident golfers can enjoy several local courses, or make a short drive to Myrtle Beach, which has been billed as the Golf Capital of the World. Water lovers can easily drive to several beaches along the Atlantic Coast or to the Orientals Intercoastal Waterway. There are also plenty of nature preserves and parks where residents can enjoy activities like hiking, biking, and horseback riding.
Communities
When it comes to homes, active adults will find a diverse mix of both age-restricted and age-targeted communities throughout Raleigh-Durham and the surrounding area. There are sprawling, resort-style communities like Carolina Preserve, as well as smaller, more intimate neighborhoods like Heritage Pines or Village at Aversboro. Active adults who prefer to live in an open age community still get plenty of on-site amenities in developments such as Fearrington Village or Regency at Brier Creek.
The Raleigh-Durham area may be known as a college town, but its fabulous attractions and diverse communities also make it a great place for active adult retirees.