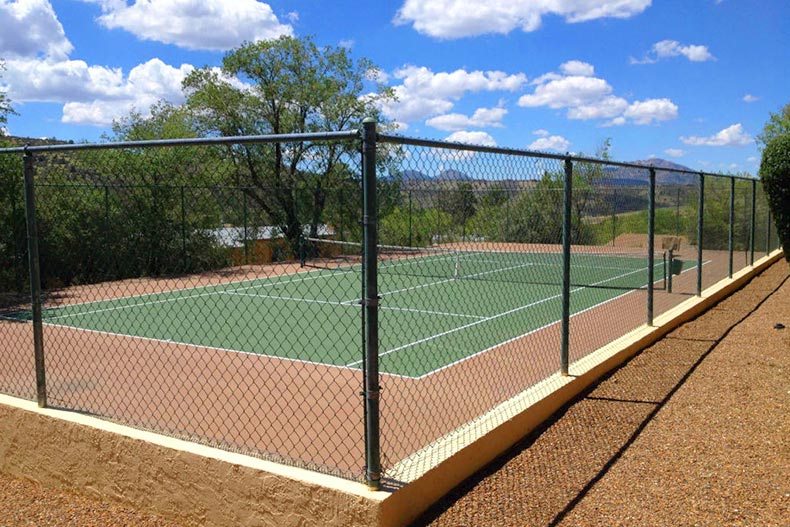 If you're looking to buy a home in Northern Arizona and you're keen on tennis, there's only one place to look and that's Prescott. Several of the active adult communities here have tennis courts, and the Prescott area is an attractive place to live.
When you're not playing tennis, there are plenty of other things to do. A former mining town, Prescott is now a popular tourist destination noted for its art galleries, and the town attracts hasn't lost its historic feel. It's small enough that you can walk around the historic downtown to enjoy the galleries, bars, restaurants, shops, and historic buildings. There are also other attractions including museums and walking trails in the beautiful area known as Prescott Lakes.
Prescott Location
With an elevation of 5,367 feet, Prescott is a small city of about 45,000 people. It's surrounded by mountains and forests, and it's a haven for the active adults who want to get out and enjoy the great outdoors of this area.
The city is right on the edge of the 1.25 million-acre Prescott National Forest, while a half-hour drive in the opposite direction will take you into the even bigger Coconino National Forest, which covers about 1.9 million acres. This is emphatically not the desert that most people imagine Arizona to be. Prescott is about 100 miles due north of Phoenix, which is where the closest major airport is located.
High $200s - Mid $1Ms
Prescott Lakes is about a 10-minute drive north of downtown Prescott in the attractive Prescott Lakes area with hiking and biking trails as well as several lakes with water activities. It's a gated community with no age restrictions, and it has 1,300 attached, condo, and single-family homes.
Prescott Lakes has two tennis courts, and plans to build more. There's also a very active tennis social club, which is free to residents. It organizes tennis socials and clinics each month, and the clinics are followed by a happy hour at the community's Grille restaurant.
The tennis courts are part of the Prescott Lakes Athletic Club, which also has courts for basketball and sand volleyball, indoor and outdoor pools, an aerobics studio, a spa, and a 12,000-square-foot fitness center. Other amenities in the community include the Prescott Lakes Golf and Country Club with an 18-hole course, a pro shop, The Grille restaurant, and a bar. The community also has its own hiking and biking trails, gardening plots, and a playground for visiting grandkids.
Models here start with condos at about 1,200 square feet. There are many models and floor plans available, through to single-family homes with over 3,000 square feet, six bedrooms, four bathrooms, and three-car garages.
Learn more information about Prescott Lakes here.
Low $200s - Low $4Ms
Hassayampa Village is less than three miles west of downtown Prescott, right next to the Prescott National Forest. It's also a gated community with no age restrictions, but with 660 homes, it's smaller than Prescott Lakes. The attached, condo, and single-family homes are spread around the community's 550 acres.
This active adult community has several tennis courts, a tennis club, and also courts for volleyball and basketball. If you enjoy golf as well as tennis, then this is a community to consider as residents can also join the Capital Canyon Golf Club. It's an 18-hole, par-71 course that runs to 6,660 yards. Other amenities here include an indoor pool and spa, an outdoor pool, a 30,000-square-foot clubhouse, a fitness center, hiking and biking trails, and an arts and crafts studio.
Homes here are on the generous side. Even the smallest condos offer 1,400 square feet, two bedrooms, two bathrooms, and a private garage. Models go all the way up to 6,000 square feet, and these single-family homes can be custom-designed.
Learn more information about Hassayampa Village here.
Mid $400s - Mid $1Ms
Talking Rock is a 30-minute drive north of downtown Prescott in the more rural Chino Valley. It's a flatter landscape with plenty of trees but no nearby mountains. The closest restaurants, shops, and other services are a 20-minute drive away. The community has no age restrictions and 611 single-family homes for the active adult.
As well as tennis courts, Talking Rock's amenities include an 18-hole golf course with practice facilities and a putting green; courts for basketball, bocce ball, and shuffleboard; a fitness center; a bar and grill; a cafe; an outdoor pool; and a community garden.
Models are on the larger side, with the smallest homes offering 1,960 square feet, three bedrooms, two bathrooms, and two-car garages. There are 16 models in all, and the largest offer 2,879 square feet, three bedrooms, two-and-a-half to three-and-a-half bathrooms, and a two- to four-car garage.
Learn more information about Talking Rock here.
Mid $100s - High $100s
Prescott Canyon Estates has 255 single-family homes for the 55+ active adult. It's three miles east of downtown Prescott in an area that's a mix of residential and business. Stores like Lowe's, Home Depot, and Best Buy are within a five-minute drive of the community. Amenities here include one tennis court, a shuffleboard court, an indoor pool and spa, an exercise room, a library, and a clubhouse.