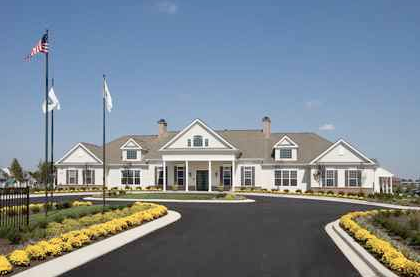 Active adults looking for an East Coast retirement destination may turn to Delaware for its historic charm and affordable homes. The Northern Delaware area has plenty to offer, including many attractions in the City of Wilmington and a variety of appealing active adult communities. Delaware residents can also enjoy shopping with no sales tax throughout the state.
Northern Delaware largely consists of New Castle County and the areas around Wilmington. This county is often considered the most affluent in the state, which may make it a less affordable retirement destination than Delaware's central and southern counties, yet its prime location is within 30 minutes of Philadelphia, one hour from Pennsylvania's scenic Amish Country, and 90 minutes from both Atlantic City and Baltimore. For weekend getaways, both New York City and Washington D.C. are within a two-hour drive.
Those who settle in Northern Delaware can experience the beauty of all four seasons. Summers are typically hot and sunny with average daytime highs in the mid-80s and record highs that have risen over 100 degrees. Winters are cold, but can very greatly from year to year. Some winters may see several snowstorms, while others have only a few flurries or light accumulation. Springs feature trees and flowers in full bloom, while autumn months display striking fall foliage.
Wilmington is the seat of New Castle County and the largest city in Northern Delaware. The city sits at the confluence of the Delaware River and Christiana River. Major highways near the city, including Interstate 95 and U.S. Highway 40, make it easy to explore the surrounding area or travel up and down the East Coast.
Like most cities, Wilmington offers a wide range of urban attractions. Residents and visitors alike can enjoy museums, galleries, concerts, public gardens, shopping districts and diverse restaurants. Just a few of the area's unique attractions include the Winterthur Museum, Garden and Library, the Delaware Art Museum and the DuPont Environmental Education Center.
As part of the country's first state, Northern Delaware has several historic areas. Some popular ones include Fort Delaware, Historic New Castle, Historic Middletown and Historic Kennett Square. Additional points of interest are found throughout the area, including Brandywine Battlefield, Hagley Museum and Library, and the Brandywine Zoo.
Active adults who decide to retire in Northern Delaware will find appealing communities in areas like Wilmington, Middletown and Newark. Although most 55+ communities in the area are small, with the largest, Spring Arbor, having just over 300 homes, they often feature spacious clubhouses with numerous amenities, clubs and activities.
When looking for an East Coast retirement destination, Northern Delaware offers charming suburban communities, urban attractions within the City of Wilmington and close proximity to many popular tourist getaways. It may just be your ideal retirement retreat.