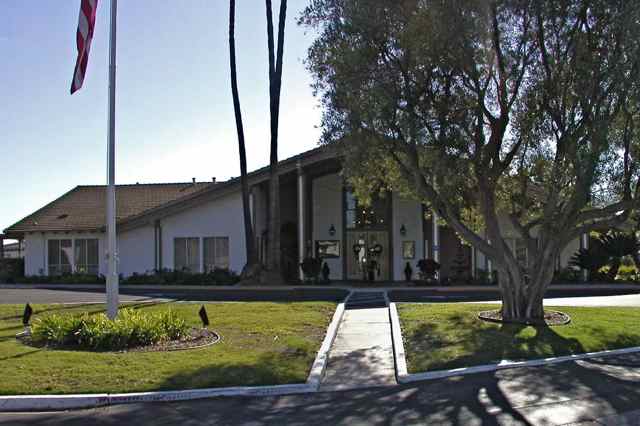 Just a few short miles from the Pacific shoreline in Oceanside, Oceana is a picturesque 55+ active adult community offering resort-style amenities, well-maintained landscapes and a community garden.
This prime location in northern San Diego County enjoys a year-round temperate climate — average highs peak at around 77 degrees, while the lows tend to bottom out in the 40s. With such beautiful weather, opportunities abound for staying active outdoors. A main clubhouse sits at the heart of the community and provides many opportunities for recreation and social gatherings. Homeowners can join a club, play billiards, work with wood or ceramics, or get their hands dirty in a shared vegetable garden.
The property is divided into several smaller hubs — Oceana East, South, Mission, Real, and Vista Oceana. Most are anchored by clubhouses, and each one has its own outdoor pool and spa. The larger areas also include multi-purpose rooms, designated spots for picnics and barbecues, and catering kitchens. Although there isn't an on-site golf course, the nearby Emerald Isle invites all levels of play and offers discounted rates to residents. This 18-hole, par 56 course also features a driving range with plenty of practice balls, practice greens, a snack bar and golf cart rentals. Four PGA professionals took over operations in 2014 and strive to provide a friendly experience for guests, including the four-footed variety, as dogs are welcome.
Beyond the community and its amenities, residents will find much to see and do. Located along the coast in southern California, Oceanside is a beach town that revolves around sun, surf and sand. It's home to several cultural museums and theaters and hosts festivals throughout the year. Residents can enjoy a stroll along one of several beaches, or charter a boat for fishing or whale watching. An eclectic food scene includes everything from kid-friendly restaurants to ethnic and vegetarian fare to a year-round farmers market.
Many other popular attractions are within driving distance, like several sites along the Historic Mission Trail that winds its way between Sonoma and San Diego. Numbering 21 in all, these historical missions were built by Spanish settlers between 1768 and 1853 and are open for tours as well as church services. Visiting grandkids might enjoy a trip to Knotts Berry Farm or Disneyland, which are also within easy reach. San Diego is about 40 miles to the south, while Los Angeles is 80 miles north.
Completed in 1984, Oceana contains around 2,000 single-family and attached residences that are available on a resale basis. Homebuyers can choose from 14 different floor plans. Single-family homes, ranging from 1,255 to 1,620 square feet, feature up to two bedrooms and one or two baths. Attached homes are slightly smaller, ranging from 660 to 1,099 square feet with one to three bedrooms and up to two bathrooms. Both property types include either a carport or an attached garage.
An established community conveniently located along Southern California's sunny coast, Oceana promises beautiful weather and a sociable lifestyle for 55+ active adults.