If you're interested in receiving more information about On Top of the World, call 352-204-9035 or email help@55places.com.
As another year ends, it's time to look back at what 2019 brought to the world of active adult communities. This year, Latitude Margaritaville delivered on its hype, Del Webb announced several new communities (Del Webb at North Ranch, Del Webb at Lake Las Vegas, Carter's Mill, Del Webb Florham Park, Del Webb Chauncy Lake, Del Webb at Trinity Falls, Del Webb Sunbridge, Del Webb Nocatee, and Del Webb eTown), and a slew of luxury retirement communities opened their doors.
But which community stood out the most? For the last five years, 55places has annually named one community as the best retirement community in the U.S., starting with back-to-back honors for The Villages and dubbing Latitude Margaritaville last year's winner. 2019 marks our sixth award and fifth winner, with another first-time community earning the title.
This year, to determine the winner, we took into consideration a community's desirable and affordable location, any major or unique upgrades made in the last year, and rankings on previous awards posts such as our best-selling and most popular awards.
By those metrics, the clear winner is On Top of the World in Ocala, Florida.
On Top of the World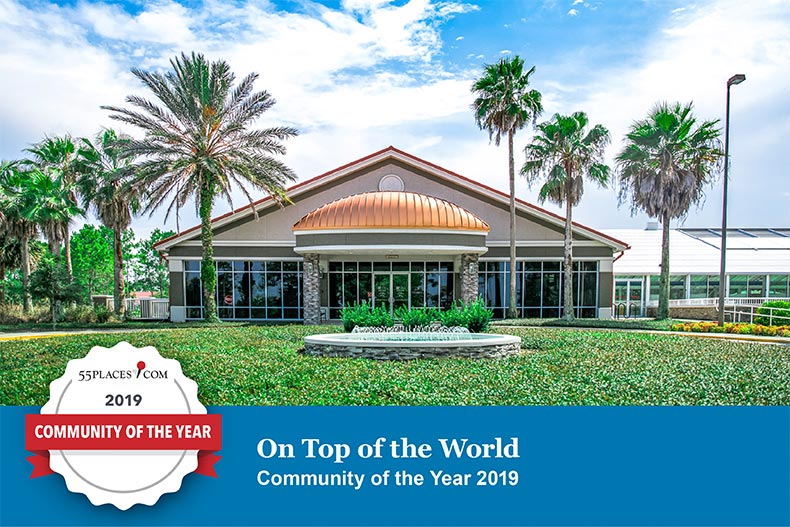 On Top of the World, or OTOW as residents call it, has been one of the most popular 55+ communities for decades now, but 2019 has truly vaulted it to the top. Construction on the community began back in 1981, but the community is still growing and ultimately has plans for 10,000 homes on 13,000 acres in Central Florida.
What OTOW does best is variety and size. The variety of home models, sizes, and price points means any active adult buyer can find their place in OTOW. There are over 80 floor plans spread across villas and single-family homes with prices starting below $100k and go into the low $400s.
That many options provide homes for downsizers, those on a budget, or active adults who just want to move into a community full of social opportunities. Also, those low price points combined with Ocala's low cost of living and Florida's tax friendliness make it an easy choice for active adults. They also make OTOW a bargain.
But what comes with those affordable price points and low cost of living? In OTOW's case, it's resort-style amenities rivaled only by a few other 55+ communities in the country. These amenities span six complexes, the largest being the Recreation Center, and include a restaurant, a 1,500-seat ballroom, an outdoor pool, a dog park, and courts for pickleball, shuffleboard, and racquetball.
The 10,000-square-foot Arbor Club has a state-of-the-art fitness center, an Olympic-sized pool, another outdoor pool, and courts for tennis and bocce. There's also the Hobby Building for arts and crafts.
Finally, there are also two neighborhood community centers, one for the Candler Hills neighborhood and one for Indigo East. There's also Circle Square Commons, open to both residents and the public.
Promoting an Active Lifestyle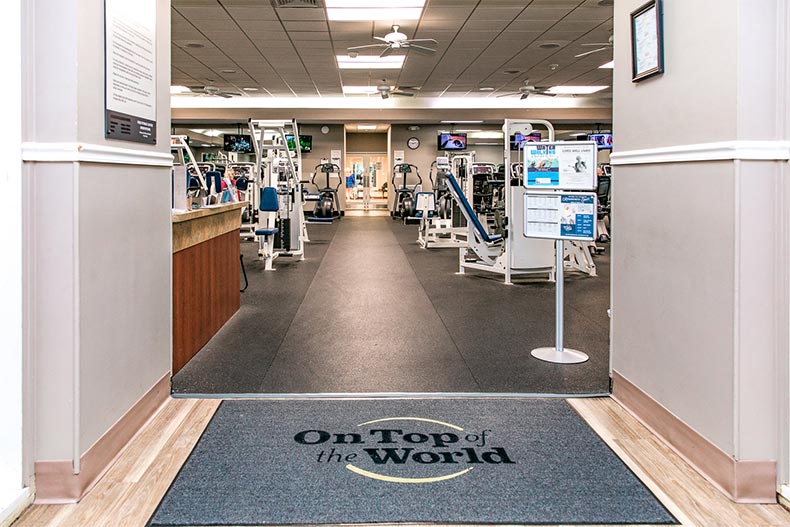 Despite all this, OTOW decided to take things a step further by recently renovating several popular amenities—a key reason why they're taking home our 2019 community of the year award. Recently, the community finished renovations on the Arbor Fitness Club, The Links golf course, and the OTOW golf clubhouse.
We spoke to two directors in the community about what brought on the changes and what they mean for residents.
When asked what made the community renovate some amenities, OTOW's Fitness Director Cammy Dennis said, "The leadership of On Top of the World has a keen understanding of the shifting retirement landscape. At On Top of the World, we are 'rewiring retiring.' We not only provide beautiful, high-quality homes, we also offer a wealth of wellness opportunities that support a relevant and meaningful engagement with life's later years."
According to Dennis, the recently renovated Arbor Fitness Center was previously a social space for residents.
"The Arbor Fitness Center renovation was a result of On Top of the World's growth and evolution. Our community is constantly growing and so are the fitness needs of our active aging residents. Our residents are looking for high-quality homes and a lifestyle enriched with vibrant activity. The Arbor Fitness Center provides cutting edge equipment, programming, and technology," said Dennis.
Modernizing Golf for A New Generation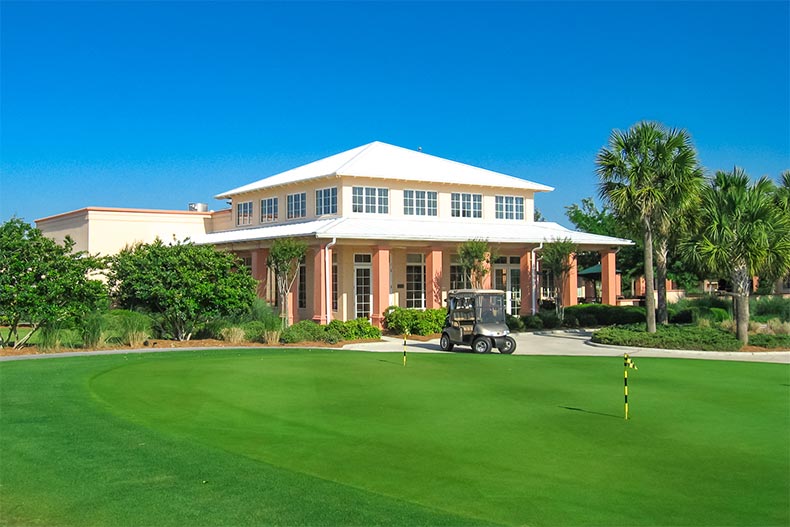 The community didn't just leave the renovations to Arbor Fitness Center, they also completely redid their golf facilities. OTOW leaders felt that with The Links golf course and golf clubhouse built in the 1980s, it was time to modernize facilities to appeal to today's active adults. The community has two other golf courses and a mini-putt course as well.
"The Links golf course upgrade was completed to bring the golf course up to current expectations and to accommodate the new adjacent development. The new clubhouse was built to give the golf shop a modernized look while evolving the growth in the community," said Matt Hibbs, Director of Golf at On Top of the World. "The response has been excellent. The residents truly appreciate the work being done to create a product we can all be proud of."
Evolving for the Future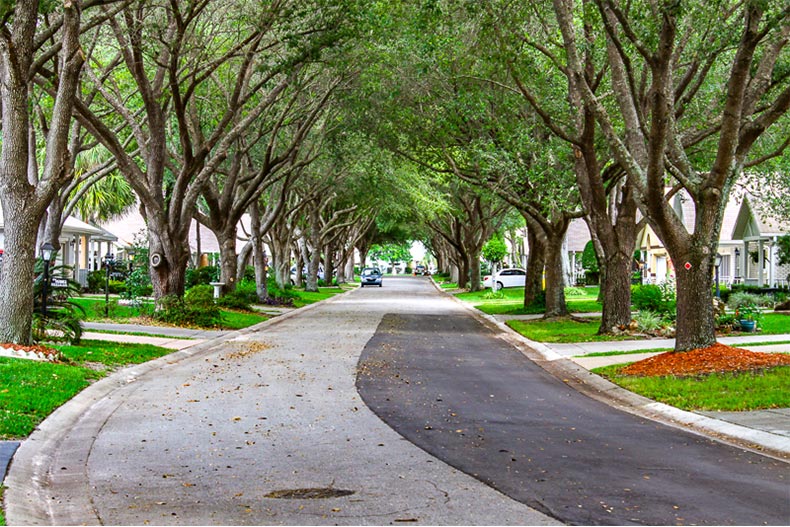 It's not just shared amenities that saw changes in OTOW recently. In early January, the community announced they would be partnering with Amazon to provide smart home products to buyers building new homes in the community. The package includes 10 devices that use Amazon Alexa technology to do things like set the thermostat, turn on and off lights, play music, and provide security monitoring, among other features.
Their new advances with smart home technology add to their previous work with energy-efficient homes. Equipped on all carriage homes in the Crescent Ridge neighborhood, solar panels allow homeowners to enjoy a lower electric bill than what traditional energy costs.
OTOW homes are also built with energy-efficient aspects like insulated electrical outlets, low-E glass windows, fresh air intake, and much more. The community also uses water-efficient features like low-flow toilets and showerheads as well as more efficient sprinklers.
2019 Community of the Year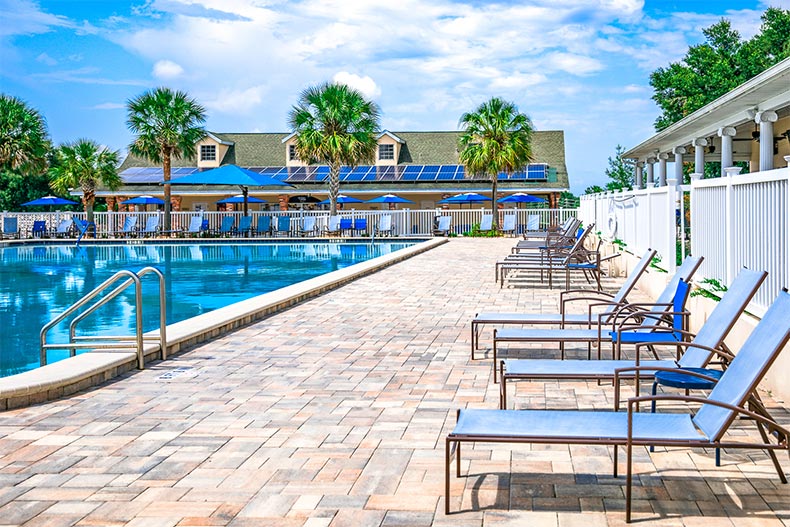 OTOW has been a reoccurring best-selling community on 55places, holding the top spot in January, February, May, July, and September of this year. Also, as demonstrated by its previous 55places awards, OTOW has perhaps the best blend of affordable homes and resort-style amenities of any community in the country, but OTOW is so much more than that. Not content with just being one of the best, On Top of the World has spent the last several years making sure they are the best.